Top 2020 cornerback finds Arkansas impressive
Published: Wednesday, May 2, 2018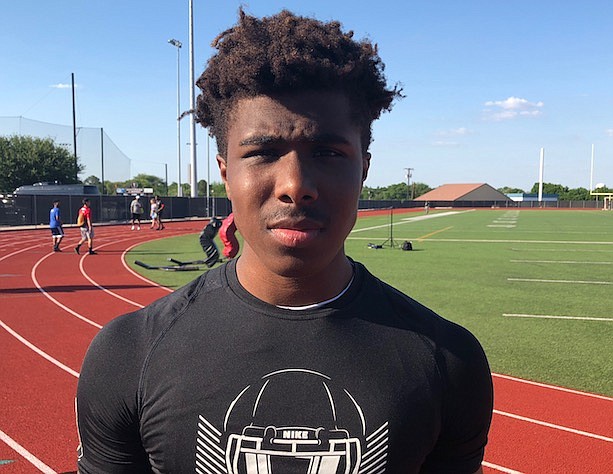 ARLINGTON, Texas — Now that he has had a chance to check out Arkansas, a highly regarded cornerback from the Dallas area sees it as a possible destination.
Southlake Carroll junior-to-be RJ Mickens (6-1, 180 pounds. 4.53 seconds in the 40-yard dash) is the No. 55 overall prospect in 247 Sports composite rankings and the son of former NFL player Ray Mickens. He has 25 offers overall, including from Arkansas, Alabama, Georgia, Notre Dame, Clemson, Michigan, Ohio State, LSU, Texas A&M, Oregon, Oklahoma, Oklahoma State and Stanford.
Mickens had 99 tackles, 13 pass breakups, 4 forced fumbles, 2 fumble recoveries and 2 interceptions as a sophomore. He has visited Arkansas just more than a week ago.
"The campus was beautiful with the trees and the scenery," Mickens said. "It is real like secluded, I guess you could say. I love the trees and the hills."
Arkansas defensive backs coach Mark Smith has taken the lead role in recruiting Mickens, ranked as the fourth-best defensive back nationally in the 2020 class by the 247.
"I just went up there and met Coach Smith and he was real cool," Mickens said. "We were going over film and he was teaching me a lot of stuff."
Ray Mickens was a three-time All Southwest Conference selection for Texas A&M from 1993-95, a third-round NFL Draft pick of the New York Jets and played professionally for 11 years.
"He's somebody who had a great career, put in a lot of work and that is what I am trying to do as well," RJ Mickens said. "He's really somebody to look up to and try to follow. He is not trying to push me to any school and just wants to make sure I make my own decision on what is best for me."
Mickens, who also caught 14 passes for 298 yards and nine touchdown passes last season, made the trip to Arkansas with a pair of his 2020 Southlake Carroll classmates - tight end Preston Forney (6-2. 200) and offensive lineman Andrej Karic (6-5, 240).
"It was just a really nice visit and has me very interested in getting back up there and getting to see even more," Mickens said.
His 111.06 was the 25th best SPARQ rating of the nearly 600 players on hand Sunday afternoon at Nike's The Opening Dallas Regional. He also was a standout in drills.
"There were great people out here today to compete against," Mickens said. "I did pretty good myself, but I think I can always do better. I tested pretty good and had a good camp I feel like."
Mickens is getting to see a lot of schools, but is in no hurry for a decision.
"I am more just visiting some schools that I am looking into instead of narrowing it down," Mickens said. "I've still got a lot of time."
Mickens said he still has plenty of work to put in.
"I am still working on coverages and coming out of my break a little bit faster and reading routes," Mickens said. "But I feel pretty good about myself as a player."
Discussion
Have a comment on this story? Join the discussion or start a new one on the Forums.