Little things make a big difference in Hogs' series-clinching win
Published: Saturday, May 12, 2018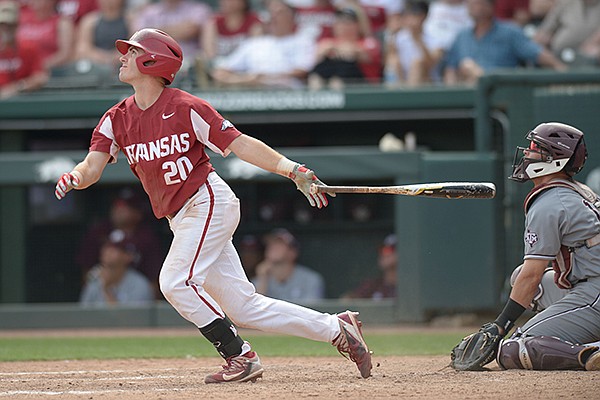 (
Andy Shupe
)
Arkansas second baseman Carson Shaddy follows through with a 2-run, RBI double to right Saturday, May 12, 2018, during the seventh inning against Texas A&M at Baum Stadium in Fayetteville.
FAYETTEVILLE — Texas A&M head coach Rob Childress has seen games turn on just a couple of plays.
That was the case Saturday when Carson Shaddy's seventh-inning, wind-blown double was misplayed by A&M right fielder Chandler Morris and provided what proved to be the decisive runs in the No. 6 Razorbacks' 3-1 win at Baum Stadium.


Morris first broke back on Shaddy's fly ball and then had to race forward as the wind knocked it down. He missed a diving attempt to the delight of a crowd of 8,876 fans as the Razorbacks clinched the series win over the No. 20 Aggies.
"It certainly was (big)," Childress said. "When you are playing a close game against a really good team, those things are magnified. Certainly that one was magnified in today's game."
The game was a 1-0 pitching duel into the seventh in favor of Arkansas (35-15, 16-10 SEC).
A&M starter John Doxakis was tough, said Arkansas designated hitter Luke Bonfield, who also lauded his own hurler, Kacey Murphy.
"He was your typical SEC left-hander," Bonfield said of Doxakis. "Maybe didn't have overpowering stuff, but worked both parts of the plate. I think what made him so good is he could come in with that fastball. Murph, he can get that fastball in on righties, which it's hard for lefties to go glove side. That guy could do it pretty well."
The difference was Murphy (6-4) working out of a first-inning, bases-loaded, one-out jam without allowing a score. A runner was forced out at the plate off a nifty play and throw from third baseman Casey Martin to catcher Grant Koch, who scooped it for the out.
"That was in the moment," Koch said. "It was a good play by Marty because it was too late for a double play and he came to me trying to get an out. I really didn't think about it too much because I was just trying to make a play, make a pick, and it happened. I think looking back that was a big play in the game keeping a run off the board for sure."
Murphy then induced a fly ball to get out of the inning unscathed.
"It was game-changing," Shaddy said of Martin and Koch's play. "It was huge. We got back in the dugout and Grant was a hero in that inning. It probably saved us two runs right there, two to three runs, I don't know. Just to come out with the bases loaded and to make that play, he comes up in the clutch for us. That was enormous for us in our mentality for the rest of the day."
Shaddy's clutch, two-out RBI single in the bottom of the first off Doxakis (6-4) brought home leadoff man Eric Cole, who had doubled.
"Both left-handers were really, really good today," Childress said. "We had a chance there in the first inning to break the game open and we were really not able to do that and Arkansas came right back in the bottom of the first and grabs the lead and their guy made it stand up.
"We had another shot in the fifth with first and third and one out and he didn't allow us to score. So it was two really good left-handers that were really battling today and it was a good baseball game I guess if you were a fan."
Shaddy's hit in the seventh came off reliever Nolan Hoffman and brought home Martin and Heston Kjerstad.
Dominic Fletcher then flew out to the track, a ball the wind kept from going over the right-field wall.
Murphy went a career-long 7 1/3 innings while throwing 111 pitches, fanning five, walking two, giving up four hits and hitting a batter before handing it over to Barrett Loseke, who pitched 1 2/3 innings of one-run ball and got out of a jam with the tying run at the plate in the ninth for his third save.
Doxakis went 6 1/3 innings while allowing three runs, four walks and fanning seven while throwing 113 pitches.
"It is the toughest challenge in baseball collegiately," Childress said of being in the SEC. "Playing baseball in the league for 10 weeks tests every fiber of your being and it is all about the strong surviving."
Arkansas will try to go for the sweep on Sunday in a noon game with Texas A&M (34-16, 12-14) trying to salvage a game as they did last Sunday against No. 1 Florida.
"It's huge," Childress said. "We have been in this spot before throughout the conference race and this is certainly a very tough place to play.
"It's going to be a tall order tomorrow, but it is not one that we haven't been up against before and been there several times this year that we have been in this spot and came out and grabbed one."
Discussion
Have a comment on this story? Join the discussion or start a new one on the Forums.