Arkansas entities unsure about gambling changes
Published: Tuesday, May 15, 2018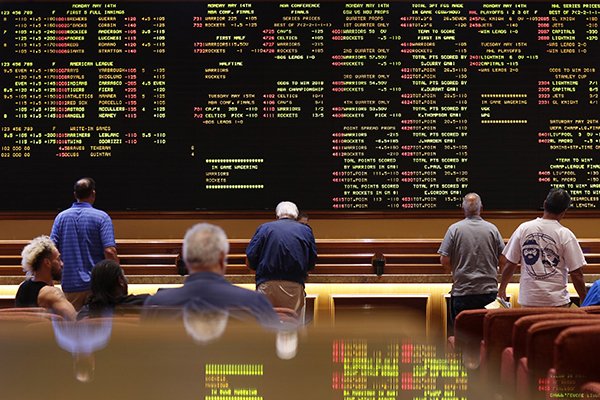 People line up to place bets in the sports book at the South Point hotel-casino, Monday, May 14, 2018, in Las Vegas. The Supreme Court on Monday gave its go-ahead for states to allow gambling on sports across the nation, striking down a federal law that barred betting on football, basketball, baseball and other sports in most states. (AP Photo/John Locher)
Arkansas politicians and college administrators are uncertain how they will respond to the U.S. Supreme Court's decision Monday that enabled individual states to pass their own legislation on sports gambling.
For the first time since the now-repealed Professional and Amateur Sports Protection Act was passed in 1992, the state of Arkansas has the ability to amend its 1953 law that made it illegal "for any person, partnership, or corporation" to gamble on "any other sport of game for the purpose of gaming."
Arkansas already has a gambling presence with horse racing at Oaklawn Park in Hot Springs and with greyhound racing at Southland Park in West Memphis -- locations where people also gamble on "electronic games of skill" -- and Gov. Asa Hutchinson said he was reviewing the court's decision "and the challenges it could present for Arkansas."
"Historically, Arkansas has opposed any broad expansion of gambling with the scholarship lottery being the one exception," he said in a statement. "I have supported this more restrictive approach. Now, we will need to review the Supreme Court decision and also track how the states react to this expansion of state flexibility under the 10th amendment. We will be monitoring this closely."
Representatives from Oaklawn said they would not comment until they had reviewed the decision, and Southland Park officials did not respond to phone call attempts for interviews.
Neighboring states such as Mississippi already have positioned themselves to earn revenue from sports gambling, said Ethan Wilson, a policy director and attorney at the National Conference of State Legislatures.
"There were states that acted prior to this, which hoped that just this was going to happen," said Wilson, who also listed New Jersey, New York, West Virginia and Pennsylvania as states that have "legislation on the books" that enable them to "hit the ground running."
Mississippi, which has at least eight casinos near its Arkansas border, passed House Bill 967 last year, which simultaneously removed language that made sports gambling illegal while it introduced regulations on fantasy sports contests.
"Mississippi is already well on the way to offering legal sports wagering," said a Monday news release from MGM Resorts International, which owns the Beau Rivage in Biloxi. "We are actively engaged with Mississippi regulators and anticipate we will be able to offer best-in-class sports books within a few months, as soon as regulations are in place."
When Hutchinson signed Arkansas' bill on fantasy sports contests in April 2017, previous language went unchanged and the bill's language clarified that "a winning outcome is determined by accumulated statistical results of fully completed contests or events and not merely a portion of a contest or event."
No legislative amendment toward Arkansas sports gambling can be introduced until the next legislative session in January, unless a special session is called before then.
Attorney General Leslie Rutledge said in a statement that she "applauds" the Supreme Court's decision, "which allows Arkansans and the Arkansas General Assembly to decide state law without interference from the federal government."
Any changes to sports gambling in Arkansas would directly include the state's five NCAA Division I universities: the University of Arkansas, Fayetteville, Arkansas State University, the University of Arkansas at Little Rock, the University of Central Arkansas and the University of Arkansas at Pine Bluff.
Several of their athletic programs are regularly included in the bookings of legal sports gambling sites in Nevada, although UCA Athletic Director Brad Teague said he didn't think the decision would "be much of a consequence for us" because he didn't "think many people bet on our games."
Legal gamblers could have bet on the Razorbacks as a 2½-point underdog against Butler in the first round of the NCAA men's Basketball Tournament this year.
UA Athletic Director Hunter Yurachek said he is "still reviewing the potential ramifications" of Monday's ruling.
ASU Athletic Director Terry Mohajir said in a statement that "if the State of Arkansas proceeds with consideration once everyone is finished reviewing the court's decision, then at that time we would like to be a part of the conversation moving forward to determine what is in the best interest of the Arkansas State Athletics Department."
UALR Athletic Director Chasse Conque said "we expect to have a voice to ensure the value of the student-athlete experience."
"Our stance will always be to favor and protect their best interests," he said in a statement.
UAPB interim athletic director Alyse Wells-Kilbert did not respond to phone calls and text messages for comment.
Sports on 05/15/2018
Discussion
Have a comment on this story? Join the discussion or start a new one on the Forums.