Anderson high on eight-member 2018 hoops class
Published: Tuesday, May 22, 2018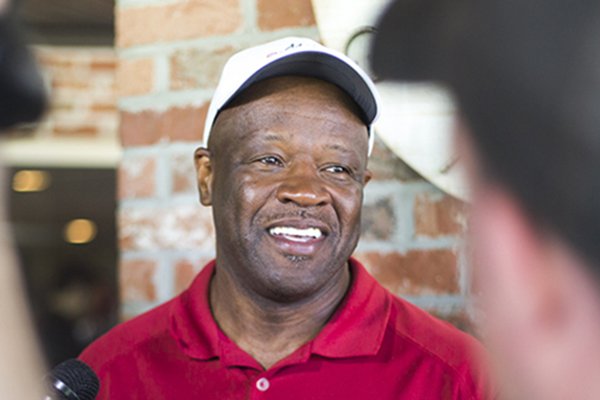 (
Charlie Kaijo
)
Arkansas basketball coach Mike Anderson speaks to reporters during a press conference, Monday, May 21, 2018 at Shadow Valley Country Club in Rogers.
ROGERS — Now that he has his full 2018 signing class in place, Arkansas head basketball coach Mike Anderson can begin looking forward to the summer workouts allowed by the NCAA.
All eight of the signees plus the five holdovers - including redshirts in point guard Jalen Harris and shooting guard Khalil Garland - are slated to be on campus in the next week.

"All the freshmen are going to be coming in here at the end of the month," Anderson said. "We have a meeting on the 28th at 8 o'clock, and summer school starts on the 29th. So we anticipate all of them being here."
The final piece of the recruiting puzzle was former Maumelle player Ibrahim "Ibby" Ali (6-10, 235), who previously signed with Baylor, but was released by the Bears when a scholarship came open at Arkansas.
Ali, a Nigerian native who arrived in Arkansas in June 2014 having never participated in organized basketball, played one high school season each at Southwest Christian, Little Rock Catholic and Maumelle.
In his final high school season for Maumelle, All averaged a modest 4.0 points, 5.7 rebounds and 1.2 blocks.
Because he was not academically eligible, Ali sit out last season, worked out with former Razorback Sunday Adebayo, gained his eligibility in December and ended up getting offers from Baylor, Syracuse, Georgetown, Minnesota and Utah among others.
"He's someone we've been familiar with," Anderson said. " Of course he sat out last year, and then de-committed from Baylor, got out of his letter. Obviously the interest was there on his part in terms of coming here, and the same here."
While he is obviously a raw prospect, Ali's size certainly fills a need for Arkansas, who had just one player on the roster over 6-9 in sophomore center Daniel Gafford (6-11, 234).
"He's a guy that's 6-10 and about 235 pounds," Anderson said. "A really imposing-sized guy. I think he started playing basketball four or five years ago. I just think he has some tremendous potential, and his work ethic, from what I know, is really good."
Having Ali arrive in Fayetteville soon will allow him a full summer to immerse himself with the complete Razorback program, whose coaches are allowed to spend some time on the court with the players during the summer.
"Having him come in the summer, we'll get a chance to find out a little bit more about him in terms of where he's at right now," Anderson said. "Getting into the weights and the strength and conditioning program. We can work out with our guys in the summer months, and individual workouts for eight weeks, four hours a week.
"That gives you a chance to bring these guys in and do some bonding with them find out a little bit more about our team."
Anderson was asked to compare Ali to a young Moses Kingsley, another Nigerian native and former Razorback star who arrived as a defensive stalwart, but an offensive liability.
"I think there are some similarities," Anderson said. "Like I say, I'm anxious to get him on campus to see where he's at in terms of just having the opportunity to play and get repetitions. I think that's going to be big. We saw the progression of Moses and I think you can see something similar in that. You have to play the game.
"You look at (former Razorback and current NBA player) Bobby Portis, he's a guy that's been playing basketball all of his life. So his instincts are totally different from, let's say a guy that just been introduced to it. Those guys (from Africa) have played soccer most of their lives. Hopefully, footwork is something they can do. They can run the floor and they can block some shots and rebound.
"Now let's learn the little intricacies of the game. The only way you're going to do it is, you've got to experience it."
Ali joins Warner, Okla., Connors State swingman Matt Jones (6-5, 212) as the two Razorbacks spring signees to go along with six players signed in the November early signing period.
Jones, the brother of former Duke star Matt Jones, averaged 15.5 points, 6.9 rebounds and 2.5 assists per game for Connors (31-4) last season.
He played his high school basketball at Desoto, Texas, and Triple A Academy in Dallas before spending a season at Link Year Prep in Branson, Mo.
"I think what he brings is a 6-5 rebounding guard that can score and shoot the basketball," Anderson said. "A guy who I think his best basketball is in front of him. I think he's one of those guys that's a late bloomer. Already having had a year of prep school that he went to there in Branson and then of course having a chance to go over to Connors and play and get them to the NJCAA tournament."
Jones has three years of college eligibility, instead of the usual two as many junior college prospects arrived with when they sign.
"He's had a couple years of experience and he can come in and help our team," Anderson said. "He's a big-sized guard and can put the ball in the hole. We've got to have some guys that can put it in the hole."
Harris (6-2, 160), who transferred in from New Mexico after his freshman season, is viewed as a true point guard and was able to practice with the Razorbacks last season.
"The great thing about Jalen is we had him on campus," Anderson said. " He had a chance to go against Daryl (Macon) and Jaylen Barford and those guys throughout the year. Hopefully that's going to give him some kind of experience, give him a little seasoning in a way. I think he's going to impact our team. I think you're going to see him come out and be a real productive player for us."
Anderson noted Harris showed off his quickness in practice last season and brought up former Razorback point guard Kareem Reid when talking about him.
"There were times our guys had problems keeping him in front of them," Anderson said. "He can really get the ball, push the ball down the floor. I think about Kareem Reid back in the day when Kareem was really quick and crafty with the ball. Jalen gives you some of that.
"I mess with him sometimes and say sometimes you don't know where he's going to throw it, but that's part of what the summer and giving him a chance to play with these guys is going to be about."
The other six new players are fall signees - Fort Smith Northside guard Isaiah Joe (6-4, 175), Jonesboro guard Desi Sills (6-1, 180), Little Rock Parkview forward Ethan Henderson (6-9, 190), Bradenton, Fla., IMG Academy guard Keyshawn Embery (6-4, 198), Henderson, NV., Findlay Prep forward Reggie Chaney (6-8, 230) and Arlington, Texas, Grace Prep forward Jordan Phillips (6-7, 180).
"We recruited those guys based on seeing them in high school and obviously this is going to be a different level," Anderson said. "We know the transformation that has to take place. They have to get caught up to the speed of the game, the strength of the game, how strong people are, how physical it is. The more you get them up here and the more they go against … We'll have guys like (former Razorback) Dusty (Hannahs) in town. We'll have guys like Bobby Portis in town.
"We'll have guys that are playing professional basketball come play against these guys. That way they can get a little seasoning even in the summer months. I think the sooner we get them up here, we can figure out a little bit more about them and see where they are. At the same time, we'll continue to develop and coach them up."
He's looking forward to see his newcomers up close this summer.
"I'm anxious to see what these guys bring to the table," Anderson said. "I'll see some of that this summer, but more importantly, just get them comfortable, get them more into what we're doing. The more we get them into it, we can shape them how you want to. That's going to be a big key.
"We're going to be a team that can continue to play exciting basketball, be able to score, have good, balanced scoring, but not only that, but be a much better defensive team. Defensive in terms of how we guard people and how we can extend the floor, our half-court defense. I just want to shape this team into a team that has balance on both sides of the ball."
Depending on Garland's ability to get medical clearance to play basketball - something that Anderson made clear has not happened yet - Arkansas could have 10 new faces on the court next season.
"That's quite a few," Anderson said. "I can't recall a time … I think about, was it in '96? I think we had a bunch of newcomers. I don't know if we had that … We probably had that many because we lost so many guys here.
"But that's probably the most I've had."
Discussion
Have a comment on this story? Join the discussion or start a new one on the Forums.