Fulwider's big weekend will end in Fayetteville
Published: Friday, May 25, 2018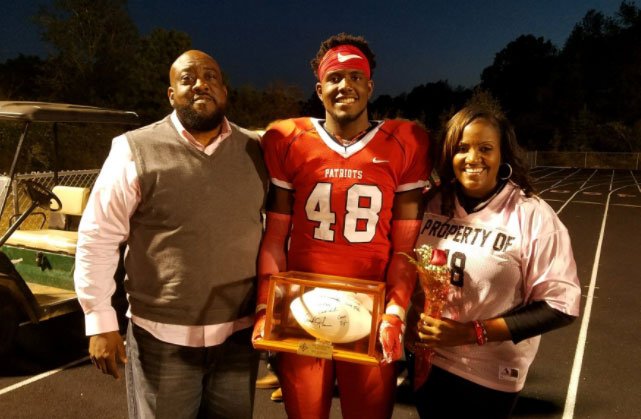 FAYETTEVILLE — This weekend will mark two big events in the young life of Tyrone, Ga., Sandy Creek standout Nick Fulwider's life - his graduation and a trek to Arkansas to begin college life.
Fulwider (6-7, 260), a three star prospect per ESPN, was preparing for Friday night's graduation when he talked about being ready to get to Fayetteville.
"I plan on heading up to Arkansas tomorrow and I'm very excited about coming up there," said Fulwider, one of 11 freshmen set to report this weekend.
Fulwider flipped from North Carolina to Arkansas late in the process, in large part because of his relationship with Razorback defensive line coach John Scott.
He may end up at either defensive end or defensive tackle.
"I talked to Coach Scott awhile ago and we talked about me moving to DT depending on how I put on weight," Fulwider said.
Fulwider, who had 33 tackles and four sacks this past season, was awarded the school's Mowell Cup, presented to the outstanding senior in academics, community service and athletics.
He has been doing his best to stay in shape and get ready for summer workouts at Arkansas, a school he chose over North Carolina, Tennessee, Wisconsin, West Virginia, Louisville, Georgia Tech, Ole Miss, Mississippi State, Duke, Vanderbilt and others.
"I have been working out at my school and with my trainer, Coach (Daniel) Whitehead," Fulwider said.
Fulwider would love to get on the field this season, but is thinking more about the team than himself.
"It'd be nice to get some playing time this season but I'll be happy with helping the team anyway I can," Fulwider said.
Discussion
Have a comment on this story? Join the discussion or start a new one on the Forums.