Jones arrives in Fayetteville with chip on his shoulder
Published: Sunday, May 27, 2018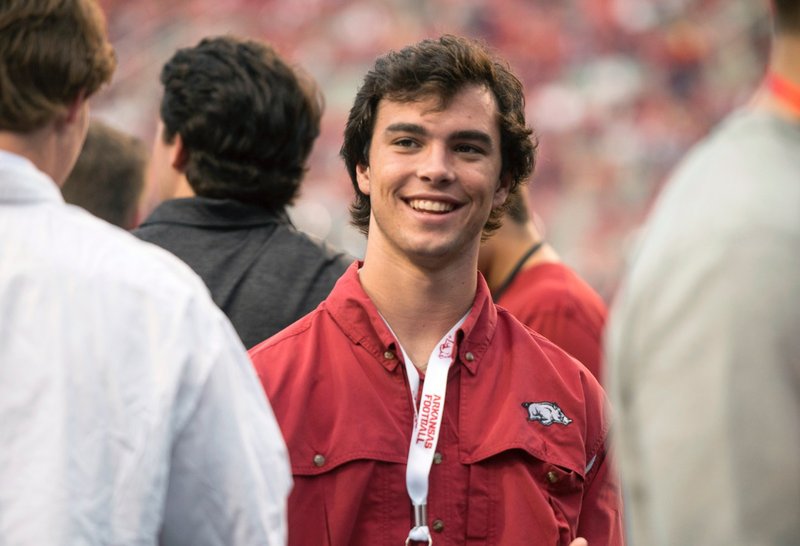 FAYETTEVILLE — Dallas, Texas, Highland Park quarterback and Arkansas signee John Stephen Jones (5-10, 190) knows he has been blessed, but still has a chip on his shoulder.
The grandson of Dallas Cowboys owner Jerry Jones and son of Cowboys Vice President Stephen Jones - both former Razorbacks - is very aware some think he was given a scholarship because of his name and not his game.
Jones had a banner high school career where he led Highland Park to back-to-back state championships while passing for 7,965 yards and 90 touchdowns with 12 interceptions over the past two seasons and he's anxious to show those are not hollow numbers.
"They (Jerry and Stephen Jones) wanted me to do what was best for me, but they are both very happy about my decision," Jones said. "They are telling me to go up there and do what I have always done, go up there and compete every single play and every single day and show everybody I deserve to be there because I do and I am going to go up there and show it."
Jones is one of 10 freshmen reporting this weekend with only Jonesboro offensive lineman Noah Gatlin (mononucleosis) unable to make it.
Those 10 signees will join wide receiver Mike Woods, linebacker Bumper Pool and defensive end Isaiah Nichols, who all enrolled in January and went through spring practice.
"I am really excited and kind of nervous a little bit, but not in a bad way," Jones said. "It's just the first time moving out of the house. It's going to be a lot of fun."
Jones was the 60th-best prospect in the Dallas Morning News' Top 100 preseason list and the sixth-ranked quarterback on that list with all six signing Division I scholarships.
Jones ended the season by being named the Offensive MVP of the state championship game, the Dallas Morning News SportsDay Area Offensive Player of the Year and the Built Ford Tough Class 5A Player of the Year in Texas.
"My best attributes would be my love for the game and the fact that I just love competing," Jones said. "I love going up there on the field with the guys, forming a bond and striving for success.
"Playing-wise, I would say my strengths are my ability to escape the rush and my accuracy, my ability to deliver a ball on time and on target."
Those qualities were certainly evident as Jones capped off his high school career by completing 38-of-57 passes for 564 yards - all state records - and four touchdowns in Highland Park's 53-49 win over Manvel in the UIL Class 5A Division I state championship game.
Jones led his team back from a 10-point deficit with just over three minutes left with the quarterback throwing a game-winning toss with 34 seconds left at the Cowboys' AT&T Stadium.
That completed a senior season where he threw for 4,911 yards and 61 touchdowns with just four interceptions.
Jones had offers from Texas Tech, SMU, and Kansas and then added one from Arkansas - the school he has rooted for growing up - on Dec. 9 after Chad Morris left SMU for the Razorbacks.
"Like you said, I grew up loving them," Jones said. "When it got down to it, I had several offers at the end of my high school career and it all kind of happened really fast.
"I took several visits at the end and came to Arkansas and talked to Coach Morris. He is a great guy, a great coach and I decided that I would love to play for him. So that's really why I did it - I want to play for Coach Morris and my previous love for the school."
Morris made it clear that he is not locked into a starting quarterback and that Jones and Greenwood star and fellow Razorback quarterback signee Connor Noland (6-3, 210) will be given the opportunity to compete for the job.
"Whether that was the case or not, I am coming up there to give it my all," Jones said. "I am going to go out there on the practice field every day and earn my stripes. The fact that Coach Morris put that out there just makes you even more hungry and want to get out there sooner."
Discussion
Have a comment on this story? Join the discussion or start a new one on the Forums.