Embattled Ramirez hopes to celebrate Senior Night with win over home-state team
Published: Tuesday, November 6, 2018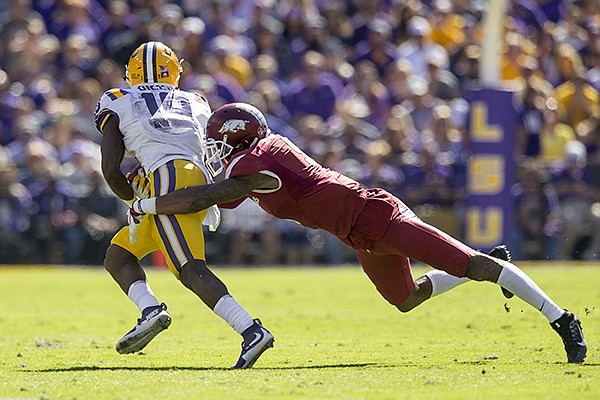 (
Ben Goff
)
Arkansas safety Santos Ramirez tackles LSU receiver Derrick Dillon during the second quarter of a game Saturday, Nov. 11, 2017, in Baton Rouge, La.
FAYETTEVILLE — Arkansas senior safety Santos Ramirez is the first to admit that neither he nor the Razorbacks football team has had anywhere near the season they desired.
But while it's been a lost year, the Louisiana native hopes Arkansas (2-7, 0-5 SEC) can at least give fans one Saturday to remember when it hosts No. 7 LSU (7-2, 4-2) at 6:30 p.m. in its home finale.
"I am pretty passionate right now," Ramirez said. "This is my last year and it has not gone the best for me as a individual or for the team. Just coming here in my last home game against LSU, I am going to give it everything I've got.
"I want to do this for my teammates, for the state of Arkansas, for me being here as long as I have be here. I am going to give everything I have got on that field.
"It's out there and it is killed or be killed. That's our mentality am going into it this week right here for real. We can not lose."
With seven losses Arkansas is no longer eligible to play in a bowl game. Ramirez noted this week's game might as well be a bowl game against the Tigers.
"I tell guys all the time, this is like our bowl game," Ramirez said. "Of course, we are not going to one, but this is a top 10 team and we can go out here and say we still have our cojones.
"We ain't letting down. If we beat LSU, it is going to be a thrilling feeling for Saturday night in Fayetteville, Arkansas, get the whole city pumped up. It would be a great feeling just going out like that. This is like our bowl game right here. That is how we are looking at it."
Ramirez, who has 64 tackles this season, is one of 13 Louisiana natives on the Arkansas roster. They all met with Arkansas head coach Chad Morris before Tuesday's practice.
"Coach Morris did a thing where each group, sophomores, juniors, seniors, freshmen, all went up there," Ramirez said. "We had a talk. We were just talking, and just the feeling in the room, just about at the end of the day it all comes down especially to guys from Louisiana."
The game is dubbed the Battle for the Golden Boot, but Ramirez described it as a battle for a biscuit on Tuesday.
"If a biscuit is in the middle of that table, man, and it's you and your mama against LSU or whoever it is, and they're trying to take your biscuit, your mama is going to be hungry," Ramirez said. " What are you going to do?
"That's what it's going to come down to. You can scheme all you want, you can do all this, but coming down there and making those plays and winning those battles. We talked about this all weekend. We're really looking forward to it. We had an off week - a bye week - and we've had ample time to get ready for LSU. We're going to use it to our advantage."
Ramirez, who was one of only three FBS players to have 60 tackles, an interception, eight pass break ups and three forced fumbles last season, was offered a scholarship by former LSU head coach Les Miles, but when he tried to commit, the Tigers' boss didn't take the pledge.
That ended up sending Ramirez and his high school teammate Jared Cornelius to Arkansas instead.
"It's crazy, just knowing of course my story that happened in the past, just knowing where I am right now, just looking back on everything - there is always passion in this game," Ramirez said. " This is for bragging rights, just going back home and getting the love that you know that you conquered your opponent back from where you are from, it is always a great feeling.
"This week speaks for itself. You don't need a motivational speech, you don't need anybody for a pep talk; the fire is already burning. I am just ready to go out there and unleash it."
Arkansas and LSU have split their last six meetings, but the Tigers have easily won the last two contests by a combined score of 71-20.
"They are coming into our house, man, it is our last home game, we don't have nothing to lose," Ramirez said. "Y'all ain't fixing to run the ball on us, y'all have got to take it. That's our mentality right now. That is the main thing. We have to come in with physical and mental toughness and got to stop the run."
LSU is favored by 13 points and is coming in off a home 29-0 loss to No. 1 Alabama.
The Crimson Tide stopped the Tigers' rushing attack, something Ramirez knows would help the Razorbacks' chances if they could do the same.
"They're kind of balanced," Ramirez said. "They want to run the ball. They want to establish a running game. The quarterback does a great job off of play-action. You have to have great eyes. They do a lot of moving.
"They like to run that a lot, 50-50, and I feel like they try to out-tough you. If you can stop the run early, make them one-dimensional, you can really hurt them."
Discussion
Have a comment on this story? Join the discussion or start a new one on the Forums.