Analysis: Rathcke's pledge adds to needed Arkansas OL haul
Published: Wednesday, November 7, 2018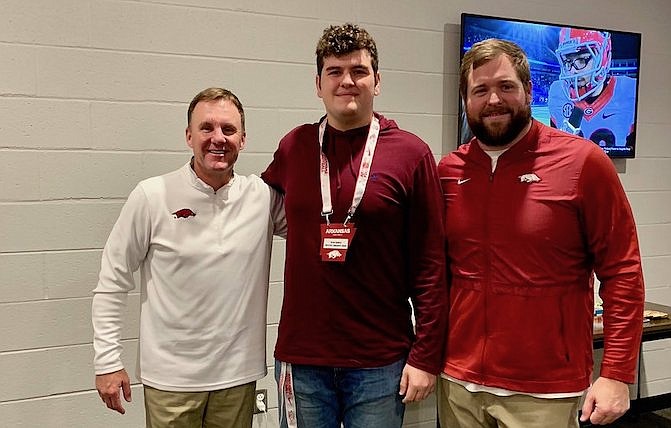 Chad Morris, Dylan Rathke, Dustin Fry
FAYETTEVILLE — In a week when Arkansas hosts LSU, the Razorbacks staff has added an offensive lineman who has grown up pretty close to Death Valley.
Baton Rouge (La.) University Lab three-star prospect Dylan Rathcke (6-5, 290) committed to the Razorbacks on Wednesday after taking unofficial visits to Arkansas and Kentucky in recent weeks.
He is part of a University Lab squad that has won 23 consecutive regular season games, is 10-0 this season and is trying to win back-to-back state titles for head coach Chad Mahaffey.
"This is his third year starting for us," Mahaffey said Wednesday. "He is a 6-5 kid, pretty long-armed and I think is a great pass protector and is pretty natural at it. He is going to get stronger in college and get more upper body strength and that will help his run-blocking, but that is probably not a lot different from other guys."
Rathcke numerically takes the place of Florida prep offensive lineman Joseph Stone (6-8, 315), who the Razorbacks staff decided to move on from after a subpar season.
"Dylan is a very hard worker and is a guy that is going to maximize his ability," Mahaffey said. "He is going to be a very good one for them."
He joins Tulsa (Okla.) Jenks' Brady Latham (6-5, 290) and Tyler (Texas) Lee's Beaux Limmer (6-5, 270) as fellow three-star offensive line commits in Arkansas' recruiting class, which has 23 members once again.
That class is ranked 12th nationally according to Rivals, 17th by 24/7 and 21st by ESPN.
The Razorbacks are expected to add two or three instant-impact junior college offensive linemen to the mix with Scranton (Pa.) Lackawanna star Chibueze Nwanna (6-7, 315) and Iowa Central College's Myron Cunningham (6-5, 300) having official visits set to Arkansas in December.
Mahaffey was impressed with Arkansas offensive line coach Dustin Fry and offensive coordinator Joe Craddock, who he knew from their time at SMU.
"Both seem like really good guys and know what they're doing," he said. "I know they made a big impression on Dylan."
Rathcke has accumulated offers during the recruiting process from co-finalists Arkansas and Kentucky as well as Louisville, Colorado State, Southern Miss, Arkansas State, Louisiana-Monroe and others.
That is not a glittery array of high-major teams, and neither of the other prep pledges have numerous Power 5 offers.
But at this time in a program whose previous staff dropped the ball on offensive line recruiting after flourishing in that area in the beginning, Arkansas' current staff is getting what it believes best fits a transition to an uptempo offense.
Discussion
Have a comment on this story? Join the discussion or start a new one on the Forums.