Analysis: Bush's pledge vaults Arkansas into national Top 10
Published: Sunday, November 11, 2018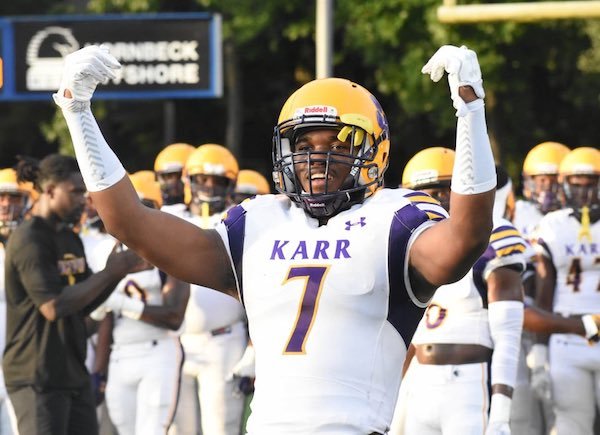 Arkansas added yet another four-star prospect to its highly regarded 2019 recruiting class on Sunday and suddenly finds itself with a national top 10 recruiting class.
New Orleans, La., Edna Karr cornerback Devin Bush (6-0, 187), whose team is 12-0 this season, chose the Razorbacks over the rest of a top six that included LSU, Auburn, Tennessee, Clemson and Oklahoma.
Razorback coaches should be given a lot of credit for not giving up when Bush, rated as the 175th-best player nationally and 17th-best cornerback in the country by Rivals, did not include them on a final five in March.
Instead, Bush becomes the 11th four-star prospect of the 24 pledged to Arkansas in a class that is ranked 10th nationally per Rivals and 16th by 24/7.
The quality of the class and the lofty ranking stuns considering the Razorbacks are 2-8 on the field this season, but speaks to the recruiting prowess of an Arkansas staff that has significant playing time to offer.
One thing that can't be overstated is how many players in the recruiting class are coming from winning programs, many from undefeated teams. Others have one loss and are still playing in their state playoffs.
Arkansas has won just six of its last 24 games dating back to a pair of losses to end the 2016 season where the Razorbacks coughed up halftime leads and sent the program spiraling.
No ifs and buts about it, the last few Razorback squads have not been able to finish, played not to lose and have done just that anyway.
While the program needs the infusion of talent it is getting under first-year head coach Chad Morris and his staff, it also needs to transform the mental culture of losing.
Successful teams find a way to win games while losing squads find inventive ways to lose them and that has happened at Arkansas through the last 24 games.
I have been intrigued about how the recruiting class, which has a group chat in which they encourage each other and point to the future, is seemingly already a band of brothers, something that usually comes about once they arrive on campus.
Bush took an official visit this weekend along with Arkansas cornerback commit Malik Chavis (6-2, 185) of Rison, Mississippi State cornerback commit Greg Brooks, Jr., (5-10, 175) of Harvey, La., West Jefferson and Tennessee linebacker pledge Lakia Henry (6-1, 225) of Dodge City, Kan., Community College.
He joins Chavis, Pflugerville, Texas, Hendrickson safety Myles Brooks (6-2, 190) and Murfreesboro, Tenn., Blackmon cornerback Adonis Otey (6-1, 180) as secondary commits in the 2019 class with the Razorbacks still hoping to add Greg Brooks and Mansfield, Texas, Legacy safety Jalen Catalon (5-11, 190) to the haul.
It appears the class is heading toward a final number of 29 newcomers with perhaps a few more four-star prospects that will likely be added to the mix.
It is easier to win with more four-star prospects in the class than it is three-star players, but you also need to be sure you are getting three stars that fit and also have a higher ceiling than others.
As we have seen it's hard to win on the field when you don't have enough talent.
Despite the dismal 2018 season on the field, there should be hope on the horizon.
Discussion
Have a comment on this story? Join the discussion or start a new one on the Forums.