Orgeron pleased with Tigers' response
Published: Sunday, November 11, 2018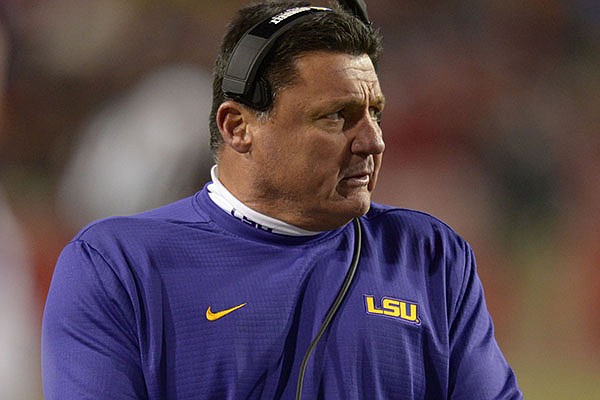 (
Andy Shupe
)
LSU coach Ed Orgeron watches from the sidelines during the third quarter of a football game against Arkansas on Saturday, Nov. 10, 2018, in Fayetteville.
FAYETTEVILLE — Any doubt about the importance of No. 7 LSU's 24-17 win over Arkansas was settled right before Tigers coach Ed Orgeron came into his press conference in the room adjacent to the visitor's locker room.
Orgeron used some colorful language to tell his team how happy he was that it bounced back from last week's 29-0 home loss to No. 1 Alabama.
He also made that point with the media after a game in which LSU held Arkansas to 61 yards total offense in the first half and a season-low 216 yards overall before an announced crowd of 48,950 at Reynolds Razorback Stadium.
"Good win for our football team, man," Orgeron said. "We had 164 yards rushing and held them to 16. That was the difference in the game. It was a tough week for our football team. I want to commend our team.
"It didn't always go our way the whole game. There are some parts where we can get better and we'll look at that, but I was proud of the win. We are 8-2 right now and our focus was to come here and win the football game and that's what we did."
LSU (8-2, 5-2 SEC) led 24-3 at the end of the third quarter before Arkansas (2-8, 0-6) showed life with two fourth-quarter touchdown passes from Ty Storey to Cheyenne O'Grady of 11 and 32 yards.
That cut the Tigers' lead to 24-17 with 5:27 left, but LSU never gave the ball back.
"That last drive was important," Orgeron said. "They cut it to one-score game. I should have kicked a field goal earlier. I got too aggressive and that's on me."
The last drive featured tailback Nick Brossette twice falling down short of the end zone when he likely could have scored.
"It's a down-and-down to run out the clock," Orgeron said. "That's the situation and we practice it."
Brossette rushed 23 times for 90 yards and Clyde Edwards-Helaire added 56 yards on 17 carries.
Those two combined to run on nine consecutive plays beginning the second quarter in what turned into a 14-play, 77-yard possession that put the Tigers up 14-0.
"We needed to run the football," Orgeron said. "We couldn't protect the quarterback and we got on the headset and decided, 'Hey, let's run the football, let's get after them, let's be physical,' and I thought that was the turning point in the ballgame right there.
"It slowed down their tempo. It gave our defense a chance to rest. They were playing lights out, going three-and-out and three-and-out and three-and-out, and they needed to get some rest. I thought it set the tempo for the rest of the game."
Orgeron said it was good to see his players happy.
"It will be good to get on the the plane and be happy," he said. "It was good to get out of Baton Rouge, come to a tough place to play and leave with a win."
Prior to the game, some LSU defensive backs came out for warmups without any shirts on in 38-degree weather. Greedy Williams said that was to develop a tough mindset.
"They were stressing to us that it was going to be cold so we wanted to prove to the coaches that the weather doesn't matter," Williams said.
Williams admitted it was tough to bounce back after the loss to Alabama.
"We got humbled," Williams said. "We had to get back in it and now we are rolling again."
"The important thing remains that we won the football game," Orgeron said. "I am so pleased with the win. This is a hard place to come and play, especially with tough circumstances for our football team. We gutted it out."
Discussion
Have a comment on this story? Join the discussion or start a new one on the Forums.