State of decay: Razorbacks stumble in 52-6 defeat to Mississippi State
By:
Tom Murphy
Published: Sunday, November 18, 2018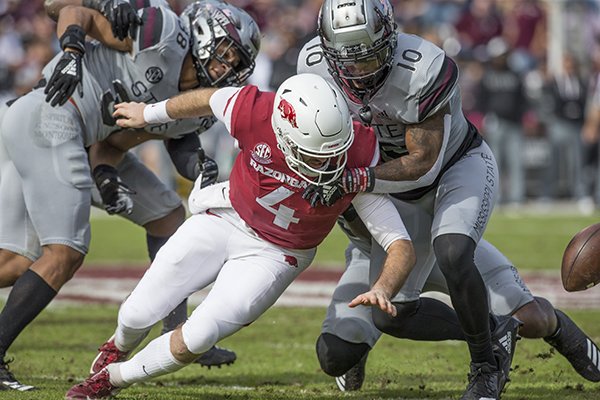 Mississippi State linebacker Leo Lewis (10) forces Arkansas quarterback Ty Storey to fumble during the second quarter Saturday, Nov. 17, 2018, at Davis Wade Stadium in Starkville, Miss. The ball was recovered first by Mississippi State, then fumbled again with Arkansas recovering for a first down.
STARKVILLE, Miss. -- The Arkansas Razorbacks blew one big-play opportunity after another in a bumbling 52-6 loss to No. 21 Mississippi State on Saturday.
Then Coach Chad Morris blew up at his undisciplined team after the program's worst loss to any team from Mississippi.
"Just completely unacceptable," Morris said to open his postgame remarks. "Unacceptable in all areas. Unacceptable coaching. Unacceptable playing. Unacceptable effort."
While the Razorbacks were dropping wide-open passes, having touchdowns called back because of penalty and missing tackles, the Bulldogs were hitting all the right notes behind their maestro quarterback.
Nick Fitzgerald operated the Bulldogs' run-pass option game beautifully before a crowd of 57,772 at Davis Wade Stadium. The senior conducted six consecutive touchdown drives in the middle portion of the game, and backup Keytaon Thompson made it seven in a row with his 33-yard touchdown pass on fourth down as the Bulldogs kept their foot on the gas late in the game.
"I'm excited about the win and most importantly for the senior class," Mississippi State Coach Joe Moorhead said. "For them to cap it off with a performance like this against an SEC team, I couldn't be happier for those guys and everything they've done for me personally this year in the transition."
Morris was fuming in the visiting postgame media session.
The first-year Arkansas coach said "unacceptable" nine times in his relatively short remarks and added that any player, coach or auxiliary staff member who wasn't ready to put in work for the season finale at Missouri shouldn't bother to show back up.
"That's not what we're about," Morris said. "That's not what this program's going to be built on. It's absolutely not accepted. We're in a big gut-check time right now."
The Razorbacks (2-9, 0-7 SEC) lost by their largest margin ever in the series and secured the second nine-loss season in school history. Arkansas, which has lost 15 of its past 16 SEC games since a 58-42 victory over the Bulldogs here in 2016, has never lost 10 games in a season.
Mississippi State (7-4, 3-4) won for the sixth time in the last seven games against the Hogs and improved their bowl positioning in the rugged SEC West.
The Razorbacks had their second SEC game without a touchdown this season.
"The whole night it seemed like we couldn't bounce back. We couldn't get anything going," Arkansas quarterback Ty Storey said.
"I mean, we just didn't play very well offensively, defensively," senior linebacker Dre Greenlaw said. "It's kind of the story of our season. You know we hate to leave the field on such a bad note."
Mississippi State racked up 475 total yards, and its No. 7 defense held Arkansas to 219 yards, 143 yards below its season average.
"It was disappointing," Arkansas defensive tackle Armon Watts said. "Scoreboard don't lie. Film don't lie. We have to win one-on-one matchups, and we failed to do that sometimes during the game."
Mississippi State punted only once, at the end of its second possession. Arkansas punted just three times, but missed a field goal, was sacked twice on fourth downs in the second half and threw an interception.
The Bulldogs had five sacks for 48 lost yards, while the Razorbacks did not sack Fitzgerald or his backups.
Mississippi State scored touchdowns on its final two drives of the first half, but Arkansas cut its deficit to 17-3 on Connor Limpert's 36-yard field goal with 32 seconds left in the half.
The Razorbacks opened the second half with an impressive drive and actually had a touchdown on Storey's 6-yard pass to Deon Stewart, but the scoring play was called back on offensive pass interference as the officials flagged La'Michael Pettway for what they determined was a pick play.
Instead of pulling within 17-10, the Razorbacks had to settle for Limpert's 32-yard field goal.
"A lot of people have that play in their playbook, and I don't know how we decide when to call [the penalty] and when not to," Storey said. "I'm not an official, so I can't make that call. But I don't know, they've got to call it all the time or not call it at all. One of the two."
Arkansas defensive coordinator John Chavis came down from the press box to call plays on the field in the second half, but the move didn't pay off.
The Bulldogs scored two touchdowns in the next four minutes and the rout was on.
"I just think stuff started going down hill and no one stepped up," Storey said. "That's as much on me as it is anybody."
Fitzgerald accounted for 212 yards and five touchdowns in his final home game, raising his touchdown total against Arkansas to 14 in three games. He completed two of his first seven passes for 14 yards but finished the day with seven consecutive completions, the last four all for touchdowns: 34 yards to Justin Johnson, 4 yards to Keith Mixon, 15 yards to Osirus Mitchell and 19 yards to Austin Williams.
One play seemed to symbolize the Razorbacks' outing more than any other. Arkansas designed a reverse pass on which De'Vion Warren took a pitch from Stewart in the backfield while running to his right. The former prep quarterback had Storey running unguarded about 12 yards downfield with green grass ahead of him, but Warren's throw was low and incomplete.
"I'm just hard on myself that you practice something over and over and over, and you get your chance and it doesn't work," Warren said. "So yeah, that's my fault on that. I didn't give a good delivery, so just bad execution on my part."
The day was full of similar unmade plays by Arkansas.
Storey took a deep shot for an open Stewart with Mississippi State leading 10-0, but the ball was slightly underthrown and Stewart could not hold on as a defensive back came in late to throw off his focus. Later, Warren dropped an open slant with no defenders in the area.
"We had some opportunities and were unable to execute," Morris said. "I think that's the biggest thing. Just a lack of execution. We had drops. We had guys open and couldn't get it.
"We get a touchdown call and get it called back. We've got guys running open, and we're getting knocked back. Lack of execution."
The Razorbacks have six days to prepare for their season finale Friday at Missouri.
Sports on 11/18/2018
Discussion
Have a comment on this story? Join the discussion or start a new one on the Forums.