Battle Line game will feature 9 former Fayetteville players
Published: Tuesday, November 20, 2018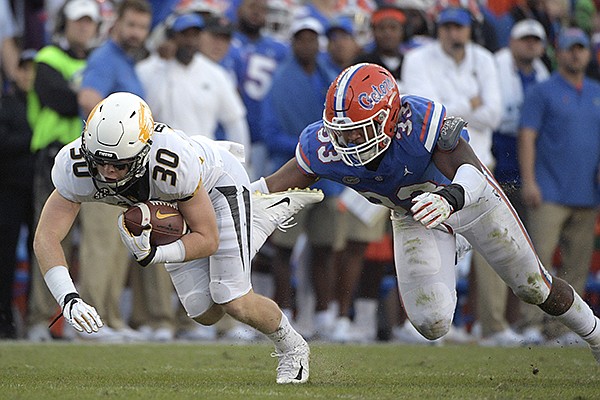 Missouri wide receiver Barrett Banister (30) is tackled by Florida linebacker David Reese II (33) after catching a pass during the second half of an NCAA college football game Saturday, Nov. 3, 2018, in Gainesville, Fla. Missouri won 38-17. (AP Photo/Phelan M. Ebenhack)
FAYETTEVILLE — There will be a lot of red, white black and gold in the Arkansas-Missouri matchup Friday afternoon.
There will also be plenty of purple.
Nine former Fayetteville Purple 'Dogs are on the rosters of the two squads that will meet in Columbia, Mo., at 1:30 p.m on CBS.
The Razorbacks feature six former Fayetteville stars in senior linebacker Dre Greenlaw (6-0, 227 pounds), junior tight end Cheyenne O'Grady (6-4, 251), sophomore center Ty Clary (6-4, 287), junior defensive lineman Damani Carter (5-11, 248), redshirt freshman receiver Tyson Morris (6-1, 200) and sophomore quarterback/holder Jack Lindsey (6-2, 195). Lindsey played two years at Fayetteville before finishing his career at Springdale.
The Tigers' roster includes starting defensive end Akial Byers (6-4, 280), back-up redshirt freshman quarterback Taylor Powell (6-2, 210) and redshirt freshman receiver Barrett Bannister (6-0, 190).
"It's bringing back the glory days," O'Grady said. "It's been about four or five years now since I've been at Fayetteville playing with all of them. It's kind of like a big family reunion. Everybody gets to go compete at the next level, so it'll be big fun."
O'Grady has 29 catches for 283 yards and six touchdowns this year, Greenlaw has 80 tackles this year, Clary took over as the starting center five games ago and Morris has three catches for 40 yards and a touchdown.
"I can't wait to play against those guys," Clary said. "Last year, we lost to them (48-45). This year, we are looking to beat them. I am really excited to see my old teammates from high school. That high school team was really something special to all of us.
"I am just really excited, especially this year. Last year, I didn't get to go up against Akial, who plays D-line. I am real excited about that this year. I am really looking forward to it."
Byers, who was committed to Alabama at one time and was offered late by Arkansas, has 18 tackles this season, 16 in the last five games.
"He's been good, he's always been good," Clary said. "He was highly recruited. He plays D-end, he plays his technique well, he plays his gap, he plays his assignment. He is assignment sound.
"The whole D-line is awesome and really assignment sound. They play their technique well and they are a good group of D-lineman and linebackers."
O'Grady is impressed with what he has seen from Byers on film.
"He's really developed since he's been in high school," O'Grady said."He was kind of like a quiet player, wasn't really doing anything spectacular. Then the next thing you know he blew up when I got into college. Alabama offered him. He ended up going to Mizzou and he's been doing well."
Powell has played in five games this season while backing up Missouri starter Drew Lock. Powell has completed 5 of 12 passes for 128 yards and ran one time for five yards.
Bannister has caught three passes for 39 yards this season.
"Taylor Powell was my quarterback my senior year," O'Grady said. "He did very well...he's doing pretty well for himself.
"I thought he did well (at Fayetteville). He was young, of course. I think he was a sophomore when I was a senior. He was able to step up to the plate and deliver great balls across the whole team, to the receivers, to me at tight end. "
O'Grady noted that why he is proud of the Fayetteville High products, he looks at this game as just the next one on the schedule.
"There hasn't been much communication really," O'Grady said. "I don't know … We just see them as another team. Then after the game we'll probably exchange a few words. But other than that, we just view it as another game."
The Tigers also have another Arkansas native on their roster in junior tailback Damarea Crockett, who has rushed for 709 yards and seven touchdowns this season.
He has missed the last two Arkansas-Missouri match-ups. He was suspended as a freshman following an arrest for marijuana possession, and was injured last year.
Crockett, who was recruited by Arkansas but not offered, was in a boot on Monday for a toe injury, but is still hoping to play Friday.
"With all the story lines with that one, he wants to play," Missouri coach Barry Odom told the St. Louis Post-Dispatch. "I think he's going to be ready to go do that. I hate it for him to get banged up the other day because he was playing so well…D.C.'s done a great job leading. He's played really well the last couple weeks. It's been what I wanted to see out of him."
Clary was clear about the focus this week as Arkansas tries to bounce back from a 52-6 loss at No. 18 Mississippi State last weekend.
"The message has been it is all about the seniors this week," Clary said. "All of our seniors have been really close to everybody, they have been leading us the whole year, they are who we are playing for right now. It is all about those guys, the seniors and it is all love, it is all, 'Let's ball out one more time.' Let's beat these cats. Let's do it."
O'Grady says there is still something left for the Razorbacks to fight for Friday and noted that the seniors were carried off the practice field Tuesday by the underclassman at the request of Arkansas coach Chad Morris.
"The past two years, we've lost to Missouri," O'Grady said. "That's another reason for us to play our best and play as hard as we can to get the W. We're trying to get as many wins as we can this season. If we can get that last one, that would be great. There's a trophy involved, too, so we can play for that as well.
"There's still great emotion and everybody's excited to be out there. The seniors had a great last day. We all carried the seniors off the field and into the (indoor practice area). It was lot of fun."
Discussion
Have a comment on this story? Join the discussion or start a new one on the Forums.