Imperfect 10: Razorbacks close season with washout
By:
Tom Murphy
Published: Saturday, November 24, 2018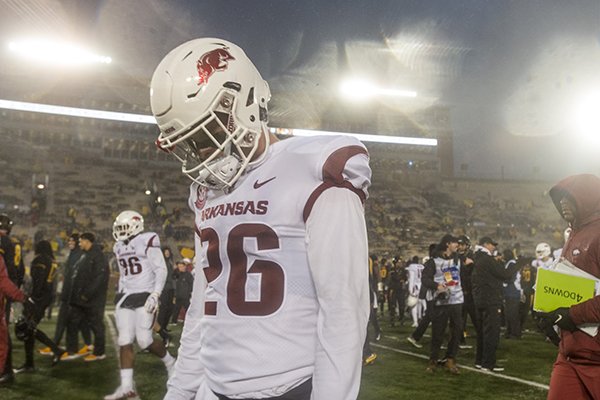 Arkansas special teams player Ryder Lucas (26) walks off the field following the Razorbacks' 38-0 loss to Missouri on Friday, Nov. 23, 2018, in Columbia, Mo.
COLUMBIA, Mo. -- The Battle Line rivalry was a miserable washout for the Arkansas Razorbacks on a rainy Friday.
Missouri put the University of Arkansas' 2018 season out of its misery with a 38-0 rout at Faurot Field on a wet, windy and cold day before an announced crowd of 52,482.
The loss gave Arkansas its first 10-loss season and its second winless conference mark in school history. The Razorbacks (2-10, 0-8), under first-year Coach Chad Morris, were shut out for the first time since a 52-0 loss at No. 1 Alabama on Oct. 19, 2013.
"Definitely disappointed today, without a doubt," said Morris, who directed a lot of his focus forward to recruiting and the 2019 season. "We gave up 21 points in the second quarter, had two turnovers ... and put our defense in some very tough situations.
"We couldn't flip the field. We just couldn't climb the hill."
Arkansas went winless in its trophy games against Texas A&M, LSU and Missouri for the third consecutive year. The Razorbacks did not score a touchdown in their final eight quarters while falling on the road to Mississippi State and Missouri by a combined 90-6 score.
Missouri (8-4) won the Battle Line Trophy for the third year in a row and improved to 7-3 in the series against Arkansas.
The Razorbacks failed to score a touchdown in back-to-back games for the first time since 1995, when they lost 28-0 at LSU then 34-3 to Florida in the SEC Championship Game. They were beaten by 30-plus points for the 21st time since joining the SEC, the 12th time since 2012 and fourth time this year.
Missouri led 28-0 at halftime and throttled its offense back in the second half as the Razorbacks struggled to sustain drives.
"In the first half, all it came down to was poor execution on offense," senior lineman Hjalte Froholdt said. "We gave our defense bad field position."
Missouri quarterback Drew Lock did not have a monster game, but the senior didn't have to against Arkansas. Lock, who is considered one of the best quarterback prospects in the upcoming NFL Draft, scored a pair of rushing touchdowns for the first time in his career and threw for 221 yards and 2 touchdowns on 16-of-25 passing. He was replaced early in the fourth quarter.
The weather conditions adversely affected the Razorbacks, who had a series of muffed or dropped snaps from centers Ty Clary and Hjalte Froholdt to quarterbacks Ty Storey and Connor Noland.
The Arkansas offensive line could not create run lanes and did not hold up well in pass protection. The Razorbacks rushed for 52 yards, which included 5 sacks for 44 lost yards.
"They were closing quick. They've got some really fast guys, great athletes that can read the play well and chase you down," said Noland, who went 5 of 17 for 98 yards.
"I did not think we played well up front," Morris said. "Our inability to sustain some blocks was disappointing. It put us behind the chains."
Missouri had a 408-187 edge in total yardage and rushed for 181 yards, led by 119 from Larry Rountree. The Tigers had 8 tackles for 51 lost yards compared to 3 tackles for 7 lost yards for the Razorbacks.
The game featured five former Fayetteville High School players -- though Arkansas linebacker Dre Greenlaw did not play due to ankle problems -- but the only one to score was a Missouri defender.
Akial Byers recovered a strip sack on Storey forced by Jordan Elliott in the end zone for a touchdown during Missouri's big second quarter. Elliott, a transfer from Texas, posted his first three sacks of the season.
Missouri held the Razorbacks to 10-of-25 passing for 135 yards and won the turnover battle 2-1.
The freshman Noland replaced Storey at quarterback early in the second quarter after Storey threw an interception, lost a fumble and endured three sacks. Storey went 4 of 7 for 24 yards.
The Razorbacks notched two first downs on their first five possessions and reached no further than their own 35.
Noland's first sequence reached the Missouri 26. Cheyenne O'Grady drew a defensive pass interference call on a deep ball, then Noland completed passes for 18 yards to Devwah Whaley and 15 yards to La'Michael Pettway.
On fourth and 5 from the 26, linebacker Terez Hall got pressure from the back side on a rollout pass and sacked Noland for a 14-yard loss.
Missouri jumped on top with a 75-yard drive to open the game. Lock capped the series with a 9-yard touchdown run. Rountree had eight touches for 49 yards on the opening drive.
Lock put the Tigers on top 14-0 with a 3-yard keeper early in the second quarter. That 35-yard sequence was set up by Hall's interception over the middle against Storey.
"Ty had a little bit of struggles in the beginning, and we weren't really moving well on offense," Froholdt said. "We were just trying to change things up and figure out if we could get things to start working. Obviously, we got a little bit of movement, a couple of drives, but we stayed behind the chains and never really got good production on first down."
Lock's touchdown passes went for 6 and 67 yards to Emanuel Hall. The first gave the Tigers a 28-0 lead with 35 seconds remaining in the second quarter.
Hall got past freshman Montaric Brown in the third quarter for the 67-yard touchdown, which gave the Tigers a 35-0 lead. That was Lock's fourth touchdown pass of 55 yards or longer in three games against the Razorbacks.
Arkansas had four possessions extended into Missouri territory but could not get on the board.
The Razorbacks' average starting position was their own 24, while Missouri had an average starting position of its own 40.
Sports on 11/24/2018
Discussion
Have a comment on this story? Join the discussion or start a new one on the Forums.