Miserable game, miserable weather suitable ending for miserable season
By:
Rick Fires
Published: Sunday, November 25, 2018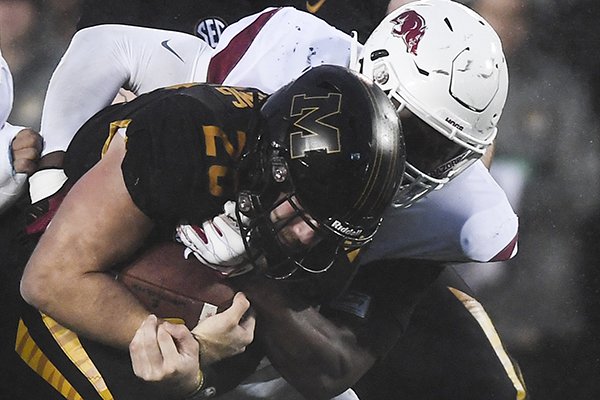 Arkansas linebacker Dee Walker tackles Missouri running back Dawson Downing during a game Friday, Nov. 23, 2018, in Columbia, Mo.
Well, at least the guys from Arkansas played well on Friday.
The ones for Missouri, not Arkansas.
I don't like to kick the Porkers while they're down. But my goodness, they've been down so long and it just stung a bit more when Akial Byers, Barrett Bannister and Taylor Powell — all from Fayetteville High School and none of whom was seriously recruited by the Razorbacks — contributed to the 38-0 shutout.
Good for them, bad for Arkansas.
So let's put an end to this historically bad football season and move on. I will do my part and hold myself accountable for the bad predictions I made in August about the Razorbacks.
FINAL RECORD
I predicted Arkansas would finish 5-7 and show slight improvement this season from the 4-8 record that ended Bret Bielema's five-year term with the Razorbacks.
Turns out my grim prediction of five wins was three too many. But who among us predicted Arkansas would suffer its first 10-loss season and its second winless conference record in school history?
Anyone? I didn't think so.
KEY GAME
Texas A&M was pivotal because a win here would've shown real progress in Chad Morris' first year on the job. But Arkansas was already 1-3 before the Razorbacks lost to the Aggies for the seventh consecutive year.
BEST WIN
I was sure I had this category correct after Arkansas jumped to a 27-10 lead over Ole Miss. But Ole Miss piled up over 500 yards of total offense and rallied for a 37-33 victory before a disappointed crowd at War Memorial Stadium.
So, we're left with two choices for best win. Is it the season-opening victory over Eastern Illinois or the shutout against Tulsa?
Slim pickings, for sure.
WORST LOSS
Take your pick.
I predicted in August the worst defeat would come in Week 2 against Colorado State, a Mountain West team that finished 3-9 on the season. Others will point to the home loss to North Texas State or the debacle at Mississippi State.
Losing to an SEC team on the road is not surprising, but that performance was embarrassing to even the most hardcore fans of the Razorbacks.
MOST VALUABLE PLAYER
I picked Jared Cornelius, a fifth-year senior and a wide receiver on what was supposed to be a left lane, hammer down attack.
Arkansas, instead, resembled an elderly person driving slowly in the left lane with the turn signal on. As bad as the offensive line was on Friday, the receivers were just as bad.
Cornelius started seven games and had eight receptions this year, 11 less than he caught as a freshman in 2014.
TOP NEWCOMER
I targeted the secondary because I knew Arkansas hadn't really covered anyone consistently in several years. So, I took a wild guess and picked Joe Foucha, a true freshman from New Orleans.
Foucha was one of three freshmen who started in the secondary against Missouri on Friday. But it was too little, too late. Foucha started one game and had a season-high four tackles in the defeat at Mississippi State.
The award for top newcomer should go to Rakeem Boyd, the JUCO transfer who originally signed with Texas A&M.
Or, is Boyd the team's Most Valuable Player?
BREAKOUT PLAYER
Chase Hayden showed flashes as a freshman running back for Arkansas before his season was cut short by an injury. But Hayden rarely got on the field as a sophomore and finished with 268 yards rushing on the season.
Overall, I had poor performance in the guessing game this year. At least I didn't predict a winning season and a bowl game for the Razorbacks, as many had done.
Bowl hopes seem far off at Arkansas, where interim coach John L. Smith in 2012 demanded folks keep smiling during a 4-8 season. Arkansas fans weren't smiling then, and they're certainly not smiling now after a season that produced two fewer wins than that awful season in 2012.
A miserable game and the miserable weather in Missouri on Friday was a suitable ending for a miserable season at Arkansas.
Discussion
Have a comment on this story? Join the discussion or start a new one on the Forums.