Hill elevates game for Little Rock Christian; senior QB has scored 7 TDs in each of 3 playoff wins
Published: Wednesday, November 28, 2018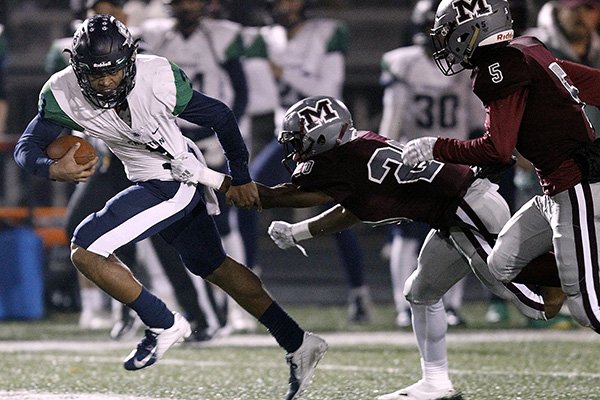 During the Class 5A playoffs, the number seven has been good to Little Rock Christian senior quarterback Justice Hill.
Hill has scored seven touchdowns in each of the three playoff victories to propel the Warriors to their first state championship game since 2007. They will meet crosstown rival Pulaski Academy on Friday for a 7 p.m. kickoff at War Memorial Stadium in Little Rock.
On Friday at Morrilton in the Class 5A semifinals, Hill threw for 374 yards and seven touchdown passes in the Warriors' 61-42 victory.
Hill also had 435 yards and four touchdown passes while adding three scoring runs in Little Rock Christian's 48-24 rout at Texarkana on Nov. 16 in a quarterfinal matchup. He scored six times on the ground and tossed a scoring pass to lead the Warriors past Greenbrier 63-26 in a first-round game Nov. 9 at Warrior Field in Little Rock.
Little Rock Christian (12-1) is averaging 57.3 points in the Class 5A playoffs.
"We've been locked in," Hill said. "We've been focused. We've had good weeks of practice. We've been going into every game confident. We're looking to keep rolling into the state championship."
In 11 games this season, Hill has passed for more than 2,816 yards with 35 touchdowns and 4 interceptions, and he has rushed for more than 888 yards and 19 touchdowns.
"Justice is an impact player. He's a big-play player," Warriors Coach Eric Cohu said. "Our offense is quarterback-driven. He does a very good job of distributing the ball to various receivers.
[HIGH SCHOOL FOOTBALL: Click here for more scores, recaps and photos]
"He can beat you with his arm and his feet. He's a dual-threat quarterback, which is exciting to have because he's made some awesome plays by leaping defenders, throwing and rushing touchdowns. He's had an outstanding season."
Senior linebacker/defensive end Jack Mabry has enjoyed Hill's performance.
"He gives our team confidence," Mabry said. "He makes incredible plays that get the whole team up. It's awesome to watch."
Hill is in his first season as the Warriors' starting quarterback. He backed up Jackson Bowersock as a junior last season, accounting for 17 touchdowns (5 passing, 4 rushing, 8 receiving).
In 2018, Hill is 11-0 as the Warriors' starting quarterback. He missed two games -- Sept. 28 at Pulaski Academy and Oct. 5 against Little Rock Fair -- because of a hamstring injury.
On Oct. 12, Hill returned to the lineup and threw three touchdown passes in a 40-20 victory over Little Rock Parkview.
Without Hill, Little Rock Christian lost at Pulaski Academy 56-14. Hill was disappointed he couldn't play, but he said this week it was for the best in hindsight.
The Warriors get another crack at the Bruins (12-1), who have won four consecutive Class 5A state championships and have not lost to the Warriors since 2009.
"They beat us pretty badly," Hill said. "But we're coming into this game confident. We had other players who were out coming back healthier. It's pretty exciting."
Friday marks Hill's final athletic event with Little Rock Christian. He has signed a letter of intent to play basketball at the University of Arkansas and will enroll for the spring semester.
"It went by fast," Hill said. "It's exciting, but it's also bittersweet."
Before he heads to Fayetteville, Hill will lead the Warriors' football team against its biggest rival. He understands the magnitude of the Warriors-Bruins series.
"It's been a big rivalry for a long time," Hill said. "There's street credit. Things you can talk about later down the road. It's a big game if it's a playoff game, a state championship game or a regular season game."
This week's games
STATE CHAMPIONSHIP SCHEDULE
At War Memorial Stadium, Little Rock
FRIDAY'S GAME
CLASS 5A
LR Christian vs. Pulaski Academy, 7 p.m.
SATURDAY'S GAMES
CLASS 6A
Benton vs. Greenwood, noon
CLASS 7A
Bryant vs. North Little Rock, 6:30 p.m.
SEMIFINAL SCHEDULE
FRIDAY'S GAMES
CLASS 4A
Dumas at Joe T. Robinson, 7 p.m.
Arkadelphia at Shiloh Christian, 7 p.m.
CLASS 3A
Rison at Osceola, 7 p.m.
Prescott at Booneville, 7 p.m.
CLASS 2A
Junction City at Foreman, 7 p.m.
Mount Ida at Hazen, 7 p.m.
Sports on 11/28/2018
Discussion
Have a comment on this story? Join the discussion or start a new one on the Forums.