Legacy safety Jalen Catalon leaves Fayetteville impressed
Published: Sunday, October 7, 2018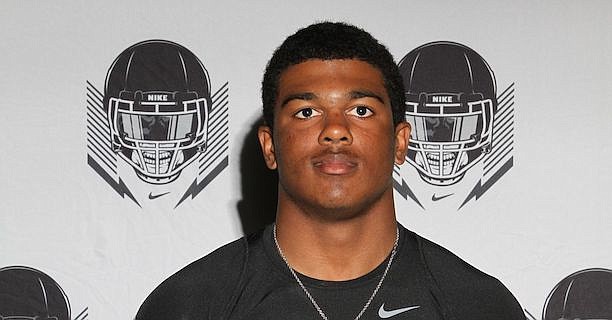 FAYETTEVILLE — Arkansas has always felt good about the summer pledge of Mansfield (Texas) Legacy defensive tackle Enoch Jackson (6-0, 290) and the possible addition of Broncos defensive end Taurean Carter (6-3, 260), who plans to announce a decision on Oct. 24.
But the Razorbacks staff would dearly love to make it three-for-three at the school this recruiting cycle and add Legacy safety Jalen Catalon (5-11, 190), the nation's 11th-best prospect at the position, per ESPN, and top 250 prospect overall.
Arkansas hosted all three of the players on official visits this weekend.
"Those are my brothers," Catalon said on Sunday after his visit concluded. "We've played together for a little while. I love them both to death. I told them if we come on the same field with each other, that's going to be something special. If we don't, then we've got to go our separate ways, but do what's best for y'all and do what's best for each other.
"That's what it's all about because I want everyone to succeed as much as possible. If we do all come here and play, it'll be something great for sure."
Catalon, who was lost for the 2018 season during the first half of his team's season opener at Jenks (Okla.), is looking at a final four of Arkansas, Texas, Oklahoma and TCU.
He also had offers from Alabama, Ohio State Clemson and Nebraska, programs that were all in his top eight when he announced that list back in May.
The Arkansas visit was the second of his five official visits for Catalon, who visited Oklahoma the previous weekend.
"It was a great visit," Catalon said of his time at Arkansas. "I got to see everything. The game, the fans were behind Arkansas' back and I love to see the coaches still believe in the kids and show them that everything will get better. I like what they're preaching and stuff like that. The game was good, I enjoyed it, and it was something good to watch."
Catalon had a combined 276 tackles as a sophomore and junior with 13 of those stops being for lost yardage for loss, a whopping 12 interceptions, 10 pass deflections, four forced fumble and five fumble recoveries.
He also played quarterback as a junior and rolled up 2,234 yards of total offense and 28 TDs last season for the Broncos.
Catalon is hesitant to name a favorite until he takes all five of his visits.
"That question can't be answered until I take all of my visits, so that will probably be determined once my commitment is made," Catalon said. "I can't really make a statement until I take all of my visits.
"But it's a great school. I love what the coaches have going on down here. I really enjoy it down here. The University of Arkansas, I mean, it's crazy down here for sure, no doubt."
He has plans to announce early in January.
"Yes, January will be my commitment," Catalon said.
Discussion
Have a comment on this story? Join the discussion or start a new one on the Forums.