Arkansas to host 2020 guard Bryce Thompson this weekend
Published: Thursday, October 18, 2018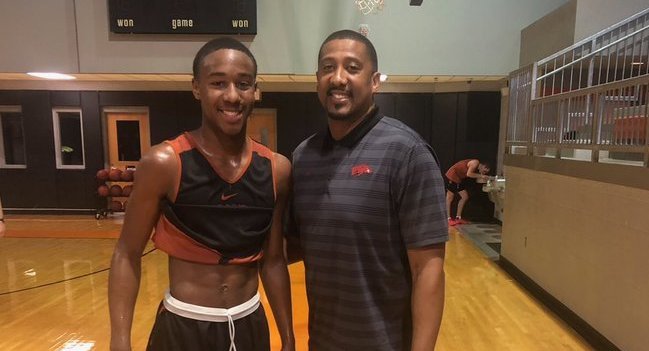 Bryce Thompson, Scotty Thurman
FAYETTEVILLE — Arkansas remains one of the college basketball programs in the chase for Oklahoma's top junior basketball player and one of the nation's 50-best prospects in the 2020 class.
Tulsa Booker T. Washington shooting guard Bryce Thompson (6-5, 170), ranked 45th nationally by ESPN, will officially visit the Razorbacks this weekend.
"We know those guys over there really well," noted Rod Thompson, Bryce's dad and his Oklahoma Run PWP AAU head coach. "Love the way they run their program."
He notes Arkansas remains in the chase along with Kansas, Oklahoma State, Colorado, Texas A&M, Oklahoma, Missouri and others.
Thompson joins former North Little Rock and current Montverde Academy guard Moses Moody (6-5, 185) and Memphis Whitehaven guard Matthew Murrell (6-3, 180) as a trio of top 100 juniors officially visiting Arkansas this weekend.
It doesn't hurt that former Run PWP player Keyshawn Embery (6-3, 202) is a freshman for the Razorbacks this season.
"Definitely the Razorbacks are right there in the mix and with having Keyshawn there, it makes it even better and definitely helps. And the fact that Bryce grew up around (former Razorback point guard) Lee Mayberry doesn't hurt either."
Mayberry and the older Thompson have been close friends for a while.
"He's a Hog to the end, and he's been around Bryce since Bryce was born," Thompson said. "Lee was right there when we started our AAU program, and … he's been in my wedding. He's always telling me about the Hogs and he felt like Bryce would be good enough to play there."
The Thompsons came to Fayetteville to see Arkansas' 94-75 win over No. 21 Texas A&M last season before a crowd of 18,097 fans.
"We're very familiar, but to come over and experience the atmosphere and really get a closer look, we really enjoyed it," Thompson said. "The atmosphere is unbelievable."
Bryce Thompson, who averaged 15.3 points this spring and summer on the Under Armour AAU circuit, has taken official visits to Colorado and Texas A&M with an unofficial one to Kansas for its Late Night in the Phog event to start practice.
Arkansas, which has had two former Washington alums in Clint McDaniel and Landis Williams play for the program, will play its Red-White game on Friday and the football team hosts Tulsa on Saturday.
Tulsa Memorial downed Washington 79-67 last season in the Class 5A state championship game with Thompson averaging 19.7 points in postseason action.
Washington, which is moving back up to Class 6A this season, finished 16-8 with a late run to the title game, and Thompson's 29 points in the semifinal got it into the title game.
Rod Thompson loves what he sees in Arkansas head coach Mike Anderson and assistants Melvin Watkins, T.J. Cleveland and Scotty Thurman.
"When you talk about Arkansas — and me and Bryce talk about this a lot and I tell all of our players this — you want to be recruited by good guys," Thompson said. "And when you talk about good guys, they do not get better than Coach Mike Anderson.
"…Selfishly for me, it's so close in proximity to where we live, but also the rest of the staff — Coach Watkins, T.J. and Scotty — are all just great all-around guys. That is huge.
"I say all the time, it is about a staff that will care about you outside of basketball, when you are playing or not playing, to get the best out of you as a person, the Arkansas staff are some great men and as a father that is what you want is your son around great guys like that."
Rod Thompson played three years at Oral Roberts and a year at Tulsa, where he led the team in scoring for current Kansas head coach Bill Self in his first year there.
He has many college basketball connections through his leadership of the Run PWP organization.
"I think it is a huge advantage and I tell my parents this all the time," Thompson said. "I have, through kids that have played in our program, I have been fortunate to know everybody that has been recruiting Bryce through some type of connection, somebody who knows somebody.
"It such a huge advantage because it takes away the layer where I think I could probably ask some tough questions that maybe a lot of parents couldn't. I can probably get a lot more insight and I think that has helped kids in our program because I do know these guys and know what they need to work on and how they could fit in."
Thompson noted he also uses that to get real info on what his son needs to work on.
"It has given us an advantage," Thompson said. "It has from the standpoint of Bryce playing, from a playing standpoint on the court, they will definitely tell me what he needs to work on and I think they can share that with me without it coming off the wrong way.
"We try to use that as an advantage for all of our kids, with Keyshawn as an example as his dad Jermaine coached in our program. He narrowed it down and we were able to sit down and really able to evaluate character and coaches. A lot of that made the difference for him."
Thompson is also a big fan of the new rule that allows juniors to take official visits.
"I think it is good both ways and what I mean by that is that kids who are fortunate to get recruited at a high level like Bryce get a realistic look at things," Thompson said. "Just because you have a bigger whirlpool is not going to be the difference in Bryce choosing a school.
"So when you have an official visit, they are able to lay it all out there, let you know, really show you a good time and see things you probably wouldn't see on an unofficial visit.
"And it works for the schools as well. They are able to have a chance to bring a kid in and spend quality time with them, how the interaction is between the coach and the player and the staff. So I love it and I think it is a win-win, and I encourage all my kids to go out and be able to do it."
Thompson believes it helps coaches realize how much time it should put in recruiting kids.
"I think it is also being respectful to those coaches," Thompson said. "This is probably the coaching part coming out in me because coaches who spend hours and hours recruiting our kids all the time and it really keeps you from wasting anybody's time. Because these guys do spend a lot of time and resources on them.
"Doing it early right now gives us better info and when it comes closer to making a decision with the smoke out of the way a little bit more and focus next year for where he wants to be and whether we want to take more official visits or be done with it."
Discussion
Have a comment on this story? Join the discussion or start a new one on the Forums.