In-state recruits shine in opening win
Published: Saturday, September 8, 2018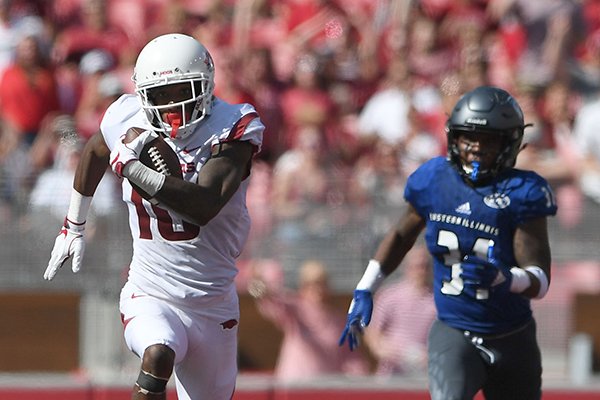 (
J.T. Wampler
)
Razorback wide receiver Jordan Jones gains yards after catching a pass in the second quarter against Eastern Illinois. Saturday Sept. 1, 2018 at Donald W. Reynolds Razorback Stadium in Fayetteville.
Once upon a time, almost every young man who grew up playing football in Arkansas wanted to be a Razorback.
I was certainly one of those while coming of age in the '70s on a farm 30 miles outside of Newport and playing for the Greyhounds.
Arkansas State, Harding, Ouachita Baptist and Henderson offered me a chance to play collegiately, but then Arkansas head coach Lou Holtz never came knocking on my door.
As it turned out, I ended up in Fayetteville anyway as manager for the basketball team riding the coattails of fellow Greyhound Charles Balentine, who would later go on to take down Michael Jordan and No. 1 North Carolina.
This flashed in my mind last weekend as I watched so many native Arkansans flourish in roles in the Razorbacks' 55-20 season-opening win over visiting Eastern Illinois, whose coach, Kim Dameron, is a former Rogers standout.
Quarterback Ty Storey; wideouts Jordan Jones, LaMichael Pettway and Deon Stewart; tailback T. J. Hammonds; linebackers Dre Greenlaw, Grant Morgan and Hayden Henry; nickel back D'Vone McClure; defensive linemen McTelvin Agim, Jamario Bell, Isaiah Nichols and Damani Carter; offensive linemen Johnny Gibson, Kirby Adcock, Austin Capps, Noah Gatlin and Tyler Hall; and quarterback-holder Jack Lindsey were among those Arkansans who took the field.
Storey and Jones teamed up for the first time with the wide receiver saying he always believed in the quarterback.
"I saw a lot out of Ty," Jones said. "Ty surprised a lot of people, but he didn't surprise me at all. Like I said in my interview after the game, Ty is one of the hardest workers on this team. He puts a lot of time in after practice, before practice.
"I've known Ty for a really long time. I played in the state championship game against Ty (in 2014), so I know a lot about Ty and I know he's a hard worker."
That brought up a photo where the quarterback was chasing the wideout in the state championship game.
Jones got the touchdown on the play, but Storey got the win.
"He was playing defense (at linebacker) and the ball got tipped," Jones said. "I caught it on the sideline and just took off running and I scored.
"… We always joke about it. I always tell him I want my state ring back. That was the first time Smackover had been in the state championship game in a long time. It was a good game, though. I still have memories about that all the time."
There will be a new batch of in-state stars coming together to make memories in the 2019 class, which is currently ranked No. 17 nationally by Rivals.
Already committed are the Warren duo of wide receiver Treylon Burks and defensive lineman Marcus Miller (6-foot-5, 300 pounds), Rison cornerback Malik Chavis (6-2, 190) and Joe T. Robinson defensive end Zach Williams (6-4, 225).
A decision is due Sunday from Bentonville West linebacker Kendall Young (6-5, 220), who will select from Arkansas, Missouri and Vanderbilt.
The Razorbacks have missed out on a pair of offensive linemen in Jonesboro's Darius Thomas (6-6, 300) to Ole Miss and Camden Fairview's Stacey Wilkins (6-6, 275), who is committed to Oklahoma, but is still planning to take an official visit to Arkansas on Nov. 11-13.
The other two offers out to in-state prospects in the 2019 class are Pulaski Academy tight end Hudson Henry (6-5, 230) and Bentonville West athlete Jadon Jackson (6-1, 180).
Discussion
Have a comment on this story? Join the discussion or start a new one on the Forums.