Bryant's Wallace could turn into SEC prospect
Published: Tuesday, September 11, 2018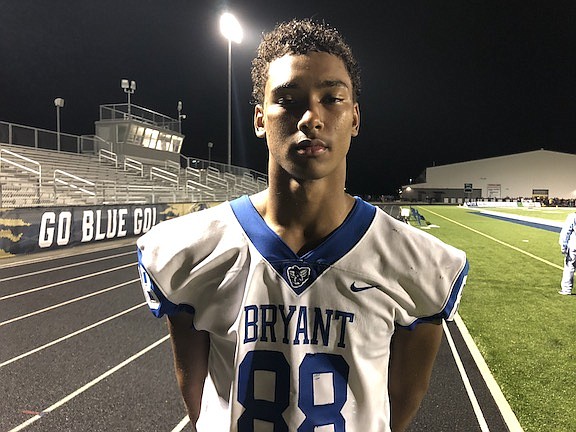 FAYETTEVILLE — There was more than just one tall, rangy linebacker in Bryant's 17-10 win over Bentonville West last Friday night.
In addition to Wolverines senior and Arkansas target Kendall Young (6-5, 210), Hornets junior Catrell Wallace (6-6, 212) also made his presence felt.
Wallace made several key plays, including a near interception on West's final drive with a chance to tie the game.
"He is very talented, a very talented young man and there is no doubt about it," Bryant head coach Buck James said. "He has a very high ceiling. We just have to have the other guys step up and make plays with him.
"We had a bunch of sophomores out there at the end because our upperclassman were not giving the effort that was needed."
Wallace, who said Memphis and Oklahoma have shown recruiting interest, showed his versatility by lining up at linebacker, defensive end and in the secondary during the game.
"I like linebacker, but I will play wherever when I get to college," Wallace said. "But I think linebacker is the best place for me now."
He hopes Arkansas begins to taking looks at him soon.
"I like what they are doing and feel like they are going to do a lot better in the future with this coaching staff," he said.
Wallace totaled 35 tackles and three sacks as a sophomore and will have a chance to match that in just a few games this fall.
"I think he has the chance to be an SEC player if he keeps working and getting better," James said.
Bryant (2-0), which hosts Fayetteville on Friday night, opened the season with a 28-14 win over rival Benton in the annual Salt Bowl. The rivalry game was called in the third quarter due to a disturbance in the crowd of approximately 38,000.
"That was wild," Wallace said. "We were playing good, they were playing good and it just kind of got stopped."
James was not happy with his team's offensive effort or its energy level against Bentonville West (0-3).
"Coach is right," Wallace said. "We have to be ready to play and bring it all the time. We'll get it corrected and get better."
Discussion
Have a comment on this story? Join the discussion or start a new one on the Forums.