Help, hope on the way in 2019
Published: Saturday, September 22, 2018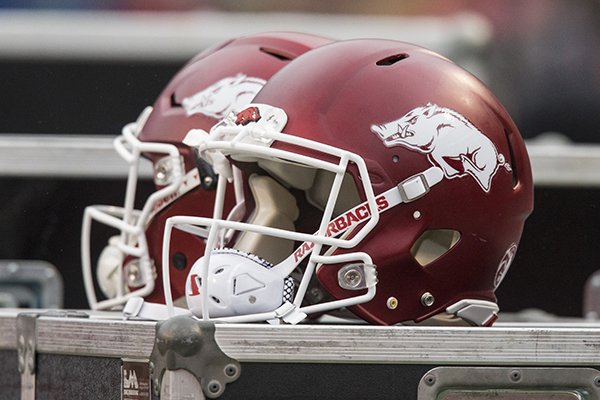 (
Ben Goff
)
Arkansas football helmets sit atop storage bins during a game against Mississippi State on Saturday, Nov. 18, 2017, in Fayetteville.
Even before halftime last Saturday, Twitter and message boards were alive with talk of how the last two Arkansas losses meant the Razorbacks would go 1-11 in 2018 and that the futility would surely wipe out the program's banner 2019 recruiting class.
No one would want to play for an SEC team that had just lost consecutive games to Mountain West opponent Colorado State (34-27) on the road and Conference USA foe North Texas (44-17) at home, they reasoned.
It's certainly not an unexpected reaction from some members of an Arkansas fan base that has seen the Razorbacks win just five of their last 17 games and watched its team be outscored 69-17 in the last five quarters.
But the words of Bradenton, Fla., IMG Academy four-star wide receiver and Arkansas commit Shamar Nash (6-2, 198) should help ease the sting.
He talked earlier this week about an Arkansas recruiting class that is ranked 17th by Rivals, which is the highest ranking group for the Razorbacks since 2002.
"I do think the guys that are coming in with me are going to be some real game-changers," Nash said. "I feel like we are going to have a positive effect on the program.
"I think the guys that are there right now — I don't want to speak any ill will of them right now because those guys are college athletes and put in a lot of time and everybody's outcome is not the same — but I think we are going to come and inject some talent and energy and that is going to help them out.
"The coaches and the players all have to get used to each other and I think that is part of what is going on right now. They are bringing in a new system, a new way of doing things and while I think it is going to be rough at first, better days are coming for all of us."
It would be the height of stupidity for me to announce everything was fine and guarantee that all 19 would definitely sign their national letters of intent with Arkansas.
I would be doing something akin to John Belushi's classic speech as John" Bluto" Blutarsky in the 1978 movie National Lampoon's Animal House.
"What? Over? Did you say 'over'? Nothing is over until we decide it is! Was it over when the Germans bombed Pearl Harbor?
"…Where's the spirit? Where's the guts, huh? This could be the greatest night of our lives, but you're gonna let it be the worst. "Ooh, we're afraid to go with you Bluto, we might get in trouble." Not me! I'm not gonna take this. Wormer, he's a dead man! Marmalard, dead! Niedermeyer…"
That of course led to Eric "Otter" Stratton, played by Tim Matheson, following up.
"Dead! Bluto's right. Psychotic, but absolutely right … Now we could do it with conventional weapons that could take years and cost millions of lives. No, I think we have to go all out. I think that this situation absolutely requires a really futile and stupid gesture be done on somebody's part."
This year's team appears undermanned for taking on the SEC, but a few futile and stupid gestures, like laying the wood to a punt returner, and evidence of leaving it all on the field would give the fans something to have hope about while the season goes along.
At least the recruits know what the deal is and many of them are coming with the stated intent of turning things around.
Nash mentioned Sardis (Miss.) North Panola quarterback KJ Jefferson, Murfreesboro (Tenn.) Blackman cornerback Adonis Otey, Warren wide receiver Treylon Burks, hopeful Pulaski Academy tight end addition Hudson Henry and a host of defensive linemen such as his IMG teammate Eric Gregory (6-3, 260) as some fellow four-star pledges who could turn the stated quest in action.
"We know what we are coming to do," Nash said. "It's going to be something we are going to look back on for the rest of our lives."
Dudley Dawson is the recruiting editor for Hawgs Illustrated magazine.
Discussion
Have a comment on this story? Join the discussion or start a new one on the Forums.