Arkansas QB commit KJ Jefferson is goal-driven superstar
Published: Thursday, September 27, 2018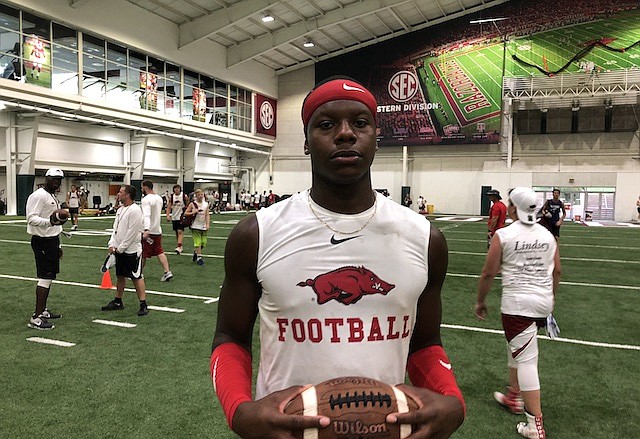 FAYETTEVILLE — Arkansas quarterback commit KJ Jefferson can't wait to get his Razorbacks jersey on and do his part along with the rest of the highly regarded 2019 class in turning around the college football program in Fayetteville.
But before the Sardis, Miss., North Panola star arrives - which could possibly be in January but is more likely to be in May - he has a simple goal, which is to complete a miraculous rise from a traditional losing program to one who has a legitimate chance at winning a Class 3A state football title.
"I can't wait to get to Arkansas and do my part with all the new guys, but right now I am focused on winning a state title," Jefferson said. "We have come so far and now just need to finish this off."
Since he took over the starting signal caller spot as a ninth grader, Jefferson has taken a team that won only two games over the 2013 and 2014 seasons to a 13-1 season a year ago.
North Panola has gone from 5-7 in Jefferson's freshman season to a school-record 10 wins as a sophomore and a berth in the Class 3A state semifinals last season.
"He's simply a winner that does everything he can to put us in a position to win," Cougars head coach Carl Diffee said. "He's also a great leader that everybody follows."
The Cougars are 4-1 this season heading into Friday night's district game at Independence with head coach Carl Diffee praising Jefferson's play.

Jefferson has passed for over 8,000 yards and rushed for 2,000 more since taking over for Diffee, now in his third year as head coach at North Panola and his seventh year at the school.
"He is special," Diffee said. "He has a tremendous arm, is a good decision-maker, a big-bodied kid that can run the football, too."
Jefferson is 57-of-90 passing this season for 997 yards and nine touchdowns this season and also has 38 carries for 257 yards and four more scores.
Jefferson's junior year was sensational while passing for over 3,000 yards and 36 touchdowns with only three interceptions and rushing for over 1,300 yards and eight more scores.
That put Jefferson in position to top the North Panola career school records of Clifton Davis III with 2,835 yards and 22 touchdowns his senior season.
Davis set three national records back in 1990 when he threw for 10 touchdowns in one game, 9,309 career passing yards and 104 touchdowns.
"He has really become something and pulled our team up with him," Diffee said.
Jefferson is clear that he is coming to Arkansas to compete for the starting spot right away.
"I feel like we have a great class coming in to Arkansas," Jefferson said. "As far as myself, I feel like any quarterback who commits to a school should come in and be ready to compete for the job and, if he is the best for that time, get to play.
"It shouldn't be handed to him, but if he is the best and can put the team over the top, then it is time to go ahead and play him.
"I am just planning on coming into Fayetteville and working my butt off from Day 1 and start working my way up the depth chart."
He would like to arrive in January, but that might not work out.
"We are working on (being an) early enrollee, but as of now he will be a May enrollee," Diffee said.
Jefferson is already taking a leadership role with Arkansas' 2019 recruiting class, which is ranked 17th nationally by Rivals, 22nd by 24/7 and 23rd by ESPN.
He helped set up a group chat that allows the class' 19 pledges to communicate together.
"All of the 19 guys that we have committed are in a group chat and we joke around with each other, encourage each other and talk about what we are going to get done when we get there," Jefferson said. "We are building a bond with each other before we even get there.
"I feel like we have some major ballers in the 2019 class," Jefferson said. "We are going to help get it turned around quickly."
He tells Razorback fans not to worry about his pledge even if Arkansas continues to struggle and that he is sticking with the Razorbacks after also considering Georgia, Mississippi State, Missouri, Ole Miss and Texas A&M - Arkansas' opponent this weekend.
"I am solid to Arkansas," Jefferson said. "I am going to remain true throughout the whole course. I am fully a Razorback."
He has been able to catch some Arkansas games this season.
"I have been able to watch a couple of the games and I think the defense has been holding up pretty good," Jefferson said. "On the offensive side, we have to just keep the ball moving and try to keep pushing until (Arkansas head) coach Chad Morris finds the guy to move his offense the way he wants it done. I feel like they will eventually get it rolling this season."
Morris and his staff impressed Jefferson on his two visits to campus and impressed upon him that he has been there as an offensive coordinator at Clemson to help develop current Houston Texans quarterback DeShaun Watson.
"It's the whole coaching staff," Jefferson said. "When I came in for the first time, I just fell in love with those guys, what they were planning and the atmosphere.
"One of the main things was how he talked about how he prepared DeShaun Watson from the start and now he is in the NFL. I feel like he can do the same thing with me and develop me into an NFL quarterback as well."
Diffee is confident that Jefferson will be ready to play as a freshman as he continues to develop.
"I definitely think he is going to come in ready to play," Diffee said. "He has got the arm that you need at that level, he has got the size and he has got the speed. He is a tough kid. I think where he needs to grow right now is in his pre-snap decision making and checking some plays off.
"We have started to do that a lot. He called every protection tonight that we ran so we are trying to incorporate more of that college level thought-making process into our level to get him ready.
"He's getting there, but he is also still just a senior in high school. He can do better and he will do better as the year goes on."
Diffee also likes the fact that Jefferson has charisma and can have fun, but knows when it is time to get serious.
"He is a goof ball and one of the funniest kids that we have on the team and likes to play, but when he is time for business, he has a gear that he switches into," Diffee said. "He is a leader and does things the right way.
"He is a kid from a maturity standpoint that has experienced more with all the college visits we have been on. I think we have been on some 30 school visits over the last three years, so he has got the opportunity to see the highest level of football and be able to fall back into the high school arena and bring back that focus and that energy to our team."
Diffee came with Jefferson on his trips to Fayetteville and knows what Morris and his staff are facing in terms of transition from one style of play to another.
"They are trying to run a drag race with a heavy-duty truck," Diffee said. "They are built for ground-and-pound and they are trying to go tempo and it is just going to take them some time to get their guys in there.
"I thinking they are adding some tremendous talent to the program. I just think that the character that staff has and the way they recruit and the relationships that they form, they are going to form those relationships they have now and the ones they recruit and those kids are going to start playing for them at a very high level sooner than later."
Discussion
Have a comment on this story? Join the discussion or start a new one on the Forums.