Former Razorback Hunter amazed at state's young basketball talent
Published: Saturday, April 13, 2019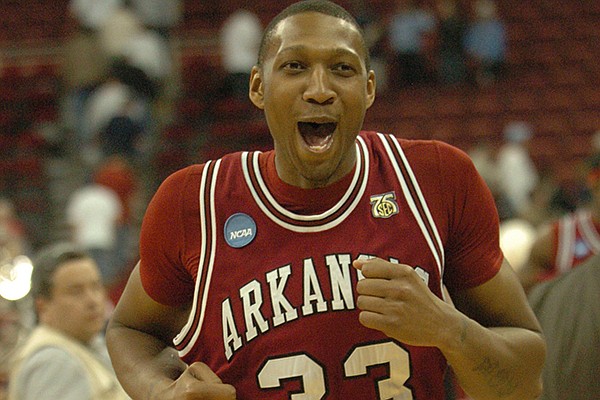 (
Michael Woods
)
Arkansas center Vincent Hunter runs off the floor following the Razorbacks' 86-72 NCAA Tournament win over Indiana on Friday, March 21, 2008, in Raleigh, N.C.
FAYETTEVILLE — Former Arkansas basketball player Vincent Hunter was back in his college hometown this weekend for The Warmup AAU tournament, coaching a talented Arkansas Woodz 15-and-under squad.
Hunter was at Arkansas from 2003-08 and played 12 years professionally despite having reconstructive knee surgery his second year on campus.
Hunter, an assistant along with Jalynn Mitchell and Derrick Williams for head coach Marcus Adams, marvels at the young talent in the state of Arkansas' next few classes.
"We have so much great talent in the state right now and it is a group that loves to play and wants to get out there and win, not just play," Hunter said. "It really should have fans excited about all the talent in the state and maybe we can keep them from going out of state like some have lately, keep them together and in state and have something really special in Fayetteville again."
That includes Woodz 15 freshman standouts such as Hot Springs' Jabari West (6-8), Morrilton's Joseph Pinion (6-5), Magnolia's Colby Garland, Nettleton's Davares Whitaker (6-0) and Fayetteville's Landon Glasper (5-11). They all had solid outings in the team's 81-51 win over Mokan 2022 on Saturday.
Woodz Elite, unbeaten in four games so far in The Warmup with each win by at least 30 points, are scheduled to play for the 15-and-under championship Sunday at 10:15 a.m. at Arkansas Athletes Outreach's Pauline Whitaker Sports Center in Fayetteville.
"We got some guys who have really been playing well this weekend," Hunter said. "We've got a really young kid in Jabari and he is just going to keep getting better and better. We have more young bigs playing in the state right now."
He is hoping the next few classes can provide the Razorbacks talent like recent homegrown products such as Daniel Gafford, Daryl Macon, Isaiah Joe and Desi Sills.
"I loved watching Gafford," Hunter said. "He is an Arkansas kid and I can't wait to see him in the NBA in the future. Joe just has a great shot and it is fun to watch him. I am just happy to be home and watching it."
Hunter, who was signed by Stan Heath and played his final season under John Pelphrey, watched with great interest as Arkansas hired former Nevada coach Eric Musselman last Sunday.
"I am always excited about basketball, especially Arkansas basketball," Hunter said. "I don't know a lot about the new coach, but I am looking forward to getting to know a lot about him. I am Hogs all the way so he and the program will always have my support."
Hunter chose Arkansas over Tennessee, Oklahoma State, Ole Miss, Mississippi State and Kansas State among others out of Little Rock Fair. He came to the Razorbacks in the same recruiting class as Fayetteville's Ronnie Brewer and five-star McDonald's All-American Olu Famutimi.
Hunter played 113 games for the Razorbacks and started 27 during his career. He played in three NCAA Tournaments.
He was able to extend his basketball life overseas for a dozen years while playing in the Czech Republic, Ukraine, Finland, Slovenia, China, Romania, Qatar, Saudi Arabia and Belarus, and averaged as many as 18 points per season.
Hunter was named the Belarusian Cup MVP in 2013-14 as his team won the league championship. He won a scoring title in Finland in the 2009-10 season and was also on a team that won the Ukrainian Cup in 2012.
"I had a great time, an interesting time seeing all those countries and playing the game I love," Hunter said. "You learn it is a business, but you are still playing because you love the game. You just might be one place one year and another the next and so on."
Upon his return to Arkansas, the 34-year-old Hunter has started his own foundation in Project M.A.D.E. LLC (Motivate Attitude Direction Education), a development organization that is trying to change lives through basketball.
"I also do a lot of basketball camps around the state and am just about teaching life," he said, "and teaching skills that help kids find the right direction in life while using basketball."
Discussion
Have a comment on this story? Join the discussion or start a new one on the Forums.