DeBriyn revels in Arkansas' 1979 CWS team
Published: Saturday, April 27, 2019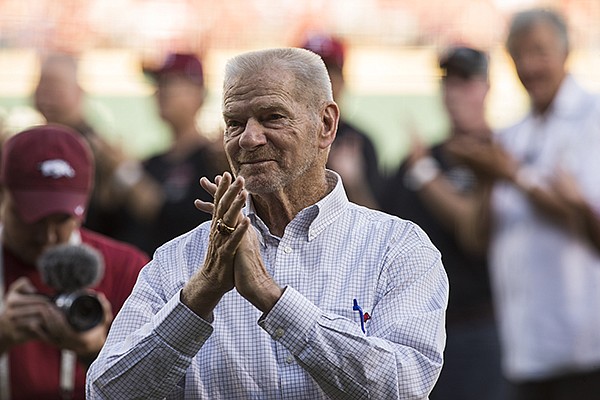 (
Ben Goff
)
Former Arkansas baseball coach Norm DeBriyn is recognized prior to a game against Tennessee on Saturday, April 27, 2019, in Fayetteville.
FAYETTEVILLE — Before No. 7 Arkansas routed No. 18 Tennessee 15-3 Saturday night at luxurious Baum-Walker Stadium, the program honored two of its nine College Worlds Series teams, from 1979 and 2009.
It's not a reach to say that the 1979 team, which lost to Cal-State Fullerton 2-1 in the CWS championship game, is one of the reasons for the program's status among the nation's elite.
That's the opinion of legendary head coach Norm DeBriyn, who was 1161-650-6 in 33 years (1970-2002) at the helm of the Razorbacks, before retiring and letting former player Dave Van Horn take over.
"It is awesome," DeBriyn said of having 46 former Arkansas players around. "There are a lot of great personalities with this team and a lot of great memories. It was just a great bunch of guys that I think really put Arkansas baseball on the map because of the kind of year they had."
That Razorbacks team, which had future major leaguers in Kevin McReynolds, Johnny Ray and Ronn Reynolds, went 46-13 overall and 19-5 in Southwest Conference play.
"We just kind of really had a magical year," McReynolds said. "We really put Arkansas baseball on the map."
McReynolds is amazed at Arkansas' current facilities, which are night-and-day different from George Cole Field where he used to play his college games.
"This is incredible what they've got now," McReynolds said. "Being fortunate enough to play in pro ball, this is as good as any Triple-A facilities around the country. I don't care what anybody says. It's a far cry from what it was back then, to put it mildly."
Ray is also amazed at how far the Arkansas facilities have come in 40 years.
"I tell you what, this is unbelievable," Ray said. "It's state-of-the-art, top-notch facilities, so you're going to get top-notch talent to come here. It's just great for the university."
DeBriyn remembers how talented the 1979 team was, but also how challenging they were to coach.
"They were real close within themselves and really a hard team to coach," DeBriyn said. "But I loved coaching them."
McReynolds was a freshman who hit .282 with 8 homers and 37 RBI. He thought DeBriyn, who was once nicknamed Stormin' Norman, was a handful himself.
"Oh, if that isn't the pot calling the kettle black," McReynolds said laughing. "I remember a day when he had the outfielders out there by the center field fence and he was firing fungos at us from about 20 feet.
"I was a freshman. I was too scared to do anything than what I was supposed to do. There may have been other stuff going on; I don't know."
McReynolds, who played 12 years in the big leagues for the San Diego Padres, New York Mets and Kansas City Royals, thinks his team needed the fire that DeBryin brought to the field.
"Oh, he was a great guy to play to play for, but he could get fired up from time to time," McReynolds said. "Which you want to see that. I think a coach should get fired up. When you're not doing your job or your team's not doing what they're supposed to be doing, he thinks you should be doing better than what you are, it's time to chew a little ass."
Ray agrees he and his teammates were probably a group that was hard to handle.
"Yes, it probably was that way," Ray said. "But we all came together at one time to try to play some winning baseball, and we did that. We got on a roll and made the best of it."
Both of the CWS teams honored were fortunate to play at Rosenblatt Stadium, then mecca of college baseball.
"It's just a magical time in a young man's life to be in college and playing a sport and being successful," McReynolds said. "It's special no matter when it actually happens. It just so happened that our group in time was one of the trendsetters for the university. And Coach DeBriyn did such a great job, and then of course Coach Van Horn has really carried the tradition even further."
in 1979, Arkansas defeated Pepperdine 5-4, Arizona 10-3 and Texas 9-4 before falling to Cal-State Fullerton 13-10 to set up a winner-take-all game with Fullerton for the championship.
The Titans, coached by Augie Garrido, downed the Razorbacks 2-1.
"It was kind of bittersweet," DeBriyn said. "Getting to the national championship game and then losing that game was tough."
The other participants in the 1979 CWS were Connecticut, Miami and Mississippi State.
There are still a lot of great memories 40 years later, although some of them have since been embellished, according to McReynolds.
"The stories always get better," McReynolds said. "A lot of the stories are forgotten. But it's just good to see everybody. We're all getting into our 60s now and it's good to see that only one of the guys (Mike Martin) has passed away at this point. That's really unusual.
"It's good to see who still has hair and who doesn't. But the ones that have it, it's still gray. It's a good thing to get together."
McReynolds hit .638 with 15 home runs and had 60 RBI during the first 25 games of his senior high school season at Sylvan Hills, led his team to the Class AAA state title and was named the state's outstanding player.
He was drafted by the Milwaukee Brewers, but opted to head to Fayetteville for college instead. He wound up being the sixth overall pick of the the 1981 draft after hitting .386 with 17 homers and 57 RBI as a junior at Arkansas.
McReynolds hit .265 with 211 homers and 807 RBI on MLB teams.
DeBriyn remembers taking assistant coach Doug Clark with him to see McReynolds play at Sylvan Hills.
"I will never forget it," DeBriyn said. "I was in awe. I told Doug Clark, 'You have got to see this guy hit.' I am not sure that Doug felt real strong about Arkansas high school players.
"I took him to see Kevin and I didn't really ask him anything about him during the game. But when we were riding back in the car, I asked him, 'Well, what did you think?'
"He said, 'That is the greatest high school hitter that I have ever seen.'"
Ray played seven seasons with the Pittsburgh Pirates, four with the then-California Angels and two years with the Japanese League Yakult Swallows.
Ray will be honored as an SEC Legend at this year's conference tournament in Hoover, Ala., even though he never played in an SEC game for the Razorbacks.
"You know what?" Ray said. "It's kind of funny because we played in the Southwest Conference. So I didn't know what that meant. But my wife's a little excited about it. I haven't done anything like this years, so we're going to try too enjoy it.
"It's nice to be recognized. … Like I said, it was fun when I was over here. I loved the competition and loved the players and loved everything about the university. That's why I came here. Having success was just an added plus."
Ray chose to turn down Oklahoma and Oklahoma State and others to come to Arkansas and ended being drafted by the Houston Astros in the 12th round of the 1981 MLB draft. He was traded to Pittsburgh.
"It was probably one of the best decisions I made coming here," Ray said. "There were a lot of programs that were just starting out that are powerhouses now that I had a chance to look at. But I just felt at home when I got here. I heard some different stories before I got here about Arkansas, but once I got here and talked with Coach and a few of the players, but my mind was pretty made up I wanted to come here.
"Like I said, it was fun when I was over here. I loved the competition and loved the players and loved everything about the university. That's why I came here. Having success was just an added plus."
While he had a great career as a Razorback, Ray came into his own when he turn professional.
He hit .290 with 53 homers and 594 RBI in his MLB career. He won a Silver Slugger in 1983 and was an All-Star in 1988
"J-Ray, I didn't realize at the time what kind of big-league career he was going to have," DeBriyn said. "I know how solid he was for us. I'll never forget when we played the (Class AA Arkansas) Travelers in an exhibition game, he went up against professional pitching and just hit everything on the screws.
"It seemed like once he signed, the better the lights, the bigger the field, the better he played and he got to the big leagues quick."
DeBriyn remembers a story from the CWS that may have best illustrated his team's tenacity.
"I remember starting (Rich) Irwin in the opener against Pepperdine and all of a sudden we were down 2-0," DeBriyn said. "I told Tom Hilton, 'Tell (Steve) Kreuger to get loose, he's charting and he's going in next inning.'
"I thought Irwin hadn't throw many innings and he can go against Arizona, who has a lot of left-handed hitters, he hasn't thrown many pitches and we have two days off.
"He looks at me and said, 'You tell him.' He came off and I told him, 'Rich, you haven't thrown many pitches, you can come on out and then pitch in a few days,' and he looked and just said, 'No.' It was tough.
"But then he pitches against Arizona and we win 5-4, he pitched a complete game and he hands me the ball after the game and says 'Here.' That was probably the best motivational thing I have ever done."
Discussion
Have a comment on this story? Join the discussion or start a new one on the Forums.