VIDEO: New gymnastics coach throws out unique first pitch
By:
WholeHogSports
Published: Sunday, April 28, 2019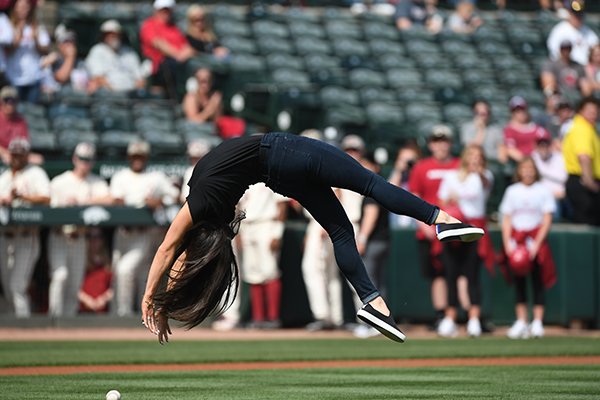 Arkansas gymnastics coach Jordyn Wieber does a back handspring while throwing out a ceremonial first pitch prior to a game against Tennessee on Sunday, April 28, 2019, in Fayetteville.
Newly-hired Arkansas gymnastics coach Jordyn Wieber brought a unique first pitch to Baum-Walker Stadium on Sunday.
Wieber, a 23-year-old former Olympic gold medalist, did a triple back handspring, picked up the ball between the mound and home plate, and threw a one hopper to Arkansas freshman catcher Andrew Stanley.
It was similar to a first pitch Wieber threw at Guaranteed Rate Field in Chicago three years ago prior to a Chicago White Sox game. She also has thrown out the first pitch at Comerica Park, home of the Detroit Tigers in her home state of Michigan.
Wieber was hired as the Razorbacks' gymnastics coach earlier this week. She previously spent three seasons as a volunteer coach at UCLA.
Discussion
Have a comment on this story? Join the discussion or start a new one on the Forums.