Arkansas' sense of urgency captured on cold January morning
Published: Monday, August 5, 2019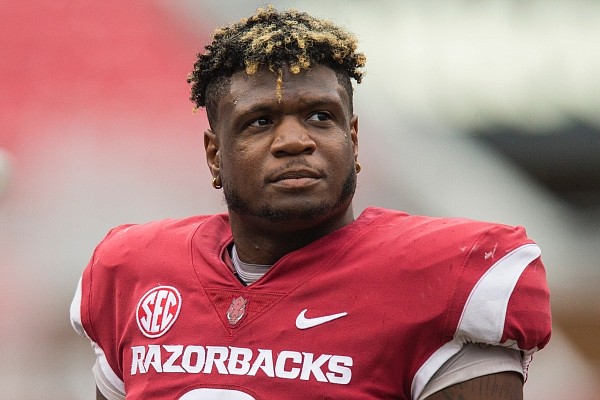 (
Ben Goff
)
Gabe Richardson, Arkansas defensive lineman, Saturday, April 6, 2019, during the Arkansas Red-White game at Reynolds Razorback Stadium.
FAYETTEVILLE — If Arkansas goes on to have a successful season, one might be able to look back to a bitterly cold day in January as a point when a new sense of urgency set in.
Razorbacks senior defensive end Gabe Richardson remembers it as a time between 5-6 a.m. when the team hiked to Razorback Stadium to get dressed from a far-away parking lot and be back in the weight room - located a good distance away - by 5:59 a.m.
It was a team coming off a 2-10 season, the worst in Arkansas history, and one that had all of its gear taken away by Chad Morris, who said his team had to earn it back.
"When we were walking all the way from the football lot (on Razorback Road) all the way to the stadium at five in the morning in 12-degree weather and having to get all the way to the weight room on time," Richardson said of the moment. "We were dressed in nothing that was Razorbacks gear, no Nike or anything.
"We had to go to through a different kind of grind when we got back here. We had to understand that we had to start from square one, all the way from the bottom."
Richardson, whose team worked in shoulder pads and shorts in its third practice of preseason camp on Monday, said Morris' action hit home with him and his teammates.
"The urgency in doing that, we had to bring the team together," Richardson said. "We had to get accustomed. We had to become brothers. We had to bond right there and nobody could take it from us. That is something that people don't see."
Arkansas redshirt sophomore cornerback Jarques McClellion also remembers the first morning workout the Razorbacks had in Fayetteville after Christmas break.
"I'm from South Florida, so when it gets that cold I am all, 'I just want to stay inside and turn the heater on,'" McClellion said. "When it gets that cold, we just have to turn it on and have to always have it locked in to working out, to making sure we give 100 percent, not just checking the box."
McClellion was referring to just doing enough to get by, which he calls checking the box, instead of putting in extra work.
"That is what happened to us last year, we just checked the box and that got us 2-10," McClellion said. "This year we are not trying to just check the box. We are giving 100 percent, maybe even more because we are trying to go to a bowl game, maybe even bigger than that. That's why I believe in my team, so that is what we've been doing."
Senior wide receiver Jordan Jones could also see a new attitude from the squad.
"I took notice of that when guys started buying in," Jones said. "We started getting on to each other. I think we are a lot closer than we were last year, too. It's not just hanging out with a specific group. It's hanging out with different people.
"Our coaches are doing a good job with the brotherhood thing, getting older guys matched up with the younger guys so we get to know them a little bit better. I just think as a group, as a team, we're a lot closer and lot more comfortable.
"It's like a real brotherhood."
Discussion
Have a comment on this story? Join the discussion or start a new one on the Forums.