Starkel hopeful camp effort has been starter-worthy
Published: Tuesday, August 20, 2019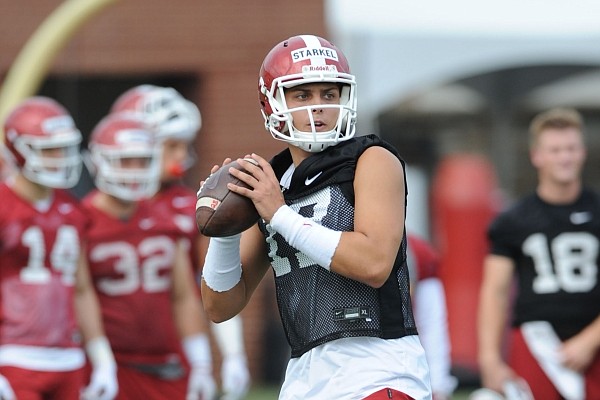 (
Andy Shupe
)
Arkansas quarterback Nick Starkel looks to pass Friday, Aug. 2, 2019, during practice at the university practice field in Fayetteville. Visit nwad.com/photos to see more photographs from the practice.
FAYETTEVILLE — Texas A&M graduate transfer quarterback Nick Starkel didn't come to Arkansas to sit the bench and he'll find out soon if his preseason camp has been good enough for him to be the starter from Game 1.
Starkel (6-3, 220), who has two years of eligibility left, and SMU graduate transfer Ben Hicks (6-2, 214), who has one remaining, have been locked in a camp battle in hopes of being named the starter for the season opener against visiting Portland State on Aug. 31.
"I'm not naming one, but I will tell you this I'm looking for consistency again," Arkansas coach Chad Morris said of what he was hoping to see from the quarterbacks in Wednesday's scrimmage.
Starkel received all of the snaps with the first team during Tuesday's practice as he and Hicks continued to rotate during August.
"We've been splitting," Starkel said. "Every day has been different. He'll go with them Monday, I'll go Tuesday, he's Wednesday, I'm Thursday. It's just every day we've been switching the whole camp."
Starkel, who was the starter at Texas A&M as a redshirt freshman before new Aggies head coach Jimbo Fisher took over and named Kellen Mond as his top signal caller, believes he has done his part to move the Arkansas offense down the field.
"I feel like I've done pretty well," Starkel said. "I've done actually very well. That's where I think I thrive the most, being able to keep the offense going, up tempo, keep the drive going, really."
Both Starkel and Hicks will get one more chance to impressed Morris in a scrimmage situation when the Razorbacks have their last one of preseason camp on Wednesday.
"I think every scrimmage is big, especially for the quarterback position and just being able to feel what it's like to be in a game almost with them," Starkel said. "The last scrimmage was a little different. A lot of first downs and didn't really get a feel for how the offense could work when you get a drive going. But I think tomorrow is going to be a really good sense of how we can get our tempo going and everything."
Starkel, who threw for 1,793 yards and 14 touchdowns while connecting on 60 percent of his passes in six games in 2017 after getting hurt in the season opener, said he hasn't been anxious to hear if he will get the nod as the starter for the opener.
"No anxiety at all, really. It's all going to play out," Starkel said. "I believe that whatever happens happens. It is what it is. It's just the game of football. There's always a quarterback competition unless you're in the league (NFL) and you're like Tom Brady. Even then they're still competing, but it's just a little different."
Starkel understands the competition, but also made it clear that he believes the starter should not have to be looking over his shoulder.
"I think in the offseason it's always good to have someone that you're competing against the whole time, but during the season I think you've got to have that confidence as a starter and not have to worry week-to-week," Starkel said. "I've seen it both ways, though.
"And I want to be a coach one day, and as a player I feel like I have more confidence whenever it's not a, 'You don't know if you're starting until the day before the game every week.'
"Now, I understand the first game is a little different because you don't know who your starter is yet, but week-to-week, I don't like that really (with) every week kind of question mark."
Starkel, who had 499 yards passing in a Belk Bowl loss to Wake Forest as a redshirt freshman, said he and Hicks have not really discussed the competition.
"It's not really even talked about in the room," Starkel said. "We've been rotating, same rotation since Day 1. And we know coach is evaluating everything we do. We've just been on our toes and attacking everything."
When asked if he felt like Arkansas' quarterback situation is better this season than with departed transfers Ty Storey and Cole Kelley, Starkel instead chose to concentrate on the team.
"As a team, in general we've just talked about how we're in a lot better situation this year," Starkel said. "And we know that Coach Morris' goal this offseason was to go out and get guys and put us in a better situation, and so that's definitely happened and everybody's taken notice of that.
"You can definitely hear that from really from the defensive side of the ball talking about it. They're like, 'Well, shoot, we've got guys that'll throw it deep this year, that will throw it over our head and that are going to make smart plays, and so it's really big to have a defense that'll trust you like that."
Hicks had the edge of being a starting quarterback at SMU for two years under Morris and going through spring practice with the Razorbacks.
Starkel arrived in May and noted he got right down to business during the player-led summer workouts.
"The player-led workouts, those are awesome," Starkel said. "That really just got us going off on the right foot. We realized what we needed to work on quickly out there in the summer because we are going against our defense every day, whether it is 7-on-7 or no pads, team versus team. We realize exactly what we need to work on. Those are really so helpful. It is like a whole season in the offseason, really."
Those also allowed Starkel to get to know his teammates, especially his offensive line.
"I am bad with names so it took me a while to try and learn everybody's name," he said. "But the first names I tried to learn was the O-line because they have got to have your back first, and no matter what they have got to have your back. So I was definitely learning all those guys' names and getting a connection with them so they can trust me and I can trust them."
Arkansas will be without senior starter Deon Stewart (torn ACL) for the season and will be without Jordan Jones for 2 1/2 to 4 weeks, Morris announced Monday.
That has allowed freshmen like Treylon Burks, Trey Knox and T.Q. Jackson to get increased reps and make a push to be in the starting 11 - or at least have significant roles.
"We're still doing split fields, so you can definitely sense the guys are a little more tired, obviously, not having as many pure numbers out there," Starkel said. "But we have guys stepping up making plays left and right. I mean, from T.Q. to Treylon Burks to Trey Knox, Mike Woods, De'Vion (Warren), all those guys, they're really stepping up. It's great to see them, the older guys, bring those younger guys up and say, 'Look, it's your time now.' So that's really encouraging."
Starkel admits he likes to throw the ball downfield and believes he has some receivers who can go get it.
"It's huge," Starkel said. "We are installing those plays and I can't give too much away, but we are definitely going to be forcing the ball - not forcing the ball - but throwing the ball down the field this year. We have guys that can go up and make plays as well."
Starkel, who has not played in a game since he was 7-of-11 passing for 69 yards in a reserve role in Texas A&M's 45-23 loss at No. 1 Alabama on Sept. 22, 2018, identified one key thing he knew he needed to work on most in camp.
"Definitely my timing," Starkel said. "I felt like I needed to work on my timing and my footwork. Mainly my foot placement, being able to go from handing the ball off to if I pull it, being able to pull up and have my feet set already to throw. That's been the biggest thing for me, just really the footwork and knowing where to put my feet. How to not get stepped on by a running back when they're taking their tracks and stuff like that. I think I've done a good job progressing in that so far through camp."
After watching film of last season's Razorbacks games, Starkel is impressed with what he believes is a improved Arkansas offensive line from a season ago.
"The offensive line has definitely picked it up," Starkel said. "You know they had a little chip on their shoulder going into fall camp, and they knew that was an area that they could step up, especially pass protection. And they have definitely answered that call to action.
"They've been terrific in these scrimmages, giving us enough time to throw the ball, and I see that going well into the season."
Discussion
Have a comment on this story? Join the discussion or start a new one on the Forums.