UA recruits set to begin season
Published: Wednesday, August 21, 2019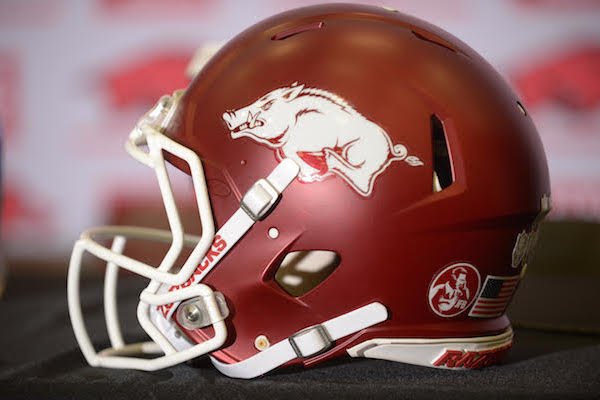 (
Andy Shupe
)
An Arkansas Razorback helmet at Chad Morris introductory press conference Thursday, Dec. 7, 2017.
Memphis Whitehaven head football coach Rodney Saulsberry will lead his team out for Saturday's season opener with Memphis Hamilton with arguably the nation's best high school linebacking group.
Arkansas commit Martavius French (6-2, 240, 4.7), Razorback target Bryson Eason (6-3, 250, 4.6) and Mississippi State safety pledge Tamarion McDonald (6-2, 220) — who wear the numbers 1, 2 and 3 — are all high major Division I prospects that led Whitehaven to a Class 6A runner-up finish last season.
French and Eason, two four-star prospects 24/7 ranks as the nation's 10th and 14th-best linebackers, respectively, are the only high school teammates named to the Butkus Award list for the nation's top prep linebacker.
"It is not too often that you have that type of talent in one position and you can almost include Tamarion McDonald, who plays a hybrid linebacker-safety role for us, but is listed as a safety," Saulsberry said. "They have been dynamic players at the position and all have been a pleasure to coach.
"One of the best things is that I have known them all since middle school because they all played at our feeder middle school. I have watched them grow as players and young men and it has been a pleasure to be around them."
French and Eason, who have combined for 346 tackles in their prep careers, have different leadership styles.
"Bryson leads more by example while Martavius is more of a fiery kid, a rah-rah guy that gets everybody hyped," Saulsberry said. "Their personalities are a lot different, but they both get a lot done in their own way."
French chose Arkansas over Tennessee, LSU, Florida, Oklahoma, Ole Miss, Mississippi State and others back on July 23.
It was a trio of Razorback coaches in defensive coordinator John "Chief" Chavis, defensive line coach and Memphis Whitehaven grad Kenny Ingram and special assistant Sean Tuhoy, that led the way in landing French.
"They made Martarvius feel like he was at home," Saulberry said. "Coach Tuohy, Coach Chief Chavis and Coach Ingram, being a Whitehaven alum, they all just made it feel like a family for him. He had been over there many times and just gravitated toward Arkansas.
"Martavius is one that needs a family bond so that was a great thing for him to make that commitment to Arkansas."
French had a whopping 135 tackles, 15 for lost yardage, 4 forced fumbles, 2 fumble recoveries, 2 sacks and 2 interceptions as a junior.
He was named the Region 6A Defensive Player of the Year, something that Eason won as a sophomore.
"Martavius was kind of hybrid guy early in his career, but he has grown to now where he can be a true inside linebacker," Saulsberry said. "He actually started off as more of a safety type as a sophomore, but now he can play both inside and outside."
Eason had 111 tackles as a sophomore and 55 last season when injuries allowed him to only play six games.
He has Arkansas in his final eight and has made a couple of trips to Fayetteville along with French and McDonald.
"I would say that Bryson is a true Mike (middle linebacker) that has the ability to also be a force in the passing game because he can run the deep middle and cover," Saulsberry said. "He is an extremely talented athlete that is actually a freakish athlete for his size.
"He runs a 4.6 laser (40-yard dash time) at 250 pounds. That's not normal and he's really just a young kid. He's also very cerebral on the field and can just cover a lot of ground."
But Eason does not seem in a rush to make his decision between Arkansas, Tennessee, LSU, Florida, Ole Miss, Oregon, Mississippi State and Memphis.
"I think he is probably going to take it to the end," Saulsberry said. "He is laser-beam focused right now on winning the state championship. Right now that is the biggest thing on our mind and the biggest thing on his mind.
"It might be in the back of his mind, but is not a focal point. Arkansas is definitely still high up in the mix and Martavius having committed to Arkansas and them being friends is likely going to play a part in his decision."
Whitehaven will play North Little Rock on the road for the second straight year with this season's game scheduled for Sept.6.
"(NLR head) Coach Jamie Mitchell is a good friend of mine. We have known each other for a while and it is great to have them on the schedule again," Saulsberry said. "I am firm believer that iron sharpens iron so playing great teams makes you better."
Discussion
Have a comment on this story? Join the discussion or start a new one on the Forums.