Coming clean on preseason predictions for Arkansas football
Published: Sunday, December 1, 2019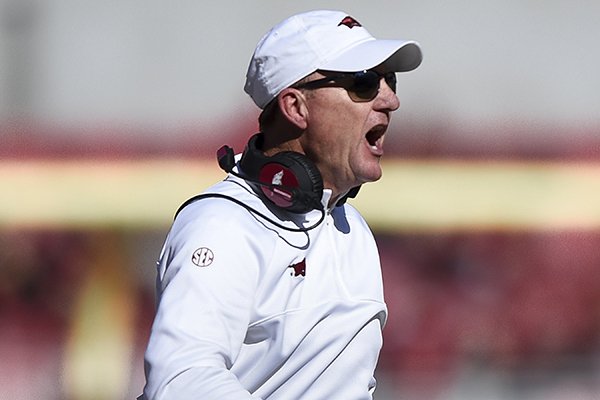 Might as well get this over with and await public scorn for the predictions I made in August about the Arkansas football team.
The prediction I made four months ago for each category is in parentheses.
FINAL RECORD
(5-7, no bowl)
I missed badly by predicting five wins for the Hogs, which turned out to be three too many. At least I didn't predict a bowl game and seven or eight wins for the Razorbacks like many of you.
Don't deny it. I know who you are.
Barry Lunney Jr., did a good job in trying to hold the Hogs together and he spoke from the heart about his passion for the Razorbacks. The new coach, whoever he is, needs to keep Lunney on staff if Lunney wants to stay.
PIVOTAL GAME
(Ole Miss)
The season might've gone differently had Arkansas combined home wins over Portland State and Colorado State with a road win at Ole Miss to start SEC play. But Arkansas failed 31-17 in a pivotal game against a probation-hampered team that finished 4-8 on the season.
The road to six victories and bowl eligibility for Arkansas had to include a win at Oxford, Miss. It didn't happen and Arkansas is again searching for a new coach following another disastrous season.
BEST WIN
(Mississippi State)
Slim picking's here with only two wins, but Arkansas looked pretty good beating Colorado State 55-34 back in September. Never mind that Colorado State finished 4-8 on the year.
WORST LOSS
(Auburn)
Arkansas did indeed get beat 51-10 by Auburn, but there were worse losses, for sure. The worst came on Nov. 9 when Arkansas fell behind 35-7 and lost 45-19 to Western Kentucky at home. That sealed the fate of Arkansas Coach Chad Morris, who was fired days later.
MOST VALUABLE PLAYER
(Rakeem Boyd)
Boyd rushed for over 1,000 yards and provided a few highlights that brought Arkansas fans out of their seats. Too bad this No. 5 isn't surrounded by the talent Darren McFadden, another No. 5, had playing with him at Arkansas.
BREAKOUT PLAYER
(Kamren Curl)
I struggled to find a breakout player on a team that finished 2-10. That's why I settled on former Arkansas and Charleston High School quarterback Ty Storey as my Breakout Player of the Year.
Storey was pushed aside while Morris brought in two transfers to run the Razorbacks offense. Storey went to Western Kentucky and led the Hilltoppers to an 8-4 record after he threw for 294 yards and accounted for three touchdowns in a 31-26 win over Middle Tennessee on Saturday.
Some Arkansas fans had likely forgotten about Storey until he showed up again at Reynolds Razorback Stadium and led Western Kentucky to a 45-19 victory. You could see the determination in Storey, who was the best player on the field that day.
Storey wanted to win this game badly, and I don't blame him. Pushing a local player out in his final year of eligibility for two backup quarterbacks from Texas was the first of many mistakes by Morris.
TOP NEWCOMER
(Treylon Burks)
Freshman Treylon Burks is a special talent who is going to be a big-time star at the college level. Arkansas fans are hopeful he'll stay and accept the changes that are coming.
It's been suggested to me the new Arkansas coach, whoever it is, should move Burks to safety and build the Razorbacks defense around him. I have no doubt Burks could make the transition but, my goodness, I like seeing Burks with the ball in his hands.
I'd rather keep Burks at receiver and line him up on occasion at quarterback in the Wildcat formation. He's that good.
CONCLUSION
It is fitting Missouri beat Arkansas again Friday with the help of a handful of in-state players who weren't recruited by the Razorbacks. Wide receiver Barrett Bannister, one of three former Fayetteville players on the Missouri roster, displayed good hands while leading the Tigers with six catches for 60 yards.
"It's very critical," Lunney said when asked about keeping talented players at home. "If you get away it's because they want to get away. It can't be because we don't evaluate properly."
Lunney's words resonated with me hours later when Brandon Thomas rushed for a 153 yards to lead North Little Rock past Bentonville in the semifinals of the Class 7A state playoffs. Thomas, a powerful runner, is verbally committed to Memphis, which is a better program right now than Arkansas.
And that's a shame.
Preps Sports on 12/01/2019
Discussion
Have a comment on this story? Join the discussion or start a new one on the Forums.