The Big Shootout 50 Years Later:
From the archives: Orville Henry's recap of the Big Shootout
By: Orville Henry, Arkansas Gazette
Published: Friday, December 6, 2019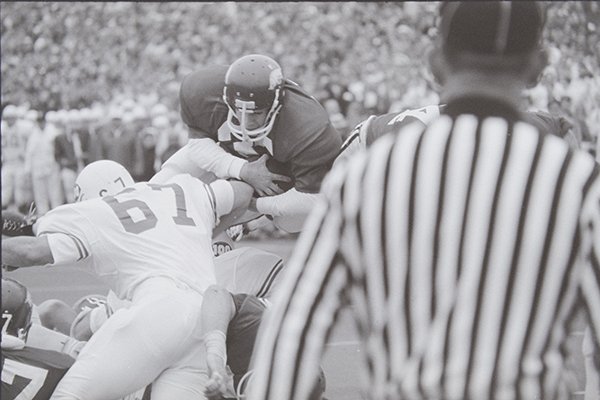 Arkansas running back Bill Burnett rushes for a 1-yard touchdown during the first quarter of a game against Texas on Dec. 6, 1969, in Fayetteville. (Shiloh Museum of Ozark History/Northwest Arkansas Times Collection)
Editor's note: Orville Henry's column from the Dec. 8, 1969, edition of the Arkansas Gazette, two days after No. 1 Texas beat No. 2 Arkansas, 15-14, in the legendary "Big Shootout" football game.
Betsy Broyles cried, and grown men cried. Before President Nixon reached the Arkansas dressing room, tears streamed down the faces of Don Breaux, a confident Cajun who thrives on pressure, and Richard Williamson, a Bear Bryant man who once caught Joe Namath's first touchdown pass at Alabama. Along with Mervin Johnson, an unflappable Missourian who somehow keeps his head amid the din on the sidelines, they knew better than anyone how truly great Arkansas had played, and how close Arkansas had come to that MacArthur Bowl that Darrell Royal will collect in the Waldorf-Astoria on Tuesday night.
Along with all the other trophies Royal will get his hands on. (Deservedly, it must be admitted.)
Sunday morning, defensive coordinator Charley Coffey, Hootie Ingram and Harold Horton delayed their departures on their recruiting rounds long enough to grade the film, the one a deep-dyed rooter must find hard to face after the fourth period rolls around.
Coffey confirmed what he suspected. What stopped the Texas Longhorns' super Wishbone T attack wasn't anything special. It was just the best fundamental defensive performance by any Arkansas unit ever, especially by Cliff Powell, especially by lightly-heralded Roger Harnish, especially by Rick Kersey, especially by everyone.
The answer will not be especially helpful to all of Charley's coaching friends who can't wait to find out how to defend the Texas attack. They don't have Arkansas' quick, quick players. But what Charley will tell them is that his athletes got under the Texas muscle, achieved some stalemates, and thus gained time to react and pursue. They reacted and pursued so well that Texas' longest running gain for three quarters was about seven yards. Texas had averaged seven yards per try in recent games.
Powell and his mates played seven quarters of shutout football on national television, four against Texas Tech, three against Texas.
That Texas juggernaut did not roll over them. The Steers won with a busted play and a desperation bomb.
And with James Street.
More from WholeHogSports
So far, and it's not over for him, of course, Bill Montgomery has played Bobby Layne to Street's Doak Walker act. Two can't win in this thing. Chalk up two for Street.
Like Bobby Layne against SMU, Bill Montgomery deserves something better than second, just as his team does.
Betsy Broyles dried her tears. She went home, took off her game day finery, and put on her favorite costume, blue jeans and a faded red UofA jersey, No. 10.
As the dozens of writers trooped in and out of sleet and snow for a sit-down dinner at the Broyles home, they got a fleeting glimpse of Betsy.
She is 11, tall and rangy for 11, and she is an athlete. By the summer of 1972, her parents may have to give up a summer to her for the Olympics in Munich, Germany. After school, she watches the last stages of football practice. Then maybe she will try backfield coach Breaux in his mile run (he has to sprint the last few yards to keep her from winning, which he must to save pride.) Or maybe she'll race Bill when he takes his own post-practice wind sprints, the ones that gave him the quickness to juke 6-8, 250-pound Bill Atessis and All-American linebacker Glen Halsell on occasion.
"Bill is good to her," Frank told the writers, explaining the No. 10. "He'd let her win, and he talks to her like a grown-up."
For all the poise that Montgomery showed in the game, completing four passes to get Arkansas to the Texas seven, then five to the Texas 39 at the end, he needs even more to accept defeat. For as much as Street is, he is a winner.
"Until the fourth period," said Broyles, "Bill was the hero. Then Street took it away from him. Street is something. He's the greatest competitor this league has had in a long time."
And that's an understatement.
The people who gathered around Street in the Texas dressing room found James lit up like a 10-ball pinball machine. That's how he is all the time. Just idling, he's likely to explode. In the huddle, the Steers feel his excitement, frequently conveyed with four-letter words.
For the first three periods, you could see Street clapping hands, even when there was nothing there to applaud, trying to generate something. Nothing happened much for Texas until he bolted away from an Arkansas rush, tore free from a man, picked up a block, and fled 42 yards and into the end zone. The Steers hadn't gotten a smell until then; he put them into the game with one hearty, un-scheduled gulp.
The Steers' deepest penetration had been the Arkansas 31-yard line, where they had failed to move the stakes after making five yards in four tries.
It did not surprise Arkansas that Texas went for two points, then.
"That is the accepted practice now," said Broyles later. "Coaches all over the country recognize that your chances to make two early are much better than after a late score."
Street made it on a counter option keeper. He faked up the middle, pivoted and ducked for the goal. He made it with Powell hanging on his back. Powell had no chance: his own diving momentum helped carry Street over.
The man who had the chance was Kersey, Arkansas' dreaded Yellow-Hair Kid from Conway. Kersey was waiting for the play. And just as Street arrived, he got blocked. And injured. He left the game and now faces knee surgery (the outcome of which will determine if, next spring or fall, he can replace Powell as a middle linebacker.)
One of Texas' big backs threw that block, Broyles noted. One reason the Longhorns paraded up and down the field on their previous foes was the tremendous blocking of those three.
After that, yes, Kersey was missed. He is, after all, the best fundamental down linemen Arkansas has had under Broyles. Lloyd Phillips, a two-time All-American, was greater, but in a different style of defense. Kersey does it with a mere 5-11, 200-pound frame.
Still, that defense battled Street to the bitter end, on third and four, third and five and on that big fourth down and three. Dick Bumpas crashed into Street on a third and four, forcing a fumble by Ted Koy at the Arkansas 42 when it was still 14-8. And Bumpas and Terry Don Phillips stacked up the bullish Steve Worster to leave it fourth and three at the Texas 43 with 4:47 left. Normally, that would mean a punt. As everyone knew they would, the Steers passed. And Randy Peschel, a 6-1, 195-pound senior tight end and from Austin, one of the more versatile Steers for the past three seasons, caught a 44-yard bomb with two Razorbacks on him.
The strong-armed Street, a big winner in baseball the last two springs, threw it.
To the everlasting credit of the Razorbacks, they came back when it was 14-8 and they came back when it was 15-14, first with Chuck Dicus spreading consternation in the Texas secondary, the way Bobby Crockett did in 1965, and then with Bill Burnett taking four safety valve tosses down the boundary.
Danny Lester stopped the first drive with an end zone theft, just as Dicus was reaching for the TD pass and third and seven. Tom Campbell wrested the ball away from John Rees at the Texas 21, within range for Bill McClard.
Those plays killed Arkansas' hopes, but those two drives under pressure endeared the Razorbacks to the nation.
What the pundits will always ask is, "Why didn't Arkansas set up a point-blank field goal on its first sashay down there, when it was 14-8?"
"We planned to do that on fourth down," Broyles told the writers. "We had two scoring downs, the third to go for a touchdown, and if we made it we would have gone for two points, and the fourth down to go for a field goal.
"If we didn't have a great quarterback, we wouldn't have called the pass. But we do. Bill had been effective throughout the drive. We hadn't thrown an interception in six games and that's 172 passes, I was told. The pass called was a safe one, Bill sprinting out with two lead blockers. Chuck was open, he'd beaten his man in the end zone. But the pass was a step under-thrown and Lester made a great play on it.
"Who knows, we might have missed the field goal, or Texas might have blocked it."
And Bill Burnett or Bruce Maxwell or Montgomery might have fumbled on the keeper to set up the field goal. That's happened. In fact, Arkansas lost five fumbles during the time no passes had been intercepted.
You can debate this all winter and it won't change a thing.
Arkansas was going for all of it, a chance to lead Texas by 21-8, 22-8 or at worst, 20-8, and that's what every fan is normally for.
It's not kosher to oppose it only when it doesn't work.
What this sort of thing does is to degrade the magnitude of the players' effort, the greatest ever under Broyles.
This was Montgomery's greatest game, and Dicus', and Powell's, and just about everybody's, under enormous pressure, against a tremendous team.
In fact, it was the best Arkansas team I've ever seen, against the best Texas team under Darrell Royal, and the way they played, it was fitting that the winner be granted the national title, as Texas will be barring unusual developments.
The Porkers set up at the Texas 22 and 37, getting their 14 points that way, and had an average of 65 yards to go on 11 possessions.
Arkansas ran 27 plays in Texas territory; Texas ran only 18 in Arkansas territory.
Montgomery ran for 37 yards, flashing out of some traps, and he got caught or blitzed more than usual, especially at the start, but primarily the Steers tried to rush with only their front four. This let them double cover and pick up receivers. But they couldn't manage Dicus at all on the long drive to the seven-yard line.
Even after a penalty wiped out one 20-yarder, Dicus ripped right back into the thick middle for a 21-yarder that netted the first down all over again. Chuck caught nine for 146, compared to 12 for 169 against Georgia in the Sugar Bowl, and had two wiped out for 47 yards and a touchdown.
But in the pinch, it was the same old Texas: The Steers wouldn't let the Razorbacks run when they wanted to. They had to be fooled, and they had to be hit just right (not two downs in a row) at their split-four defense's one play. To get anything going, the Porkers had to mix it up mighty good. They did, but then Street exploded.
As the third quarter ended, Dan Jenkins, the great writer for Sports Illustrated, was explaining to me why and how Arkansas would rout Notre Dame in the Cotton Bowl.
The Irish, big and well-schooled and determined but slow, could never cover Dicus, he said, nor handle Arkansas' quickness. Sad, that.
But that's how she goes in this greatest collegiate series in the 1960s.
Texas does everything best in 1964 except for Ken Hatfield's 81-yard punt return and Fred Marshall's third-and-seven 34-yard TD pass to Crockett, and Texas is denied a second straight national title.
Name a year, name the heroes and the heartbroken team.
Broyles saluted his assistant coaches — "they must be the best in America" — for drawing up a game plan that stood up without flaw.
"We never had a game plan go so well for three quarters," said Broyles. "Against anyone. It was the first time any game plan had held up all the way against Texas.
"Our defense unnerved them, and gave us confidence. They had been putting games away in the first quarter, their first team retiring by halftime. At halftime, they hadn't scored."
It was the first scoreless half for Texas in 19 games. They'd trailed Texas Tech 21-0, and lost 31-22. That was when Royal inserted Street for Bill Bradley at quarterback, changing everything.
"We mixed up our defense," Broyles said. "What we had to do first was keep 'em from getting outside on the triple option. Those have been walk-acrosses for them. We'd take that away, give 'em the inside. We played some overshift. We'd move into it late, so they couldn't audibilize. We mixed it up. You have to guess right. And you have to tackle Steve Worster on every down.
"Our players tackled better than we ever have. They looked the quickest I've ever seen them. This showed how ready they were."
Same as in the Texas Tech game, Arkansas kicked off with the wind to start both halves.
"In any big game," said Broyles, "you're better off with the other team at its 20 than you are with the ball at your 20."
Rick Kersey proved that. He penetrated on the second down of the game and messed up a handoff to Koy and Bobby Field recovered the fumble.
Arkansas covered four Texas fumbles and intercepted two passes, six turnovers.
"They weren't just dropping the ball," said Broyles. "Our tackling out there was fierce."
Arkansas moved 22 and 53 yards after fumbles to score its touchdowns. The Razorbacks drove 93 yards for an apparent score on their second possession. A penalty (a receiver blocked on a passing play; a run had been called and he couldn't hear the check-off because of crowd noise) wiped out a finger-tip catch by Dicus. And a 23-yard loss eliminated a field goal opportunity.
Even so, the Arkansas offense kept moving the ball and the defense kept giving Texas a hard way to go, and the Razorbacks wound up with the best field position they've had in their last 12 games against Texas.
The closest Texas ever got the ball was at its 36. Street faced an average 72.7 yards on the 10 UT possessions. And that was the most successful part of the game plan. The Texas defense had been giving that mighty running offense the ball only 10, 20, 30 yards from pay dirt two to four times a game against other foes.
What now for Arkansas?
A sign on the door of a Holiday Inn room in Fayetteville on Sunday morning read, "Texas No. 1, Arkansas 1 ½."
The Associated Press, which had them No. 1 and No. 2, announced Sunday that it will take yet another poll this week (as well as one after the bowl games.) This gives the Penn Staters one more shot. They can't win on this ballot and the chances are that Missouri, quietly sick of reading Joe Paterno's statements by now, will slaughter the Nittany Lions in the Orange Bowl.
Arkansas is sure to drop, because that's the way the voters operate. Maybe to fourth or fifth. That is of no consequence. If a team isn't No. 1, anywhere in the Top Ten is good enough. There are no prizes past first place.
Would Broyles consent to a Texas-Arkansas replay of this type at Austin next December?
"At this time," he said Saturday night, "I'm against everything. How I'd feel in March, I don't know."
The way it worked out in 1969 brought the game of the year and the attention of the nation to Fayetteville, Ark. That can't be all bad, even if it did make it a one-game season for the fans. What a game it was.
The Razorbacks will prepare for the Sugar Bowl game with Mississippi the same way they did for last year's visit to New Orleans, Broyles said. They'll do their serious work at Fayetteville, after Christmas, and they'll go to New Orleans for five days, two days before January 1, two days after.
That one, Archie Manning vs. Bill Montgomery, could give the Heisman Trophy voters of 1970 a good preview.
A team that loses its emotionally-charged climax game isn't generally a good bet in a bowl game. But then, Arkansas wasn't supposed to be a good bet against Texas, either.
Discussion
Have a comment on this story? Join the discussion or start a new one on the Forums.