The Big Shootout 50 Years Later:
Field reconnects with Arkansas roots
Published: Friday, December 6, 2019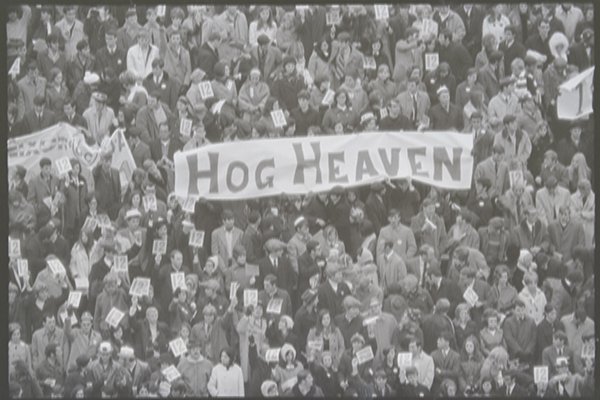 The crowd is shown during the Arkansas-Texas game on Dec. 6, 1969, in Fayetteville. (Charles Bickford, photographer, Shiloh Museum of Ozark History/Springdale News Collection)
Bobby Field is listed in the 1969 media guide as "the monster man" of the great Arkansas defense that slugged it out toe to toe with Texas in the Big Shootout.
"I certainly didn't fit that description, and I think they changed the name of the position soon after I was gone," Field said. "Really, I was just playing what we call the strong safety now.
"Mostly, I played deep. There were some situations where I'd play in run support, but not much."
But part of the "not much" was the entire Texas game, a 15-14 Arkansas loss. He came to the line of scrimmage almost as an outside linebacker/end to turn the 5-2 into a 6-2 that seemed to slow the vaunted Texas wishbone — until the last six minutes.
"I did play on the line in that game, and it was completely foreign to me," Field said in a lengthy phone interview from his home in Los Angeles.
Foreign is what Field thought about California when he relocated from Starkville, Miss., to become secondary coach for UCLA's Terry Donahue in 1978.
More from WholeHogSports
The Texan by birth thought it would be a two- or three-year stay, then maybe back to the Southwest or Southeast.
"It was like a foreign country," he said. "The world was pretty big back then. Not so much now. Thirty-five years later, I'm still here."
Field coached at UCLA through 2000, then worked 13 years as a senior athletics director, serving as sport supervisor for football, rowing, golf and track and field.
Field served 15 years as either UCLA's defensive coordinator or co-coordinator. It was often the strength of some great UCLA teams that won nine bowl games, including a 17-3 victory over his alma mater in the 1989 Cotton Bowl.
Arkansas quarterback Quinn Grovey delivered the best lines about that thumping by UCLA in Dallas. Grovey, usually the fastest man on the field, could not escape Bruins outside linebacker Carnell Lake. The Hogs made just 42 yards of total offense.
Grovey, noting criticism of Ken Hatfield's flexbone offense, had everyone laughing with his opening comments in the interview room as he waved the stat sheet.
"You guys have complained about our lack of balance," Grovey said. "This is ultimate balance: 21 rushing, 21 passing."
Field had never heard those lines, but he did still recall the stats.
"That was the best (defensive) game I've ever been a part of," he said. "Someone reminded me a few years later with that stat sheet that it was 21 run, 21 pass. The yards were also the same by halves. Arkansas had 21 (yards) in each.
"To do that would be a miracle. I do remember that Arkansas had put up a lot of good numbers throughout that season against good teams.
"We had really good players, and that was a once-in-a-lifetime execution by the players. Lake was a great player, but we also had incredible depth. Our three back-up linebackers played 14 years in the NFL."
Lake set the career record at UCLA with 45.5 tackles for losses. But his real notoriety came when he went to the NFL combine and ran 4.37 seconds in the 40-yard dash, the fastest of anyone in that year's pre-draft tests.
"We played him at outside linebacker, but he moved to safety and corner in the NFL because he had that kind of speed," Field said. "It wasn't much fair what he could do to a college tackle coming off the edge."
Lake measured at 6-0, 230 pounds. That would be a true monster man.
Field assures he was not. He measured 5-11, 180. He had speed, but not Lake-type speed.
Those who coached Field said he played bigger than he measured. Harold Horton coached the linebackers in Field's time at Arkansas, not the secondary. But he was around Field enough to comment.
"What you had with Bobby Field is the ultimate Razorback," Horton said. "He played so hard and was so smart. He never made a mental mistake or had a missed assignment."
That's probably why he did so well as a coach. Field said he knew that's what he wanted to do soon after he met his history teacher/football coach in the seventh grade.
"Bill Mayfield was his name, and two weeks after I met him I decided I would be a coach," Field said. "I respected him so much."
Of course, there were so many other great coaches who would influence Field in his journey to become one of college football's great defensive coordinators.
Recruited by Frank Broyles after a sterling career as a quarterback at Farwell, Texas, Field noted that the coaches on the Arkansas staff were all influences. He listed all of his defensive coaches, then some on offense.
No doubt, that was a great Arkansas staff. Field played three years in the secondary for Hootie Ingram, one for Billy Kinard.
"I loved Hootie Ingram," he said. "I learned so much from him. And, I learned from Billy, too.
"I knew I was going to coach, so I tried to learn from every coach. I learned how to coach and how not to. I learned how to relate to players.
"Charley Coffey was our defensive line coach, coordinator. He was so good. I loved Wilson Matthews. He was so tough, but I was like anybody else, I respected how he developed us into tough players. Harold was so good, too.
"I played defense, but you worked against the offense, and I'd study Don Breaux and Richard Williamson. I heard how they coached, and I learned from them. Then, I got to work with Richard at Alabama."
In those days, Alabama legend Bear Bryant and Broyles would trade promising coach candidates as graduate assistants. Field was one of the first to get that assignment and worked for Bryant in 1971-72. Then, Field followed Bryant assistant Bob Tyler to Mississippi State to work as defensive coordinator.
Field got to learn under Bryant assistants Bill Oliver (secondary) and Pat Dye (linebackers).
"Getting to work under Coach Bryant was a godsend," he said. "I loved my time at Alabama. I'm grateful for that opportunity.
"His reputation was that he was rough around the edges and a dictator. He was anything but that. He was so close to his players. He knew everything about them."
Field said Bryant alone set the depth chart and made the substitutions on game day. He knew the team that well.
"The depth chart was on a manila folder he carried," Field said. "He would post the lineup after pregame. Of course, about 60 percent of it, most of us would know. But there would be about 40 percent of it that might surprise you, and there would be three to four positions that changed weekly."
Among the specifics that he remembers learning at Alabama would be how to handle recruiting on home visits.
"Pat Dye was a very good recruiter, and he took me in homes," Field said. "I learned how to sell the program."
It was Bryant and Oliver who touted Field to Donahue. There were chances to leave UCLA for assistant jobs, including at Arkansas. Danny Ford, another Alabama connection, tried to hire Field at Clemson. There were even some head coaching opportunities.
"Danny Ford called me again when he came to Arkansas and tried to get me to come back," Field said. "I just liked it at UCLA. I worked with good coaches, and we had good players. We were winning."
The Bruins had a winning record against USC during the Donahue/Field years. Field eventually was named assistant head coach. They won 20 straight in the late 1990s.
"A big part of not taking another job when I got calls was Terry Donahue, not only a great coach, but an amazing person," Field said. "I was so fortunate to work for Terry, a College Football Hall of Famer."
The busy football seasons made it impossible to return for any of the many 1969 reunions on campus.
"This was the first one for me this year," he said. "I had only been to campus one time in 50 years, for the 1968 reunion in 2013. But the '69 reunions that sometimes included the Texas team — a team we all respected so much — wasn't possible until now."
The trips to Arkansas will be more numerous going forward. His wife, Valorie Kondos Field, is the recently retired UCLA gymnastics coach. Called Miss Val by her athletes, Kondos Field mentored new UA gymnastics coach Jordyn Wieber. They coached the Bruins to the 2018 national title, the seventh under Kondos Field. Bobby Field and Valorie Konos Field are both in the UCLA Hall of Fame.
Wieber, already a legend at age 24, was one of the stalwarts from the 2012 Olympic gold medal team. She turned pro following the Olympics and attended UCLA as a student manager, eventually taking over the UCLA floor exercise coaching as a volunteer.
Arkansas athletics director Hunter Yurachek hired Wieber in April as head gymnastics coach. Field was on the plane when they brought Wieber from Los Angeles for the introduction.
"She was in our home so many times and is so close to our family," Field said. "Valorie thinks the world of Jordyn, as do I. I was so impressed with that trip for the introduction and the way Hunter and Chris Pohl handled it all. Some of the Arkansas gymnasts were on the plane.
"First, they had a photographer at the airport in L.A., then a video crew at the airport in Fayetteville. It was all filmed and then a wonderful dinner that night at Hunter's house with the entire team. It couldn't have been done any better.
"I am proud of my university for the way they handled the hiring of Jordyn."
There was the trip to the '69 reunion for the Razorbacks' football game against Auburn in October, then a second trip two weeks later for Bobby and Valorie to visit Wieber. They plan to be on hand for the gymnastics season opener in January.
"We had some speaking events to handle the last trip," Field said. "Both Valorie and I spoke to groups on campus."
Field said Wieber asked him to coach her the Hog Call after she was hired, but he laughed about that.
"As a player, I was not the one doing the calling," he said. "They called me.
"I did give her a good idea of what she was going to find in Fayetteville, the beauty of the city and the area. It is what attracted me as a player.
"I told her it's all about people though. The people of Arkansas are wonderful. Wherever you go, it's the people that make the difference.
"I gave her the comparison of L.A. to Arkansas. In L.A. we have 10 million people with 10 major league franchises and two major universities 14 miles apart. So the city is divided.
"I explained that among the 10 million people in L.A., half don't even know about or have ever been to a game of any of those teams. In Arkansas, the whole state knows about the Razorbacks. They are a big deal across the entire state, and that's going to provide incredible resources.
"Now Fayetteville has changed since I was in school. Walmart has provided an explosion with so many companies bringing top people there. You have Tyson, J.B. Hunt and other top companies. She's going to love it, and it's going to give her a great start to her career as a head coach."
The fun part is that it's going to lead to many more trips to Fayetteville for Bobby and Valorie.
"It's exciting," Field said. "I really hadn't been there much through the years. It was a great place for me, and it is for Jordyn, too."
How Field got to Arkansas was a bit of a long shot. He grew up in Farwell, Texas, about 90 miles from Lubbock. As a record-setting quarterback, it was clear he'd play in the SWC.
"Texas Tech was the closest and that was probably where I was going," he said. "I'd had interest from Texas A&M and most of the others in the league."
Late in the process, his high school coach asked Field if he might have any interest in Arkansas. No one from Arkansas — or Texas — had called.
"I had no connection with Arkansas," he said. "The only thing I knew was from my junior year when I watched on TV the 1965 Arkansas-Texas game (a 27-24 Arkansas victory). I remembered that there was an incredible atmosphere for the game, the fans and everything about the town. So I had an impression from one game on TV, nothing more. I remembered all the good Arkansas players like Loyd Phillips, Jon Brittenum and Tommy Trantham.
"My coach said he'd send a film on me to their coaches. He did, they made contact, I visited and they offered."
The decision wasn't easy. Tech was so much closer and a common destination for Farwell products.
"I will say that Fayetteville was an incredible place, so different than west Texas," Field said. "It's flat as a pancake and with no trees. It was 600 miles away, and it seemed like 6,000.
"My dad said it was my decision alone and would not give any advice. And, it just made me sick to my stomach when I tried to decide. It was the day before signing, and I was ready to throw up."
Finally, there was some help from his dad, a sharecropper who farmed cotton and raised cows.
"He came into my room, and I asked him what I should do," Field said. "He had one question: If Arkansas and Texas Tech were both 90 miles away, where would you go? I said I'd go to Arkansas. He said that's where I should go.
"It was great advice, and I had a wonderful time there."
Field started for most of three seasons. Of course, there were two trips to the Sugar Bowl and lots of exposure in big games. The biggest was the '69 Texas game.
"To talk about the '69 Texas game, you have to go back to our '68 season," he said. "We'd had only one loss, a great game at Texas. Then we beat the undefeated SEC champ, Georgia, in the Sugar Bowl, 16-2.
"We were good then, too. So with both Texas and us returning a good nucleus, ABC wanted us to play at the end in '69. That was great vision by them.
"We went into '69 with a great team and had momentum from the Georgia win. We were clicking right out of the gate. We were consistent all year long."
Nothing could match the buildup to that game, then the massive focus of the nation when game week hit.
"It was so crazy on campus we went to the hotel in Rogers in midweek, a day or two early," Field said. "It was so chaotic on campus. The parties were 24 hours a day. The students and the fans were going crazy.
"We had Secret Service agents all over campus, sweeping every building with the president coming. I guess it would still be a big deal if that happened, but in that day it was quite unusual."
The game was intense. Neither played without mistakes. The Arkansas defense forced six turnovers and was poised to win, until Texas quarterback James Street caught fire.
"You would have to say that Texas played their best in the last six minutes," Field said. "They won the game in those six minutes. It was a great game, and both teams were tremendous. We had a tremendous team in all areas, with great players on offense, defense and the kicking game. And, we had great people."
That was the interesting part of the 50-year reunion this fall. Field said none of his thoughts on any of his teammates had changed.
"I recalled them all as great people, and they were exactly how I remembered them," he said. "Remember, I have not been around hardly any of them for 50 years, and it was like we'd been apart for only a summer.
"Almost everyone was there, too. It was a great weekend, and we enjoyed each other so much."
Discussion
Have a comment on this story? Join the discussion or start a new one on the Forums.