The Big Shootout 50 Years Later:
Frank and Darrell: A unique rivalry
By:
Matt Jones
Published: Friday, December 6, 2019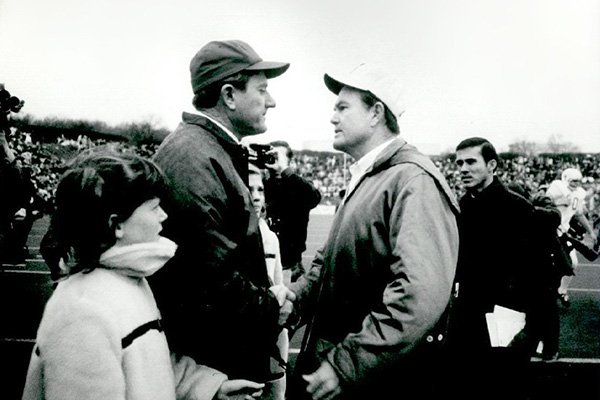 Arkansas football coach Frank Broyles, left, and Texas coach Darrell Royal greet on the field in Fayetteville, Ark., in this Dec. 6, 1969, file photo. No. 1 Texas defeated No. 2 Arkansas 15-14. (Arkansas Democrat-Gazette File)
FAYETTEVILLE — Frank Broyles and Darrell Royal were as loyal friends off the football field as they were fierce competitors on it.
For 19 seasons, Broyles' Razorbacks and Royal's Longhorns ran roughshod over the Southwest Conference, combining to win or share 18 conference championships. Each handed the other some of the most stinging losses in program history - Arkansas knocked great Texas teams out of national championship contention in 1964 and 1965, and Texas returned the favor in the No. 1 vs. No. 2 regular-season finale in 1969 game that became known as The Big Shootout.
More from WholeHogSports
But Broyles and Royal never let their friendship suffer at the expense of a game. They never talked about football on the many family vacations they took together through the years or the hundreds of rounds of golf they played.
"We were good friends while we were competing against each other," Royal said in 2006. "It never affected our friendship and that's the way athletics should be really."
They did not plan to go out together, but Broyles and Royal both called it quits after the 1976 season to assume the full-time role as athletics director. Their final game was against one another - a 29-12 Texas win in Austin that gave the teams matching 5-5-1 records that were not good enough to make a bowl game that season.
Royal won 14 of the 19 meetings between he and Broyles, but with each man's win came the realization that he had delivered a devastating defeat to his close friend.
That was the case in '69 when Royal consoled Broyles' 11-year-old twin daughters, Betsy and Linda, who had walked to midfield with their dad for the postgame handshake.
"It took away a lot of happiness there for a short period," Royal recalled in the 2005 book Hogs! A History.
Broyles and Royal both died after lengthy bouts of Alzheimer's. When Royal died in 2012, Broyles issued a lengthy statement.
"Although our teams were rivals on the field, Darrell and I enjoyed a close friendship that carried far beyond football," Broyles wrote. "Our families vacationed together in the off-season and we enjoyed many memorable moments together that I always treasure."
Discussion
Have a comment on this story? Join the discussion or start a new one on the Forums.