Musselman has big fan in former Arkansas star Scott Hastings
Published: Friday, December 6, 2019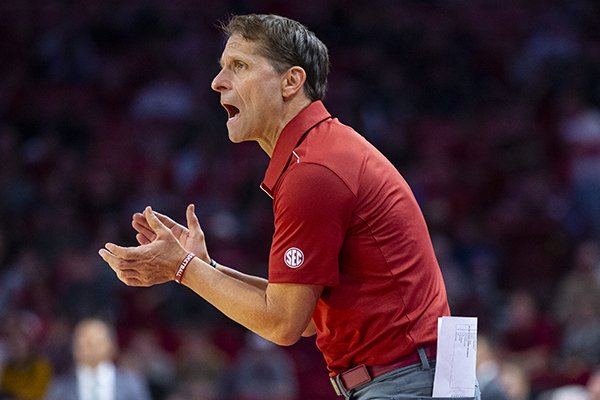 ( David Beach )
Arkansas men's basketball coach Eric Musselman is shown during a game against North Texas on Tuesday, Nov. 12, 2019, in Fayetteville.
DENVER — Former Arkansas two-time basketball All-American and 11-year NBA veteran Scott Hastings likes the direction that Eric Musselman is taking the Razorbacks program.
Musselman will lead unbeaten Arkansas (8-0) into a road game at Western Kentucky (6-3) Saturday night at 6:30 p.m. on CBS Sports Network.
Hastings, who has been a broadcaster for the NFL's Denver Broncos and NBA's Denver Nuggets for the past 25 years, also knew Musselman's late father, Bill, who was also an NBA head coach.
"I remember him, actually remember his dad more, but I remember Eric as being fiery," Hastings said. "My perception of him, and everybody I have talked to that worked with him, saw him a college coach coaching in the pros.
"Earl Boykins, a good friend of mine who is on his staff now, loves him. After he (Musselman) left the pros, where he has really found his success is in college. It is weird like that. There hasn't been many crossovers who have been successful that have done well, but he has.
"I always thought, and this will sound stupid, that he had too much passion to coach NBA guys."
Musselman, who was a head coach at Sacramento and Golden State, was an assistant at LSU for a season before taking over Nevada.
He was 110-34 with the Wolf Pack in four years and made the NCAA Tournament the last three years before being hired by Arkansas.
His energy and intensity on the sidelines is similar to what Hastings had under Eddie Sutton at Arkansas.
"I came out of Arkansas and played for Eddie Sutton and my first seven years in the NBA I had Hubie Brown and Mike Fratello and they were like that," Hastings said. "So it never was a big deal to me.
"There was never any question that he (Musselman) could coach and I always, even from afar, could tell that the dude put some heart and soul in it, and that is even harder because there are 82 games a season and sometimes you are playing four games in a week."
Hastings had 1,770 points (4th in school history) and 680 rebounds (8th) in his Razorbacks career and was drafted in the second round of the 1982 NBA draft by the New York Knicks. He also played for Atlanta, Miami, Detroit and Denver.
Former Sutton players Hastings, Joe Kleine, Darrell Walker and John Snively all got together back in 2015 for the funeral of their friend and longtime Razorback super fan Ed "Waterhead" Jones, who named his son Scott after Hastings.
Them and other former Razorbacks stay in touch via a group text now.
"Thank God for the smart phones and technology because I am in a text chain with Alvin Robertson, Darrell Walker, Ricky Norton, Leroy Sutton, Joe Kleine, John Snively, Eugene Nash, (Greg) Skulman might be on it and Charles Balentine, I think, and US Reed," Hastings said. "It is still lively and everybody still bust everybody else and they still call me 'Stinky' and we are still making fun of everybody.
"It was good of Darrell to start that up. It's cool. Here we are some 30 years later and we are still staying in communication, albeit via text."
It appears that there was a tug of war between Arkansas assistants Gene Keady and Pat Foster as to whether Hastings was a worthy prospect.
"I know there were some decisions being made between Gene Keady and Pat Foster," Hastings said. "Gene didn't think I could play. I was told Pat Foster went to see one of my games and said, 'If we don't sign him, we are stupid.' I give Pat a lot of credit for that.
"Pat was like the mean uncle that beat up on you and then when you got older you realized that he had your best interests at heart."
Perhaps the most memorable play of Hastings career came in a home game against Houston on Feb. 6, 1982.
Hastings' 22-foot jumpshot over 7-footer Hakeem Olajuwon with five seconds left gave the Razorbacks a 67-66 win over the No. 19 Cougars at Barnhill Arena.
Olajuwon brings it up every chance he sees Hastings.
"That shot probably lived on more in my pro career than it did in college because every time we would play Olajuwon and whoever was around, he would tell them, 'This man owes me money. He hit one shot over me in college and he gets 11 years in the NBA out of it,'" Hastings said.
"To this day, and I saw him down in Houston two years ago, he is still telling people that.
It also was one that his grandmother cherished.
"It was a special moment, but I tell you the most special thing about it was that my grandmother, who I didn't realize was such a big follower of me, loved it," Hastings said. "I went home after the draft and she has that picture of that shot about a half-inch over Olajuwon's middle finger with us down one and four seconds on the clock. She had it magnetized on the refrigerator forever."
Hastings was on the Detroit Pistons team that won the NBA championship in 1990.
"To be part of the Bad Boys and their history was special," Hastings said. "Getting to play with them after the previous six or seven years absolutely hating their guts ... it was weird walking into the building on the road and 19,000 fans hated your guts, but it was also amazing because two-thirds of the team you played were scared of you, intimidated by you and did not think they could beat us. The game was halfway over at that point."
Discussion
Have a comment on this story? Join the discussion or start a new one on the Forums.