The Big Shootout 50 Years Later:
For Hogs, Shootout a bittersweet memory
By:
Matt Jones
Published: Friday, December 6, 2019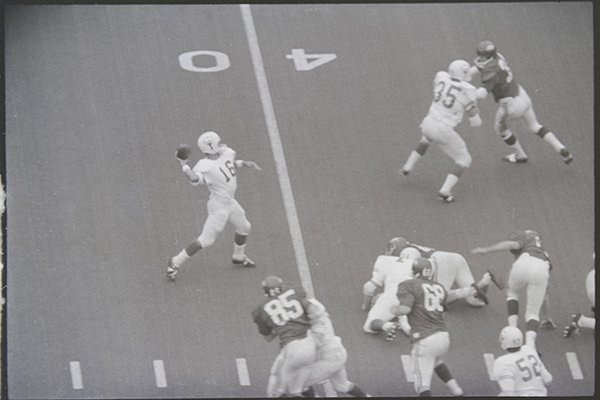 Texas quarterback James Street throws to Randy Peschel for 39 yards on fourth-and-3 in the fourth quarter of a game against Arkansas on Dec. 6, 1969. The play, called 53 Veer Pass, was arguably the most famous college football play of the 1960s and set up the No. 1 Longhorns' game-winning score in their game against the No. 2 Razorbacks. (Jerry Biazo, photographer, Shiloh Museum of Ozark History/Springdale News Collection)
FAYETTEVILLE — Shortly before his death, Frank Broyles finally was ready to talk about The Big Shootout.
Arkansas' 15-14 loss to Texas on Dec. 6, 1969, was a scab on Broyles' coaching career that he refused to pick. He said he never watched the game film and by and large avoided talking about the game, which prevented the Razorbacks from potentially winning a second national championship, during college football's centennial season.
So when Broyles decided to be interviewed for a 2013 documentary about the game, everyone took notice.
"We have put it on the back burner because we lost, but for Arkansas…to be able to play in the game of the century, we've got to celebrate that and quit feeling sorry for ourselves," Broyles said.
The game was made for TV. Sensing that Arkansas and Texas could be great, ABC executives urged Broyles and Texas coach Darrell Royal to reschedule the game from its original Oct. 18 date to the final week of the season - a grand finale for college football's 100-year celebration.
The teams agreed, and when the first week of December rolled around both teams were undefeated - Texas ranked No. 1 and Arkansas No. 2.
More from WholeHogSports
"I never thought we would have such a dramatic game," said Beano Cook, an ABC producer, in 2009. "It was a perfect game for us."
Billy Graham prayed before the game and U.S. President Richard Nixon landed in Marine One just after kickoff to watch in person.
Arkansas led 7-0 - it had another touchdown pass waived off because of a controversial penalty - at halftime and extended its lead to 14-0 when Bill Montgomery threw 29 yards to Chuck Dicus early in the third quarter.
"If you go back and look at three quarters, Arkansas could have been ahead more than they were," said James Street, the Texas quarterback, in 2004.
Street became a Texas legend in the fourth quarter that day in Fayetteville. He broke five tackles on his 42-yard touchdown run on the first play of the fourth quarter that put the Longhorns on the board.
In 1964, Arkansas defeated Texas 14-13 in Austin when Royal called a two-point conversion try at the end of the game and was stopped, transferring power from the '63 national champion Longhorns to the Razorbacks who won it in '64.
Remembering the decision from 1964, Royal opted to go for two on the first touchdown in '69. Street ran it in to make the score Arkansas 14, Texas 8.
The Razorbacks nearly scored again later in the quarter, but after reaching the Texas 7, Montgomery was intercepted by Danny Lester on a third-down pass that was intended for Dicus in the end zone. Fans have long second-guessed the decision to pass instead of set up a field goal for All-American kicker Bill McClard.
"We had no business throwing the ball there," Montgomery said in 2009. "We should have kicked the field goal."
Texas didn't score on the ensuing drive, but with 6:10 remaining the Longhorns took over again for what would become the most memorable drive of the '60s. Facing a fourth-and-2 from its own 44, Texas opted to go for it after a timeout.
Royal called 53 Veer Pass, a play-action play on which Street would fake to his fullback out of the wishbone, then throw to the one receiver that would run deep downfield.
"Coach Royal, are you sure that's the play you want to run?" Street asked, according to a 1995 article in Sports Illustrated. "Hell yes, I'm sure," Royal retorted.
Street's pass dropped into the hands of Randy Peschel, who caught it over his shoulder and in between two Arkansas defenders at the Razorbacks 13. Jim Bertelsen scored a 2-yard touchdown two plays later and Happy Feller kicked the go-ahead extra point that gave the Longhorns a 15-14 lead with 3:58 remaining.
"On the pass play to Peschel, we thought they'd come back with something in the triple option, because that's how they made their living," said Harold Horton, Arkansas' linebackers coach in 1969, following Street's death in 2013. "We still had the pass well-covered, but it was such a spectacular throw and unusual catch, where he got the ball at the top of his shoulder pad.
"Hey, you have to credit James Street with coming through in the critical situations and getting the job done."
Arkansas drove to the Texas 39, but with 1:13 remaining, Montgomery was intercepted by Tom Campbell when he threw a pass intended for John Rees near the Texas 20.
Arkansas fans have recalled their dejection in that moment through the past half-century. It was evident even on the face of Broyles, who walked head half hung toward the locker room as the Longhorns' Show Band of the South played "The Eyes of Texas."
When postgame interviews were finished, Broyles rarely talked about the game again. Arkansas fans followed his lead, essentially putting a gag order on one of the greatest games the Razorbacks ever played.
"If we were smart we would embrace this game," Montgomery said. "We would turn this into a positive instead of always having to act like it's the 800-pound gorilla in the room."\
Tom Murphy and Bob Holt contributed
Discussion
Have a comment on this story? Join the discussion or start a new one on the Forums.