The Big Shootout 50 Years Later:
Where Are They Now: Bruce James
Published: Friday, December 6, 2019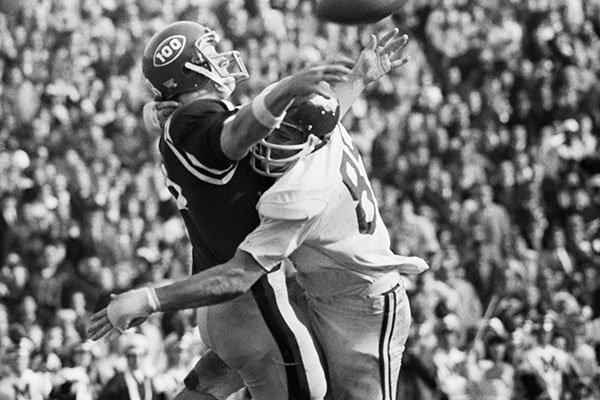 Arkansas left end Bruce James, right, forces Archie Manning of Ole Miss to get off a bad pass after a chase through the Rebels' backfield in Sugar Bowl game in New Orleans, Thursday, Jan. 1, 1970. The short pass was intercepted by Arkansas. Ole Miss led through most of the game. (AP Photo)
FAYETTEVILLE — Fifty years later it seems some Arkansas fans still haven't gotten over the 1969 Razorbacks losing the "Big Shootout" to Texas.
Bruce James played in it for Arkansas. He said it only took him "probably two or three days" to move on from the pain of that 15-14 near miss.
Instead, he relishes experiencing the December epic of No. 2 Arkansas vs. No. 1 Texas. There was also the obvious highlight of packing Razorback Stadium with the likes of President Richard Nixon and world famous evangelist Billy Graham among others.
Now the 1969 Razorbacks' forgotten loss, the anticlimax 27-22 Sugar Bowl defeat to Archie Manning and Ole Miss … that still burns the Razorbacks' All-American defensive end headed for Nov. 11 induction in Little Rock to the Southwest Conference Hall of Fame.
First things first. The Shootout.
More from WholeHogSports
"I got over that ballgame really fast," James said Oct. 19 at the 1969 Razorbacks reunion at the Fayetteville Country Club. "Probably two or three days because I knew when I walked off the field I had left everything there I had. I didn't have anything else to give. I always thought about it the last 50 years that I would rather played in that ballgame and lost than to never have been good enough to get to that championship game and not play in it. So I sort of feel like that ballgame doesn't haunt me. I just feel fortunate I got to participate in it."
The Dec. 6 Shootout was the only game televised, unlike today when some college football games routinely are televised Thursday and Friday nights with Saturday nonstop morning through past midnight.
It riveted national viewing. It was going to be The Game ever since ABC picked it in the summer expecting a No. 1 versus No. 2 matchup.
"The Game of the Century," some called it.
"There's nothing like it and there never will be," James said. "So I sort of feel like that ballgame doesn't haunt me. I just feel fortunate I got to participate in it. Because it was the only ballgame played in the day and the president of the United States was there and every television set tuned in."
And as much as Arkansas fans despised Texas, James respects the Texas comeback after the Longhorns trailed 14-0. He just as much respects the efforts of the Razorbacks.
"You've got to look at both sides," James said. "You've got eight or nine first-team All-Americans on that field playing against each other from Texas and from Arkansas. You talk about Arkansas, but Texas was the best. I never played against anybody that good. I saw them absolutely never quit. They fell behind; they didn't quit. I told them after the game, 'Don't lose the Cotton Bowl.' Because I knew if they lost the Cotton Bowl our game would be insignificant. It would not mean anything."
Texas beat Notre Dame, 21-17, in the Cotton Bowl and was voted No. 1. Penn State also finished 11-0, beating Big Eight champion Missouri in the Orange Bowl.
"They had to come from behind and beat Notre Dame," James said. "And once again they showed their character. So when you lose to a team like that, you know you played the best that was out there and you played your very best, you accept it. I'm just proud I got to play in the game of that magnitude."
Losing a game of that magnitude to the Longhorns deflated the Arkansas-born Razorbacks and those Razorbacks from Texas going into their Sugar Bowl date with Ole Miss.
The 1969 Razorbacks' lone prominent Mississippian, James likely was the lone Hog inherently inspired against Ole Miss.
"Unfortunately, being from Mississippi, that game hurt me tremendously," James said. "Because every one of those Ole Miss players I had either played with in an all-star game or played against in the regular season, Archie Manning included. All that entire team were people I had played against or played with and I wanted to win that game more than anything else in the world and we didn't play well. We had the better team but we were emotionally dead."
Arkansas' practices for the Sugar Bowl and the Sugar Bowl first half were pancake-flat.
"We absolutely didn't fire until the second half," James said. "We fell behind 24-12 at halftime. We ended up trying to make a comeback in the second half and we didn't get it done. But we were the superior team. So that one hurts. That one hurts a lot more for me being a Mississippian than it does losing the Texas game. Because I felt like as a team we played our very best against Texas and I didn't think we did against Ole Miss."
Certainly he understood why, particularly since Texas as SWC champion was in the Cotton Bowl and the Razorbacks again in the Sugar Bowl where the 1968 Razorbacks defeated Georgia.
"Emotionally, you were drained." James recalled. "You just lost the national championship and you were going down to play a game in New Orleans in the Sugar Bowl and you had been there the year before and beaten Georgia. So you are going back to a bowl game that really doesn't mean a lot."
Frank Broyles' 1970 Razorbacks, with James a first-team All-American after being honorable mention All-American in 1969, again went 9-2 losing only to Jim Plunkett-quarterbacked Stanford and again to SWC champion Texas.
Again they could have gone to the Sugar Bowl but declined and stayed home.
"We were 9-2 but we voted not to go," James said. "All the seniors said, 'It's the Cotton Bowl or nothing.'"
Those Sugar Bowls were against terrific SEC champs. Frank Broyles did beat all the top SEC teams to sign James.
"I was trying to make up my mind whether to play for Bear Bryant (at Alabama) or Johnny Vaught (at Ole Miss)," James recalled. "I came to Arkansas only because of Frank Broyles.
"I was going to go to Alabama or Ole Miss and I got this offer out of nowhere from Arkansas. I didn't know there was a recruiting difference between conferences. The Southeastern Conference could contact you anytime during your senior season. The Southwest Conference couldn't contact you and bring you up until after your last game as a senior.
"So I get this phone call from Arkansas and it's Jack Davis who was in charge of recruiting. Jack was from Mississippi and had come from Natchez. He said 'Coach Broyles and Arkansas want you and would like for you to just wait until the end of the season and we'll bring you up immediately and want you to come talk to us. Would you do that?' And I said, 'Yeah.'"
Bruce explained his interest.
"I had never been to Arkansas," James said. "But I knew a lot about it because (Razorbacks legend and NFL Hall of Famer) Lance Alworth is my hero and he's from Mississippi. And Coach Broyles had been a giant star at Georgia Tech and was the SEC Player of the Year. We all knew who Coach Broyles was. And the University of Arkansas had won the national championship in 1964. This was 1966 when I was being recruited so he had something to sell. He'd won the national championship."
James knew all that. It piqued his interest but wielded near zero impact on his final decision.
"We visited and Coach Broyles didn't even talk about football," James said. "He did something that Bear Bryant didn't do. He did something that Johnny Vaught and all the other coaches didn't do. They just talked about football. He talked about, 'What did I want to do with my life? What would my degree mean to me?' He found there was a direct correlation to good football players and how they felt about their education. And all of a sudden I felt, 'This man is different.'"
Broyles needed to be different given what the others could offer.
"Now, it was the worst facilities I've ever seen," James recalled of Arkansas. "We didn't even have an air-conditioned dorm room. It was horrendous. Alabama — they called their dorm the Bear Bryant Hilton. Miami was like — my gosh! It was unbelievable! LSU — everybody had better dorms. So I came strictly because I want to play for Coach Broyles."
To this day, James believes facilities and the recruiting attraction of coordinators and position coaches are overrated.
Especially nowadays when "everybody has great facilities," James said.
"You don't go because of a position coach," James said. "I always wanted to know the head coach and what he was about, not an assistant coach. And I really didn't care about facilities. I cared about football. It might be really plush, and I could have gone to those other schools, but there was something special about Coach Broyles. He convinced me and the recruiting class I was in that we had enough to win a conference championship and be a Top Ten team. So he was very correct about it."
As for Arkansas assistant coaches, James was influenced by the late Charlie Coffey, both the defensive coordinator and his position coach.
"I learned a lot of football from the man," James said. "He was a very difficult man to play for. He was tenacious. But what he taught me about fundamental football and how to play that position is why I'm being put into the Southwest Conference Hall of Fame."
Since he played defensive end and not linebacker, James was never coached by the late and legendary Wilson Matthews.
But he directly felt the impact of the Matthews Fourth Quarter winter conditioning that reportedly made Marine boot camp seem like a weekend at Disneyland.
"Oh, gosh!" James said. "Hey, I start getting queasy just thinking about that 50 years later. Let me put it to you this way, once you got in a game you never worried about being tired because of what you had been through in the Fourth Quarter."
The Fourth Quarter was just another bond to that 1969 reunion as tight as any family reunion you could find.
"I've seen players that I haven't seen in 10 years and it's remarkable and amazing how the emotions come back about a person and how good a football player and nice people that they were," James said. "It's been 50 years, and five minutes that you're around them you see they haven't really changed. As an outsider who came in from Mississippi and came in knowing no one, I was fortunate to have these guys as teammates. It's great to be here and a pleasure to see them."
James said his teammates share his SWC Hall of Fame honor.
"I can't tell you how honored I am to be in the Hall of Fame when I think of all the great players that played in the Southwest Conference and how fortunate I am," James said. "I had great coaches and I had great teammates. I don't think you win these kinds of honors if you are not surrounded by great players who allow you to do your job. It's sort of a team thing to me. I know that sounds corny but it's true."
James explained how individual honors are another dividend of playing team ball.
"Somebody had to do their job for me to do my job," James said. "So I'm very honored to be going in. We all made each other better. All of us had great pride. We were competing with each other to make the tackle. So you've got 11 people trying to get to the ball carrier, you've got a great defense."
James' Arkansas success netted him a NFL opportunity he couldn't fulfill.
"I was under contract with the Philadelphia Eagles for two years but I didn't play," James said. "I was shocked to be drafted to be honest with you. I had a blown-up knee. I had five operations before I got there."
Like Broyles advised when he recruited James to play football, James prepared for life after football. He graduated from the UA's School of Business majoring in management and minoring in marketing.
Following his two years with the Eagles, Bruce got in the insurance business influenced by insurance agencies helping rebuild the 1969 Mississippi homes and businesses devastated by Hurricane Camille.
"From Hurricane Camille, I saw that they make you whole again," James said. "That's why I wanted to be in the insurance business.Working for State Farm is what I've done for the last 46 years in Little Rock. I enjoy it."
And football does remain a part of his life. He's done sports commentary, mostly on the Razorbacks, on TV and radio.
The Razorbacks' plight, 0-15 in the SEC from Bret Bielema's last three SEC games of 2017 through Chad Morris' tenure going into the Oct. 26 game at No. 1 Alabama, of course concerns him.
"I say this to everybody and I've discussed this with people who play," James said. "I don't see a whole lot of talent. You see a guy on defense who's not fast and misses tackles. You see his body language. You can't coach that out of a kid and you can't coach that into a kid if it's not there.
"We have got to get some players who think it's a great honor having Arkansas on their jersey and whether they are great players or not are going give you everything they've got. We don't have that right now. Fans have got to understand we are playing in the toughest league in America."
And they should be glad to be in the toughest league, James asserts, not run from it, the path he defines by any advocating Arkansas leaving the SEC for the Big 12.
"That makes no sense," James said. "There are so many people that would love to be in our position in the SEC it's not funny. That would be like saying we are not good enough."
Bruce James knows Arkansas can be more than good enough. He played for the Hogs when they ranked with the best.
Discussion
Have a comment on this story? Join the discussion or start a new one on the Forums.