UALR-UA women's report:
Foley gives freshmen long look
Published: Sunday, December 22, 2019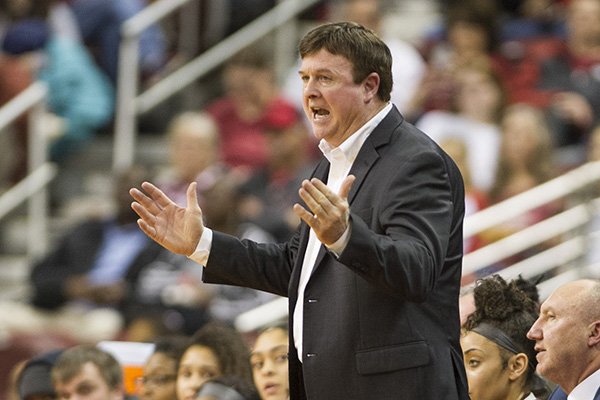 UALR women's basketball Coach Joe Foley will attempt to earn his 800th career victory when the Trojans take on Texas State today at the Jack Stephens Center in Little Rock. Foley is 799-267 for his career, including 456-81 in 16 seasons at Arkansas Tech and 343-186 in 17 seasons at UALR. (Democrat-Gazette file photo)
University of Arkansas women's basketball Coach Mike Neighbors said he knew Joe Foley would have some kind of surprise in store Saturday at Simmons Bank Arena in North Little Rock.
Foley, the University of Arkansas at Little Rock head coach, did not disappoint.
It wasn't a strategical maneuver as much as it was a meet-and-greet with two UALR freshmen Neighbors and his staff had not seen much of before.
True freshmen Angelique Francis and Skyla Knight combined for 26 points and 11 rebounds in 74 minutes after scoring a total of 9 points and grabbing 9 rebounds in UALR's first 9 games.
"He pulled one on us," Neighbors said. "One of the kids hadn't played five minutes."
It was hardly a sinister plot.
Foley said the increased playing time for Francis and Knight was a situation where two young players had progressed enough in practice to earn the uptick in playing time.
He said he liked what he saw Saturday.
"I was more pleased with what I saw today with conference coming up. I think we made some strides to make me think we can compete in our conference now," Foley said. "That's what this is all about."
Long driver
UALR true freshman Angelique Francis was the only player on either team to stay on the floor for 40 minutes during Arkansas' 86-53 victory over UALR.
Francis, a 5-11 forward from MacArthur High School in Irving, Texas, was asked whether she had any idea she would spend the entire afternoon on the court.
"I did not," she said with a smile spreading across her face. "I'm not going to lie. Before the game, I was nervous."
Francis, a fitness buff, played basketball, participated in track and field and was on the golf team in high school.
She said her introduction to college basketball has been a slow but steady progression.
"You work on it in practice," she said. "Practice makes perfect. You go hard in practice, you'll go hard in games.
"Coach gives you a task, and you do your best at it. That's what I'm trying to do."
Francis replied with a joke when asked about her athletic physique.
"It's golf," she said, drawing laughter from Foley and other media members.
Foley said he asked Francis whether it was true that she could hit 300-yard drives.
" 'Yes Coach, I can, but I don't know where it's going,' " Foley said of Francis' response to him.
Foley said Francis saw increased playing time because she was ready to contribute.
"This is the role we recruited you for," Foley said he told Francis. "We want you to be a great defender. We want you to be a physical player. She can jump out of the gym. She's going to do nothing but get better and better."
Francis' play, as well as that of fellow true freshman Skyla Knight, put Foley in a cheerful mood.
"If I get to coach her for four years, that's going to be a lot of fun," he said. "That's got me more excited about Christmas than I thought I was going to be when I walked in today."
Conway girl
Former Conway High School star Alexis Tolefree was the one Arkansas player who got to drive to North Little Rock for Saturday's game against UALR.
Tolefree scored 21 points on 7-of-11 shooting from the field, including 2 three-pointers. She made all 5 of her free-throw attempts, and had 2 steals, 3 assists and was credited with a block.
"It was important to her," Arkansas Coach Mike Neighbors said. "This is a prideful Arkansas kid. To be able to get down here, close to where she played in high school, was important."
Neighbors said he joked with Tolefree -- who was the 2016 Arkansas Democrat-Gazette All-Arkansas Preps girls player of the year -- about getting to drive to North Little Rock while the other Razorbacks rode a bus down before heading out on Christmas break.
"You are so grown up now," Neighbors said he told Tolefree. "She has really matured."
Tolefree committed to play for Arkansas after spending two years at Jones County Community College in Mississippi, where she averaged 21.3 points, 3.2 rebounds, 2.0 steals and 2.6 assists her sophomore season.
She signed with Ole Miss after her freshman season at Jones, but she opted out of her national letter of intent after the Rebels had a coaching change.
In her second season at Arkansas, the senior is averaging 11.9 points per game after scoring 10.2 ppg last season.
1,000 and counting
Junior forward Chelsea Dungee scored 21 points to reach the 1,000-point mark -- in just her Razorbacks career.
She has 1,244 career points, including 234 that she scored as a freshman at Oklahoma before transferring to Arkansas.
Arkansas Coach Mike Neighbors said he wanted to wait to celebrate Dungee's 1,000-point accomplishment until she reached it at Arkansas.
He said he was pleased to hear Dungee's feat announced over the PA system.
"Cool little Christmas present," Neighbors said.
Sports on 12/22/2019
Discussion
Have a comment on this story? Join the discussion or start a new one on the Forums.