Robinson OL Harris one of nation's best 2022 prospects
Published: Saturday, December 28, 2019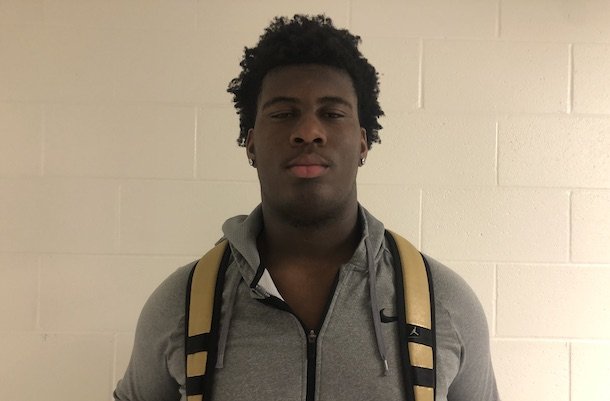 FAYETTEVILLE — Joe T. Robinson assistant coach Brian Maupin has always been someone who has taken his players to college campuses to help them get recruiting exposure.
Five years ago, he took a group of Senators to Arkansas for a junior day. Current Pulaski Robinson sophomore offensive and defensive lineman E'Marion Harris (6-6, 305), the son of former Razorback defensive lineman Elliott Harris, Sr., tagged along.
"I tell a story about how he went on some trips with me with his brother (Elliott Harris, Jr.) when his brother was being recruited," Maupin said. "One of them was to Arkansas and I had about six guys on the trip and Emarion rode with us.
"They are doing the heights and weights for Junior Day and one coach said 'hey, coach, what about that player?' I said 'that's not a player, that is Elliott's little brother and he is just 10.'
"They were like, 'we will still measure him.' Arkansas measured him at 6-foot, 255 pounds as a 10-year-old. So he has kind of been there, done that, which is kind of weird to say about a sophomore, but he is just so mature and handles things so well.
"He does a really good job with things and lets the main thing be the main thing and trust God with the process."
E'Marion Harris, who helped lead his team to a Class 5A state title this season, has grown into one of the state's best prospects regardless of his classification.
He already has offers from Arkansas, Alabama, Oklahoma, Tennessee, Mississippi State, Ole Miss, TCU, Memphis, Louisiana Tech and Texas State.
"It is cool and all, but I don't let it go to my head," Harris said. "I just keep it to myself and stay humble."
Robinson has produced several Division I prospects in the last few years, including Arkansas freshman defensive end Zach Williams.
"He is in a good spot in that he has seen a lot of Senators before him go through this process," Maupin said. "His dad went through it, his brother went through it and a lot of our players have gone through it."
Harris started his first high school game as a 13-year-old ninth grader and was arguably the best offensive lineman Robinson had at that point.
"Obviously the size jumps out at you, but the biggest thing is as a 13-year old against 7A schools, he was making all the O-line checks to unbalanced sets and was also making them on the defensive line," Maupin said. "It is rare that you have the youngest kid out there on the field being the most savvy and making all of those next level checks.
"His maturity and his ability to process things is at an all-time high. He is also a great kid - yes sir, no sir, no problems. To be honest, he could have twice as many offers as he does now, but he just wants to play football and be the best Senator he can be."
Joe T. Robinson went 14-1 this season, opening the season with wins over Class 7A schools Springdale and Rogers and capping the season with a 56-28 win over Shiloh Christian in the Class 5A championship game at War Memorial Stadium.
"It took hard work and dedication from me and my teammates and we were trying to push ourselves to be the best we could be every week," Harris said. "We just strived to be the best that we can."
Robinson won its last 10 games of the 2019 season after losing to 2018 Class 5A champion Arkadelphia, 28-27. Arkadelphia took down the Senators 28-0 in the previous state championship game.
"We try to pride ourselves on taking care of business, and to be honest and no disrespect to Arkadelphia, but that was a game where we had five trips inside the 5-yard line that did not produce any points," Maupin said. "So that game could have been really different. Our kids were mature enough to know that and I think we played one of our better games the next week against Nashville.
"It's that old adage of how you don't want to let a team beat you twice and we didn't. We were executing at a high level that next week against Nashville and that kind of spring boarded us forward."
Harris, who turned 15 during his sophomore season, has plans to attend several camps this spring and summer.
"The things I need to work on is to get stronger and get quicker feet," Harris said.
He is looking forward to visiting with new Arkansas head coach Sam Pittman, one of the nation's most highly-regarded offensive line coaches.
"I have not met him yet, but I look forward to meeting him," Harris said. "They have got a good football program, but are just building right now. I think they can be really good in the future."
Maupin believes Arkansas has hired a fit for its program in Pittman.
"I think he is a good hire," Maupin said. "I think it is one of those situations where a guy is hungry for success and hungry to prove himself, but unlike most of Group of 5 guys or young guys that would have that hunger, he is a big-time pedigree guy. He is a big-time program guy, he has been around a lot of success in a lot of winning programs and you still get that hunger from a guy who maybe hasn't been around an established program that Coach Pittman has.
"I think it is a great marriage of a guy who loves Arkansas and one who comes from a big-time pedigree and a guy who is hungry to prove himself."
Discussion
Have a comment on this story? Join the discussion or start a new one on the Forums.