Tulsa linemen take in Arkansas
Published: Saturday, February 2, 2019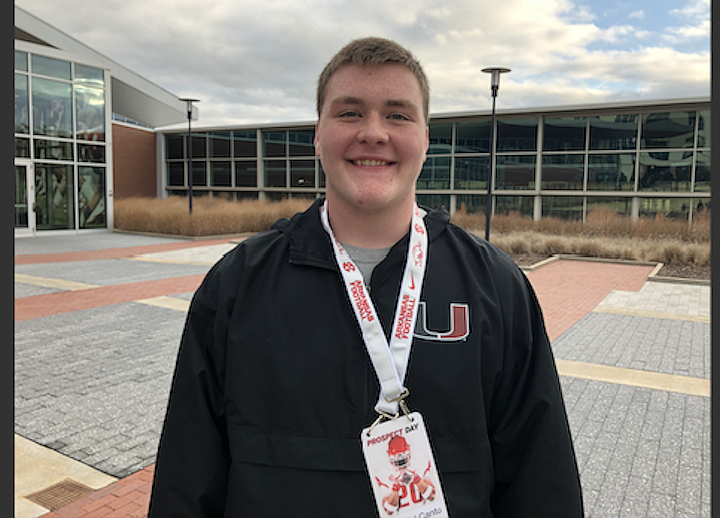 One of Arkansas' offensive line signees is from Union High School in Tulsa, Okla., and the Razorbacks are looking to add more from the powerhouse.
Junior offensive lineman Gabe Contu (6-3, 295 pounds) and Jake Henry (6-4, 260) were both in Fayetteville on Saturday for the Razorbacks' Prospect Day.
"Another great day in Fayetteville," Henry tweeted.
"It went great," Contu said. "It was a great family environment. It feels like a family around here and they really care about you and they tell you about it. It was a great experience."
Contu and Henry were high school teammates with Ricky Stromberg (6-3, 290), who signed with Arkansas in December.
"Ricky has influenced me a lot," Contu said. "He taught me how to be nasty on the field. He doesn't quit and it has been really fun playing with him."
The Union linemen got a chance to visit with Arkansas offensive line coach Dustin Fry.
"He got to get to know me," Contu said. "Its been fun. He's a good guy."
Contu is trying to improve his agility on the field.
"I have been working on my mobility, just getting better," Contu said. "I've got the physical part down, just working on my mobility and flexibility."
Contu is a young man of faith and plans to let that guide his recruiting process.
"Wherever the Lord calls me is where I am going to go," Contu said.
Union has won the state championship in Oklahoma's largest classification nine times.
"We have a winning culture and we are raised like a family and the culture carries on," Contu said. "We have been through a lot of adversity as well and that really helps out."
Discussion
Have a comment on this story? Join the discussion or start a new one on the Forums.