Ruiz gets a kick out of Arkansas visit
Published: Sunday, February 3, 2019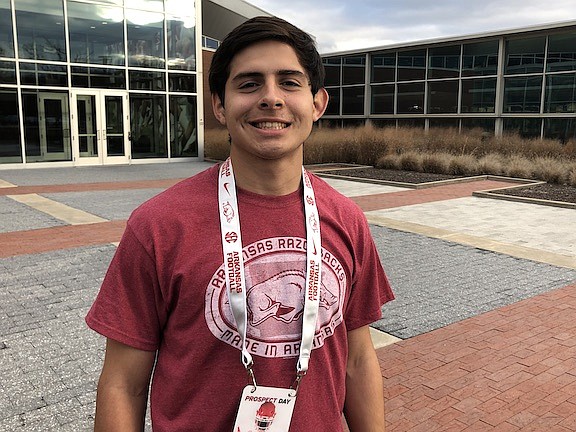 FAYETTEVILLE — Arkansas will lose senior Connor Limpert, the school's most accurate percentage kicker (27-of-33 for 81.8 percent) of all time, after this upcoming season and will likely be in the market for someone to take his place.
Cypress (Texas) Cy Fair punter/kicker Jake Ruiz (5-10, 180), one of the nation's best combo guys in the 2020 recruiting class, took a visit to Fayetteville on Saturday to check out the Razorbacks. He plans to be back for Arkansas' Specialists Camp on June 2.
"It was great," Ruiz said. "I got to meet the coaches. It's great facilities. I like the coaches, they're really nice. I can see myself playing here. I could see myself being comfortable here ... like a second home."
That's important to Ruiz, who noted something that Arkansas coach Chad Morris shared with him.
"Coach was saying that 1,160 days out of your career that it isn't going to be a game day," Ruiz said. "Like I said, I could see myself being comfortable here."
Ruiz's dad built him a football field with goal posts to practice on and has a long field goal of 64 in practice.
He is rated the second-best punter nationally and fourth-best kicker per Kornblue Kicking, the No. 10 kicker and No. 28 punter by Sailer, and the 17th-best kicker nationally by Kohl's.
"Jake is a phenomenal kicking prospect," Sailer writes. "He is a great looking athlete with an explosive leg. Jake hits a clean ball on field goals and has 55+ yard range. His kickoffs are strong, college ready. He drives the ball deep into the end zone with nice hang time.
"Also a capable punter. He has the tools to develop in this area. He is a competitor that does well under pressure. There is excellent all-around natural ability and potential here. Look for him to have a big offseason impressing college coaches around the country."
Arkansas is among the schools showing interest.
"I have Arizona (coming up), just went to Oklahoma State, hopefully (Texas) and maybe Florida State," Ruiz said.
Ruiz, who kicks without a tee and also had eight tackles this season, was 6-of-8 on field goals this past season with his longest of the season being a 45-yard game-winning kick against Atascocita.
He also went 29-of-30 on PATs, had 24 touchbacks in 80 kickoffs while averaging 53.7 yards per boot and punted 26 times for a 33.8-yard average.
"I would say kickoff is my strongest," Ruiz said.
Discussion
Have a comment on this story? Join the discussion or start a new one on the Forums.