Embery-Simpson finding his touch in win streak
Published: Tuesday, February 5, 2019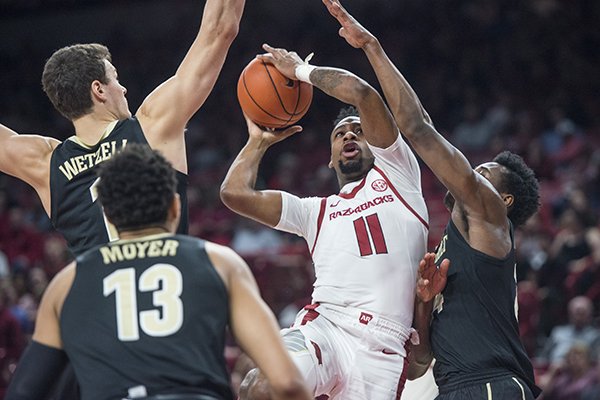 (
Ben Goff
)
Arkansas guard Keyshawn Embery-Simpson goes up for a shot between three Vanderbilt defenders on Tuesday, Feb. 5, 2019, in Fayetteville.
FAYETTEVILLE — Arkansas has won four straight SEC games, but it would have been difficult for the Razorbacks to win the past two games without the play of freshman guard Keyshawn Embery-Simpson.
Embery-Simpson tied a career-high with 16 points in Saturday's road win at No. 21 LSU, then hit the go-ahead 3-pointer with 14 seconds remaining Tuesday night in a 69-66 win over Vanderbilt at Bud Walton Arena.
Embery-Simpson turned down an earlier look in the possession, but found all net when the ball came back to him with four seconds left on the shot clock. He was subbed into the game prior to the possession.
"The shot clock was going down and I was thinking, 'Hey, we have got to get it up,' and I was confident in me shooting it," Embery-Simpson said. "It felt good coming off my hands and I thought, 'Oh, yeah, it's got to be good.'"
Arkansas (14-8, 5-4 SEC) held after Jalen Harris took the Razorbacks' seventh charge of the game Vanderbilt's next possession. Mason Jones hit two free throws and Vanderbilt's Matt Ryan missed a 3-pointer just before the buzzer.
Daniel Gafford had 28 points and nine rebounds, and made 10 of 12 free throws. Isaiah Joe had 18 points on six 3-pointers and 5 assists to lead Arkansas.
All five players on the floor touched the ball during a seven-pass possession that resulted in Embery-Simpson getting a wide open look for his big shot.
"I was off-balance and was trying my best not to get a travel call and then I forgot Keyshawn was over there," said Gafford, who had the game-winning assist, "but I (saw) him at the last second so I just made the pass and he knocked down the shot for us. He was in the right spot at the right time."
Joe, who has now made 79 3-pointers this season as he chases Rotnei Clarke's school record of 83 for a freshman, felt like Arkansas would get a good shot on the possession.
"As soon as it left his hand, I knew it was going in," Joe said. "Keyshawn is a great shooter, actually one of the best on the team, so I had faith that whoever took the shot it was going in. It just happened to be Keyshawn and I knew it was going in."
Arkansas coach Mike Anderson believes it happened because his players trusted each other.
"He turned it down earlier, but he nailed the biggest one," Anderson said. "…I thought they trusted each other and that's the growth right there. A lot of teams, the guy with the ball would have said, 'I need to make the play,' but I thought Dan did a good job of getting through that double team because they had him sandwiched in there."
It was another tough loss for Vandy, which lost 88-83 in overtime to No. 1 Tennessee on Jan. 1 and 56-47 to No. 6 Kentucky in this stretch. The Commodores (9-13, 0-9) are winless midway through the SEC schedule.
Vanderbilt coach Bryce Drew thought Vanderbilt defended well on the final possession, but credited Arkansas' passing that set up the winning play.
"He made a big shot so credit him for stepping up and making a big shot," Drew said.
Arkansas trailed 28-18 in the first half before cutting it to 35-34 by halftime. Joe hit four of his 3-pointers in the closing minutes of the half.
The Razorbacks grabbed their largest lead, 58-49, on Gafford's layup with 9:12 left after halftime, but the Commodores took the lead with 11 straight points and regained it, 66-64, on Joe Toye's 3-pointer with 40 seconds remaining.
"I thought they took another step toward the team we want to be," Anderson said of his team weathering the storm. "We didn't panic. It was a good win for us and we appreciate our fans. They stayed in there until the game was over."
Anderson was happy to see his team get out with the win, especially coming of the emotional win at LSU.
"I thought Coach Drew and Vanderbilt came in and played their tails off," Anderson said. "They had a great first off and defensively we could not do anything with them. I thought in the second half we were a lot better.
"I have been around in this business long enough to know that when you come off an emotional win, which is what we did, as a coach you worry about that next game in how your team is going to come out.
"We didn't that energy that we have been playing with on defense and it transferred the same way on offense. We went awhile without scoring…but we got it done in the end and that's what matters the most."
Discussion
Have a comment on this story? Join the discussion or start a new one on the Forums.