Title for Arkansas' best recruiter belongs to Van Horn
Published: Thursday, February 21, 2019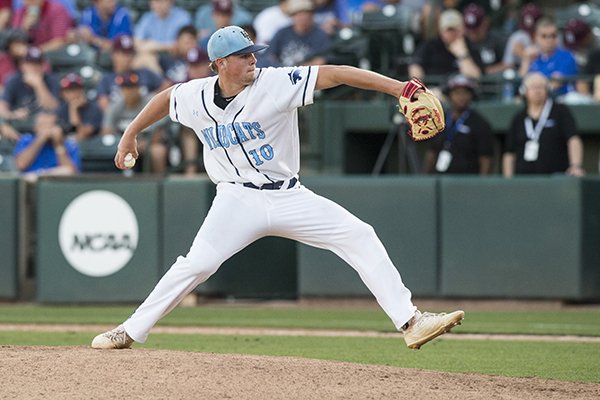 (
Ben Goff
)
Springdale Har-Ber starter Blake Adams delivers to a Conway batter in the 7th inning Friday, May 18, 2018, during the 7A baseball state championship game at Baum Stadium in Fayetteville. Springdale Har-Ber won 6-0.
While Arkansas football coach Chad Morris and basketball coach Mike Anderson have had their share of recruiting success, there's no doubt who reigns supreme as the best recruiter among the three most noteworthy sports on the University of Arkansas campus.
That would be Razorback baseball coach Dave Van Horn, whose No. 12 Diamond Hogs (3-0) will begin a three-game series Thursday against Southern Cal (2-1) in Los Angeles.
As the best recruiter, it's no surprise that Van Horn's program has been the most successful of the three lately.
It has always been as much as getting the Jimmies and Joes as it is about getting the Xs and Os.
Van Horn's success is even more impressive when you take into account that the baseball program has to split up just 11.7 scholarships among its team and he must also compete against Major League Baseball teams trying to swipe his best players in its annual June draft.
Still, with the exception of one down year in 2016 when the team went 26-29 overall and 7-23 in SEC play while and losing its last 13 games, Van Horn and his staff have kept a streak of excellence alive. The Razorbacks were an out away from winning a national championship last season.
Van Horn already signed 20 players in his 2019 class and has some 25 commits in the 2020, 2021 and 2022 classes.
The signees include three in-state standouts in right-handed pitcher Blake Adams (6-2, 190 pounds) of Springdale Har-Ber, left-handed pitcher Zack Morris (6-2, 228) of Cabot, and catcher Cason Tollett (6-1, 185) of Little Rock Christian.
The Razorbacks also have signed Bryant pitcher Will McEntire (6-4, 230), Benton pitcher Payton Pallette (6-0, 155) and Jonesboro pitcher Zane Neves (6-0, 200).
"We always want to get the local kids if we feel like they can come in and contribute," Van Horn said when discussing last year's banner class. "The talent in the state of Arkansas continues to get better every year. There's a lot of other schools trying to get in this state now with their recruiting... If you can keep the best players in the state at Arkansas, it's such a good foundation. We've had a lot of success doing that."
There are also signees and commitments from Oklahoma, Texas, Missouri, Illinois, Colorado, Florida, Wisconsin and even one from Las Vegas, prized infielder Jesse Pierce.
The Razorbacks have seven top 51 commits in the 2020 class, according to Perfect Game.
Baseball is not a dying sport as evidenced by a Wall Street Journal article on Tuesday that noted participation in the sport is up 21 percent in the past four years, driven in part by an MLB program that puts plastic bats and balls in kids' hands.
During Van Horn's first 16 years at Arkansas, 20 Razorbacks have been named All-Americans, 26 All-SEC players and 90 have been picked in the MLB Draft.
Van Horn has the love of the fans and his predecessor, Norm DeBriyn, who made that clear while speaking at Van Horn's induction into the Arkansas Sports Hall of Fame.
"Dave's got a lot of confidence in himself," DeBriyn said. He's got that 'it' that people talk about. What makes Dave a great coach...you know, there's a lot of people that can coach, but Dave, I've never seen anybody command a locker room like he can.
"He's a tremendous evaluator. And his discipline, and his example is just impeccable. I think with that being said, a lot of tough decisions have to be made, and Dave can make tough decisions. I think as we've gone over time with him bringing the program to where it is today. Arkansas baseball is one of the top five baseball programs in the country."
CORRECTION: An editing mistake caused the story to incorrectly state there were eight top 51 players committed to Arkansas in 2020. The story has been corrected to list the accurate number of seven.
Sports on 02/21/2019
Discussion
Have a comment on this story? Join the discussion or start a new one on the Forums.