The Recruiting Guy:
Tulsa junior guard has Hogs' attention
Published: Tuesday, January 1, 2019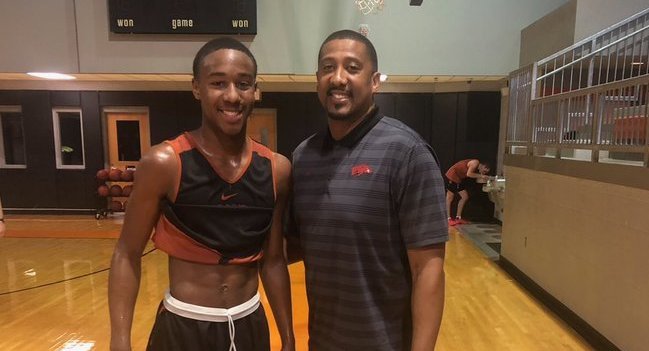 Bryce Thompson, Scotty Thurman
University of Arkansas basketball Coach Mike Anderson and assistant Scotty Thurman were courtside to watch junior guard target Bryce Thompson on Saturday evening.
Thompson, 6-5, 170 pounds, led Tulsa Washington to a 66-60 victory over Tulsa Memorial with 25 points and 6 assists. The victory capped the Hornets' march to the Tournament of Champions title in Tulsa while earning Thompson MVP honors.
"It was good to see Coach A and Coach Scotty able to come over and watch Bryce play," said Rod Thompson, the father of Bryce. "They were excited about how he played and performed. Assured me he was one of their top priorities. They want to be able to get it done."
The younger Thompson played all but two minutes of the Hornets' three games while finishing second in scoring and first in assists.
ESPN rates Thompson a four-star recruit, No. 12 shooting guard and No. 45 overall prospect for the 2020 class. He officially visited the Hogs for the Tulsa football game weekend of Oct. 19-21.
Thompson, whose lead recruiter is Thurman, also has officially visited Colorado and Texas A&M. Father and son likely will decide on the other two official visits soon.
"We'll probably sit down and discuss some things while we have a little time before we get back into the season," Rod Thompson said.
The elder Thompson said his son has made several unofficial trips to Fayetteville. He said his son is still open in his recruitment, but he acknowledged Arkansas, Kansas, Oklahoma, Oklahoma State and Texas A&M as being the aggressors.
"I think when you talk about teams that's probably recruiting him the hardest, it's a handful," Thompson said. "Those guys have definitely probably recruited him the hardest, but I wouldn't put them in no particular order."
The director of the Oklahoma Run PWP spring and summer basketball program, Thompson coached current Razorback freshman guard Keyshawn Embery-Simpson. Former Arkansas great Lee Mayberry was in Thompson's wedding and has known Bryce since birth.
Thompson, who along with Anderson played basketball at Tulsa, said the connections help the Hogs.
"Of course Lee and I go way back," Thompson said. "He's been around Bryce for a long time. I talk to him every day.
"Of course, having Keyshawn there. He played in our program and how much he loves it and talks about it all the time. Of course, Coach A has ties here. We always joke around."
Basketball prospects are allowed five expenses-paid official visits during their junior and senior years. Thompson didn't rule out his son taking visits as a senior.
"I don't see us taking all five," Thompson said. "We'll probably take a couple of more official visits and maybe to some of the same places. We haven't determined that yet."
A school's coaching staff and style of play along with educational opportunities will factor into the younger Thompson's college decision.
"I always talk to Bryce about the importance of education and the people you're going to be around," Thompson said. "I always say when you make this decision, you're going to be tied to that coach and that staff for the rest of your life."
The elder Thompson didn't rule out his son making his college decision prior to his senior year.
"We'll weigh everything and look at everything," Thompson said. "Ideally in a perfect world, we want to have it done before he starts the season. We'll see how that shakes out."
He would like to see his son play close to home, but will let him make his own decision.
"Selfishly, I would like for him to stay close," Thompson said. "I enjoy watching him play. Nowadays you can pretty much catch every game on TV or whatever, but I like being there and watching him play."
Email Richard Davenport at rdavenport@arkansasonline.com.
Sports on 01/01/2019
Discussion
Have a comment on this story? Join the discussion or start a new one on the Forums.