Early enrollee Greg Brooks getting head start
Published: Tuesday, January 8, 2019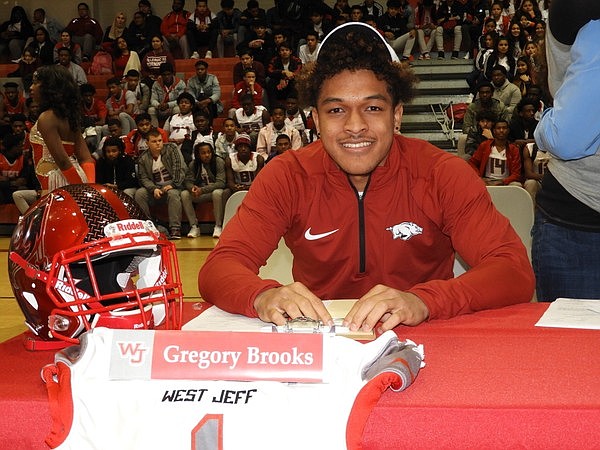 FAYETTEVILLE — With Arkansas junior cornerback Ryan Pulley's announcement on Monday that he is forgoing his senior season to put his name in the NFL draft, more playing time opened up for the returning and arriving defensive backs.
One of those is true freshman and Harvey (La.) West Jefferson four-star prospect Greg Brooks, Jr. (5-11,175), who was one of eight scholarship early enrollees who arrived in Fayetteville on Tuesday.
"That is one of the reasons I wanted to come in early, to show the coaches what I can do and hopefully get a chance to play this year," Brooks said. "I want to put myself out there for them and show them I can handle it.
"I am kind of excited, but also a little nervous as I begin his new chapter in my life. But I believe getting up there early will help me adapt and I will be ahead of the other guys coming in."
Brooks (5-11, 175) was a private commit to the Razorbacks for over a month, but technically flipped from Mississippi State to Arkansas a half-hour before his signing ceremony on Dec. 19.
Brooks, who visited Arkansas officially Nov. 9-11, noted his final two choices were actually Arkansas and Kansas State.
"I felt really good about Arkansas when I visited there and thought that is where I was going to end up, but I truly made my final decision about 30 minutes before I signed my national letter-of-intent," Brooks said. "In the end, it was really close between Arkansas and Kansas State, but I just felt that Arkansas was the best place for me."
Brooks got an early morning call from Razorback secondary coaches Ron Cooper and Mark Smith.
"They called me that morning and told me some things that helped me know I was doing the right thing in coming to Arkansas," Brooks said. "It was really back-and-forth for me, but really at the last minute I decided I for sure wanted to go to Arkansas."
Arkansas coach Chad Morris was elated with the addition of Brooks, part of a 2019 recruiting class that is ranked as high as 12th nationally by Rivals.
"Recruiting is never ending," Morris said. "We've been talking to Greg for quite some time ... trying to build that relationship to be strong. I think he saw the needs that would impact him to come here. The opportunity to play. Just a fabulous football player. It was huge for us out of Louisiana."
Brooks had 55 tackles and five interceptions during a junior season that put him on the recruiting map.
"I think my biggest strength is my smartness out there on the football field," Brooks said. "I am still working on everything, but I think I can cover really well, I'm fast and love to come up and hit."
Brooks is comforted by that fact that he has a few friends and fellow Louisiana natives on hand already in Fayetteville in current Razorbacks De'Jon "Scoota" Harris, Joe Foucha and Andrew Parker and one arriving in May in 2019 signee Devin Bush.
"Devin is my guy and we have been friends way before we both got offered by Arkansas," Brooks said. "Scoota is where I am from and his brother is actually one of my best friends, so we know each other well. Joe is another New Orleans boy."
Arkansas is coming off a 2-10 season, but has nevertheless had a banner recruiting year.
"I feel like coach Morris and the team around him are doing a great job and we have like a Top 10 class," Brooks said. "I feel like he is going to change the program around quickly."
Discussion
Have a comment on this story? Join the discussion or start a new one on the Forums.