Razorbacks in tight spot with 4 home losses already
Published: Saturday, January 12, 2019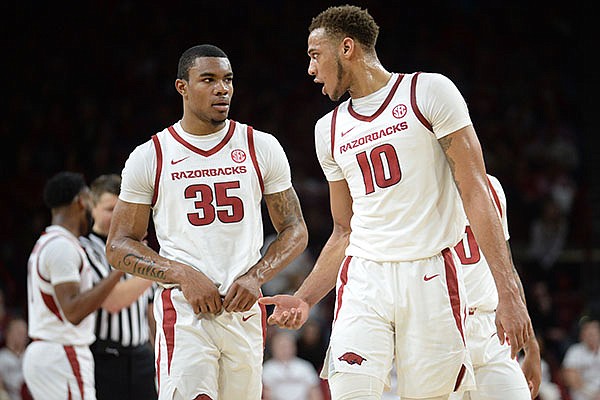 (
Andy Shupe
)
Arkansas forward Daniel Gafford (10) speaks with forward Reggie Chaney against LSU Friday, Jan. 11, 2019, during the first half of play in Bud Walton Arena in Fayetteville.
FAYETTEVILLE — Things suddenly look bleak for the University of Arkansas basketball team.
While Arkansas fans have been known over the years for looking to dark side first and often seeing more than what is there and panicking at the least little stumble, it feels legitimate for there to be some grumbling happening following the Razorbacks' 94-88 overtime loss to LSU on Saturday at Bud Walton Arena.
The fact that Arkansas' football program went 2-10 and has won just six of its last 26 games certainly hasn't helped in uplifting the fan base, although there is hope there because of a stellar football recruiting class.
Not only have the basketball Razorbacks (10-5, 1-2 SEC) lost a pair of home games this week, but now they have to go on the road to face arguably the SEC's two best teams in No. 2 Tennessee and Ole Miss, which is likely to enter the top 25 next week.
The Vols (14-1, 3-0) won at Florida 78-67 on Saturday afternoon soon after the Rebels (13-2, 3-0) continued their surprising start with an 81-77 road win over rival Mississippi State.
Arkansas' losses to Florida on Wednesday and LSU on Saturday mean the home team has suffered four losses at Bud Walton Arena already this season. No Arkansas team has lost more than four home games in Mike Anderson's eight seasons.
Entering the season, Arkansas was 115-17 at home in seven seasons. That was the fourth-most home wins nationally during that time.
It was tough to win at Bud Walton. Now it's not.
LSU coach Will Wade praised the self-declared "Basketball Palace of Mid-America" and the Razorbacks just as Florida coach Mike White did on Wednesday.
They were both thrilled to get out of the place with a win, especially Wade, whose team lost a 13-point second-half lead, but survived in overtime.
Arkansas is a young team without any seniors, but nobody wants to hear that line these days.
Just check any message board or sports talk show and you will hear some serious vitriol being tossed around.
Anderson and Arkansas have no recourse but to get back to practice and simply try to get better, especially at starting the game.
He said all the right things after the LSU game and I know that he believes in himself and his team.
Both losses this week could be attributed to poor starts, especially the one against Florida that threatened to be one of the all-time worst for most of the first 20 minutes. The Gators led by as many as 16 points.
Sure, you have to give credit to the Razorbacks, especially Daniel Gafford (32 points against LSU) and Mason Jones (30 against Florida), for leading comebacks in both games.
But in the end it is about wins and losses, and losing four at home already doesn't bode well for post-season aspirations.
The Razorbacks are 2-0 in true road games this season, but Colorado State and Texas A&M may end up being the easiest places to win on the schedule.
Anderson has to be hoping his team can at least compete well in these next two contests before Missouri comes to Fayetteville on Jan. 23. The Razorbacks could easily be 1-4 in SEC action.
Arkansas was picked to finish in the bottom half of the league and that looks like a proper assessment after Saturday's game.
Don't view this as a call for a change in head coaches, something that would be foolish to do in the middle of the season anyway. Anderson is neither as great as his ardent supporters would attest or as bad as his chief critics would like to think.
Only four head coaches in college basketball - Roy Williams, Tom Izzo, Mark Few and Anderson - have 15 years of coaching without a losing season.
Anderson has had had 11 20-win seasons, one 30-win season, been to nine NCAA Tournaments and an Elite Eight in his 17th season.
You can reel off stats to praise or criticize his coaching, but one thing remains true.
Outside of the baseball team, Arkansas fans clamor for being true relevance in the three major sports lately hasn't gone well.
Especially with basketball, the us against the world mentality has worked well for the Razorbacks.
Time to put that chip back on the shoulder quickly.
Discussion
Have a comment on this story? Join the discussion or start a new one on the Forums.