Hicks' SEC dream could come true at Arkansas
Published: Sunday, January 13, 2019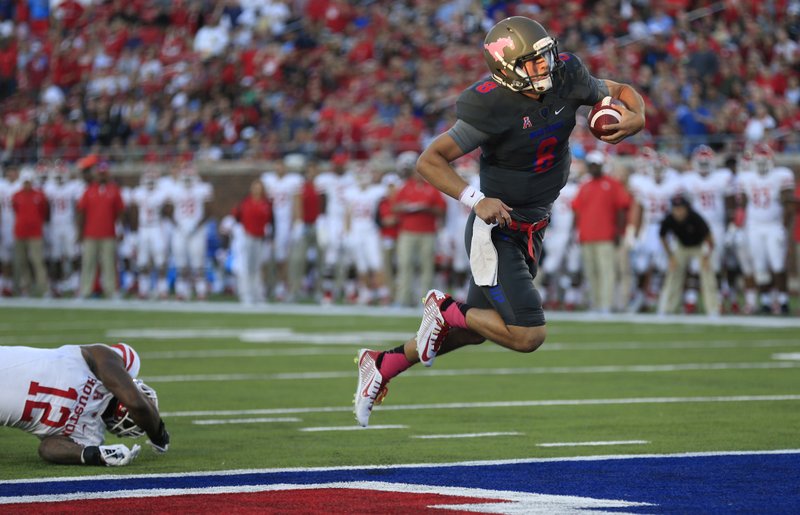 SMU quarterback Ben Hicks (8) escapes from Houston linebacker D'Juan Hines (12) to score a touchdown during the first half of an NCAA college football game, Saturday, Oct. 22, 2016, in Dallas. (AP Photo/Ron Jenkins)
FAYETTEVILLE — Former SMU quarterback Ben Hicks (6-2, 220) said Sunday after his visit to Arkansas that he had always dreamed of playing in the SEC.
That's a dream that could come true pretty soon and it would be under a familiar coaching staff led by current Razorback and former Mustangs head coach Chad Morris and offensive coordinator Joe Craddock.
"I had a good time," Hicks said. "I went to the basketball game yesterday and got to feel out the environment, had a good time, got to meet some people, got to meet the AD (Hunter Yurachek). I hadn't seen Coach Morris and Coach Craddock in a while so it was good to see those guys."
Hicks is a graduate transfer and SMU's all-time leading passer after starting 33 games and throwing for school records of 9,081 yards and 71 touchdowns while starting the past three years, the first two under Morris.
"I dreamed about playing in the SEC since I was a little kid and it would be a cool deal to potentially have the opportunity to do that," Hicks said. "We had some success at SMU with Coach Morris' offense, a lot of success really, and I feel like we can have the same success here so I am excited about it."
Hicks, who visited Louisville earlier this week and is down to those two schools, will be making his decision between the two schools quickly.
"I will fly back to Dallas and try to figure it out, talk to family and see what we are going to do from there," Hicks said. " … I want to be here in the spring so I think school starts tomorrow. So if I decide to come here I will be here within the week."
The success of graduate quarterback transfers such as Gardner Minchew going from East Carolina to Washington State played a factor in Hicks' decision to leave SMU.
"I played Gardner Minshew at East Carolina a few years ago," Hicks said. "He had great success. I knew it was time to go to leave SMU. I would say those guys success had an influence on the decision, but I'm just looking for a new opportunity and growth. I'm excited."
Hicks, who was a three-star recruit out of Waco (Texas) Midway, sees his familiarity with the Arkansas coaching staff as a plus.
"Just knowing the staff, knowing the offense," Hicks said. "Like I said, I have dreamed about playing in the SEC, playing in this league. They had some talent there this year and just couldn't get it done all the time, but there's obviously talent there, particularly on offense."
Hicks got to meet up with Razorbacks tight end C.J. O'Grady and early enrollee Trey Knox (6-5, 218) while visiting Fayetteville.
"I really didn't have a host, but I met C.J., I met Trey, the freshman. They came to the basketball game," Hicks said. "And one of the JUCO offensive linemen was at the basketball game yesterday with us also. Everybody I met I enjoyed being around."
Arkansas is in need of a quarterback to compete with redshirt freshmen Connor Noland and John Stephen Jones, redshirt sophomore Daulton Hyatt and true freshman KJ Jefferson.
Ty Storey, who started nine games for Arkansas the season, and Cole Kelley, who started the season opener last season, are both transferring.
Arkansas finished 2-10 in Morris' first season, but has talent coming back and a 2019 recruiting class ranked 12th in the nation by Rivals.
"They signed three big-time receivers in this class and have the tight end C.J," Hicks said. "It's the SEC, so obviously they have some talent. It was just the first year or so. There is potential there."
Hicks' best year at SMU was 2017 when he passed for 3,569 yard with 33 touchdowns and 12 interceptions.
After Morris left for Arkansas, Hicks passed for 2,930 yards with 19 touchdowns and 7 interceptions this season under new head coach Sonny Dykes.

Storey threw for 1,584 yards with 11 touchdowns and 10 interceptions in 2018.
Louisville fired former Arkansas head coach Bobby Petrino toward the end of the 2018 season and brought in former Appalachian State head coach Scott Satterfield.
"Louisville was a good time," Hicks said. "Coach Satterfield, had a good time with them and got to sit down and talk with them. I really enjoyed it. I have enjoyed my weekend. A lot of flying, but I have enjoyed it."
Hicks wants to play in the NFL and believes the Arkansas staff could help finish his career off and help him get there.
"Yeah, that's kind of the hope," Hicks said. "I think playing in this league will give you an opportunity to play at the next level because of all the talent in this league. That's part of the process, too."
Discussion
Have a comment on this story? Join the discussion or start a new one on the Forums.