Thomas, defensive rotation spark Arkansas' 3rd win in a row
By: Andrew Epperson
Published: Thursday, January 24, 2019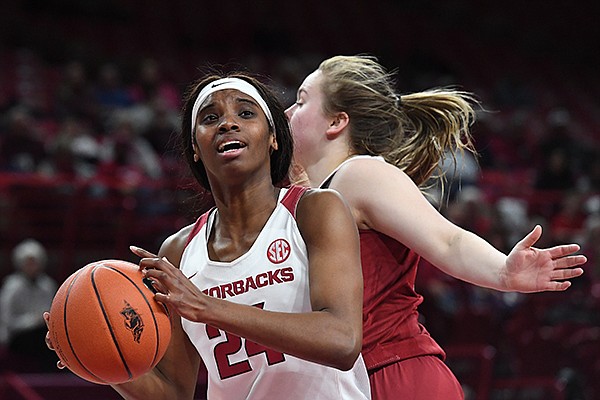 (
J.T. Wampler
)
Arkansas forward Taylah Thomas goes up for a shot during a game against Alabama on Thursday, Jan. 24, 2019, in Fayetteville.
FAYETTEVILLE — Arkansas switched its defenses throughout the fourth quarter, and it unexpectedly relied on transition offense from sophomore Taylah Thomas.
The recipe worked to give the Razorbacks a 72-61 victory over Alabama on Thursday.
"We started getting stops that we were able to turn into some transition buckets, and then I think we started playing a little bit harder," Arkansas coach Mike Neighbors said. "We made enough shots to pull away, and I thought we got a lot of good efforts from a lot of different kids."
The Razorbacks (15-5, 4-2 SEC) opened the game in a zone defense to better match up with Alabama's forward tandem of Ariyah Copeland and Jasmine Walker. The set forced the Crimson Tide to rely on outside shooting, and the visitors responded with a 6-for-18 first-quarter performance.
After switching to a man-to-man defense in the second quarter, the Tide (10-10, 2-5) pounded the paint for easy baskets, and Neighbors' fourth-quarter decision was to go back and forth between the two defenses to cause confusion.
Luckily for the Razorbacks, it worked perfectly.
"We were just trying to stretch the game out a little, make sure they took a little extra time looking over at their coach on what they're in, maybe trying to organize," Neighbors said. "I thought it confused them just long enough to take a few seconds and get it to a manageable number of possessions."
Alabama weathered a slew of shots by Razorback sophomore guard Chelsea Dungee, who leads the team in scoring this season. The Crimson Tide weren't necessarily expecting Thomas, who came into the game averaging 4.1 points per game (eighth on the team), to run the floor and get transition points.
Thomas finished with 15 points to tie a season high. The sophomore also hauled in five of Arkansas' six offensive rebounds.
"It's very great to experience this because we started this last year," Thomas said. "Winning, and actually all the hard work is paying off, it feels great. We've just gotta keep going."
Thomas scored four in each of the Razorbacks' previous two outings, and she matched that in the opening quarter against Alabama. Both layups in the first quarter came on assists by junior guard Jailyn Mason, who found Thomas on a cross-court pass that resulted in an and-one layup late in the quarter.
"She was really running the floor, she was really engaged," Neighbors said. "I thought her energy was phenomenal. Five offensive rebounds against a team that we shouldn't get any against…she made a lot of nice plays."
Monk, who hit the game winner for the Razorbacks at Tennessee on Monday, led the Hogs with 16 points and added four assists and three rebounds. She said she's excited to be a part of a program that's arguably playing its best ball since she arrived on campus.
"It really feels amazing, just to be a part of a team like this," Monk said. "For those who've been here with me every step of the way, it's really a magical sight to be a part of, and I'm just ready to see what the outcome is going to be like."
Razorback junior guard Alexis Tolefree hit her first three 3-pointers, and she finished 4-for-7 from behind the arc and scored 13 points. Her final triple came late in the final quarter to help keep the Hogs' lead secure.
"It was really great to have her out there shooting those threes, because she's unstoppable," Monk said. "She's very un-guardable when she's making them."
The Crimson Tide was led by Walker's 18 points and got double-digit scoring efforts from Copeland, Cierra Johnson and De'Sha Benjamin.
TIP-INS
• The Razorbacks are on a three-game conference winning streak dating to their victory over Vanderbilt on Jan. 13. For comparison, the Hogs won only three regular-season conference games last season.
• After a five-point performance against Mizzou on Jan. 10, the Razorbacks' most-recent loss, Monk has scored 15, 23 and 16, respectively. The scoring turnaround has allowed Arkansas' offense to balance out and not rely so heavily on Dungee.
• After going through a two-game shooting slump in which she went 2-for-13 from deep, Tolefree has returned to form in Arkansas' winning streak. She shot 11-for-24 on 3s in those three contests.
UP NEXT
The Razorbacks travel to Florida on Sunday. Alabama will play at Georgia the same day.
Discussion
Have a comment on this story? Join the discussion or start a new one on the Forums.