Gafford gives Hogs a lift
Published: Thursday, January 24, 2019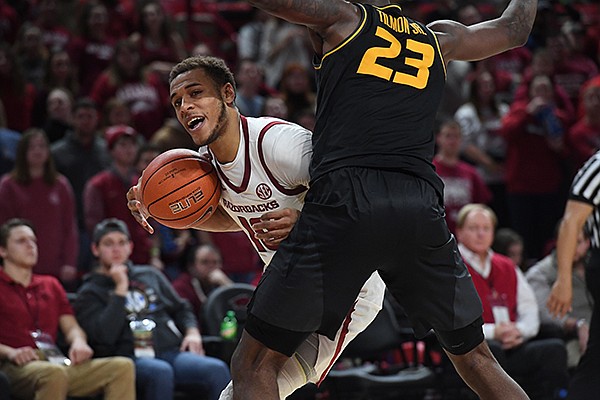 (
J.T. Wampler
)
Arkansas center Daniel Gafford drives against Missouri forward Jeremiah Tilmon during a game Wednesday, Jan. 23, 2019, in Fayetteville.
FAYETTEVILLE — With Arkansas trailing 34-30 and Missouri on a mini run, Daniel Gafford delivered a jolt just before halftime Wednesday night.
Gafford's circus shot at the first-half buzzer gave the Razorbacks some momentum going into the locker room at intermission, pulling Arkansas within 34-32. Gafford juggled the ball, but was able to possess it just enough to put an unorthodox shot off the glass as he was falling down with his back to the basket.
The Razorbacks outscored Missouri 40-26 after halftime and won 72-60.
"I ain't never hit a shot like that before," Gafford said. "When (Arkansas freshman guard) Keyshawn (Embery-Simpson) passed it, if the guy would have never dug in and hit the ball out of my hands, I would have had a better shot, but I knew time was running down and there was like at last two seconds, so I just threw it up and I was just trying to hit backboard and it just went straight in.
"I was amazed. I thought I was just going to air ball it, but I just threw it up and it wasn't going to touch rim and it didn't touch rim, it just went straight in."
Gafford finished with 13 points and 10 rebounds, delivering his eight double-double of the season. The Razorbacks are 7-1 in such games.
Gafford also didn't commit any fouls. Instead, he and his teammates played solid defense and forced 24 Missouri turnovers.
"What mainly impacted the turnovers was our defense, it stepped up tonight," Gafford said. "We got back to playing that defense that we played at the beginning of the year where we were not letting people run their offense and certain things like that."
Gafford's double-double on Wednesday came after a string of subpar efforts during Arkansas' losing streak.
"I just had to get my mindset back," Gafford said. "I had strayed from the path of being a dog on the court and it wasn't me. I didn't like the way I was playing. I just had to get my mindset back to where I would be a beast out there and go get all of the rebounds. Like (Arkansas coach Mike Anderson) said, think of every shot as a miss, so I went for all of the rebounds I could and I came up with four offensive rebounds. I could have had more."
Freshman forward Reggie Chaney added 6 points, 6 rebounds, 4 assists and 2 steals while playing extended minutes alongside Gafford.
"Every time Reggie brings that extra piece to the puzzle," Gafford said. "He gets hustle plays, he always has his hands in the passing lanes. He is touching passes that I am sure that neither one of us (Gafford and Isaiah Joe) can even touch when we are playing our best defense.
"I mean he comes in and he rebounds and he was missing layups today, but he is always around the basket getting easy looks. I like the way he attacks the basket. He attacks the basket like a monster."
Arkansas will visit No. 14 Texas Tech (15-4) Saturday at 5 p.m. in the SEC/Big 12 Challenge. The Red Raiders have lost their last three games, including 58-45 at Kansas State on Tuesday.
"With this win under our belt, we have more confidence as we go on another road game," Gafford said. "...We have just got to come out and we have to play the same basketball we played tonight and take it to another level because they did the little things and stuff to get themselves ranked so we just can't play like little kids.
"We have got to come out and play like men because I am sure they are going to come out and play with the head down and going straight to the basket basically."
Joe, who scored a game-high 23 points in the win over Missouri, is looking forward the contest in Lubbock, Texas.
"It is going to be a test," Joe said. "That is when you see what you are made of. If we are able to keep the same energy that we had tonight we should be happy with the results."
Discussion
Have a comment on this story? Join the discussion or start a new one on the Forums.