Pro Hogs:
Hannahs doing well, chasing his dream
Published: Thursday, January 24, 2019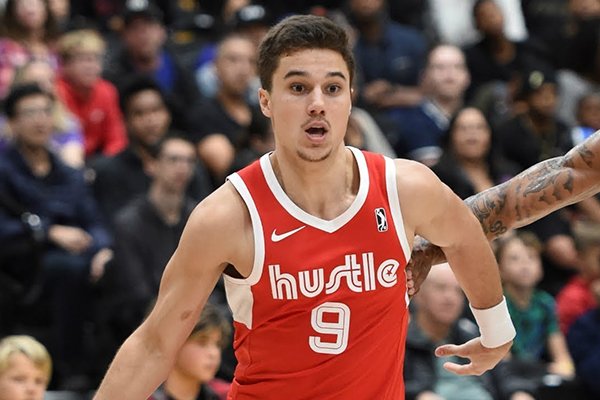 ( Memphis Hustle )
Dusty Hannahs recently became the leading scorer in Memphis Hustle franchise history.
With an eye toward Saturday's Arkansas-Texas Tech game featuring his two old college teams, Dusty Hannahs will take the court in Westchester, N.Y., on Friday night in a quest to continue his dream of playing in the NBA.
Hannahs (6-3, 210 pounds) is shooting 44.8 percent from 3-point range and averaging 14.1 points per game for the Memphis Hustle this season. Memphis will face the Knicks affiliate in G-League action Friday.
Hannahs became the Hustle's all-time leading scorer with 843 points on Wednesday when he had 16 points as Memphis (17-12) downed the Delaware Blue Goats.
"I am just out there playing hard, trying to get wins and get called up to the NBA," Hannahs said. "That is the whole game plan. I have been shooting the ball well this year and I am just trying to get up 'The Show.'"
In college, Hannahs played his freshman and sophomore seasons with the Red Raiders before transferring to Arkansas. After a redshirt season, he played two years with the Razorbacks and led the team in scoring as a senior with 14.9 points per game.
He hit a team-leading 74 3-pointers his senior season, was only the fifth Razorback in history to top 1,000 points in two seasons and led the SEC in free throw shooting (90.8 percent).
Those numbers made Memphis want to give him a chance and the Grizzlies front office has continued to be supportive in his second season with the Hustle.
"They talk to me and just help me keep going," Hannahs said. "You just never really know when your time is going to come. There could be an injury, a trade or a roster shakeup. You could have some other organization that might want to bring you in.
"That's just part of playing in the G-League. You just have to be ready when your number is called and look at every night as a chance to impress someone in the NBA."
G-League players are allowed to be picked up by other NBA teams.
"You are not obliged to stay with your team," Hannahs said. "Somebody else can come get you. Any team can pick you up."
Unlike minor-league baseball affiliates that bus to a lot of its games, the G-League (formerly known as the D-League) has better travel situations for its teams.
"You fly everywhere, basically," Hannahs said. "Unless...we are close to another city that we play in and it is just a few hours away."
Hannahs, now 25, doesn't feel like he has a job.
"Life is good," Hannahs said. "I am still getting to play basketball and do what I love. I am very blessed and just hoping to get to take the next step, hopefully in the new future. I mean playing basketball is what I love to do so I am going to keep this going for as long as a I can.
"Obviously I want to make it in the NBA. That's my dream and it the opportunity comes, I think I will be ready."
The Little Rock native has enjoyed living in Bluff City, but it does have its temptations.
"Memphis is cool," Hannahs said. "It is very similar to Little Rock. In fact, I think it is a bigger Little Rock. You have to like barbecue if you live here, but I am trying to cut down on eating it because I am trying to stay at a certain weight.
"The best thing is that home is just a couple of hours away and Fayetteville is not far if I want to go visit there."
His parents are able to make most of his home games.
"They can come to games and it is an easy drive for them," Hannahs said. "I have a two-bedroom place and they will come up and watch a game, stay with me and leave in the morning. Now I am housing them."
Discussion
Have a comment on this story? Join the discussion or start a new one on the Forums.