Razorbacks finish last at Metroplex Challenge
By:
WholeHogSports
Published: Saturday, January 26, 2019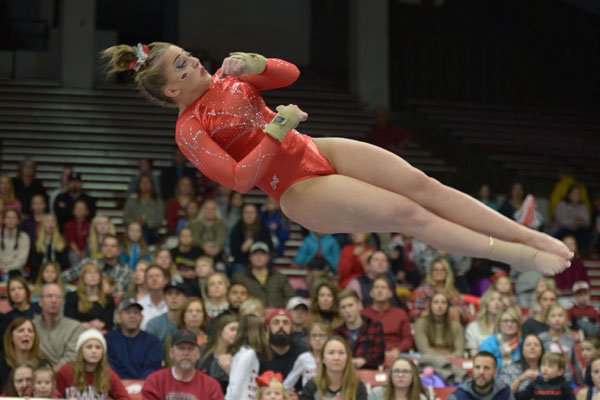 Arkansas' Sydney McGlone competes Friday, Jan. 12, 2018, in the vault portion of the 11th-ranked Razorbacks' meet with sixth-ranked Kentucky in Barnhill Arena in Fayetteville.
The No. 21 University of Arkansas gymnastics team posted a season-high 195.825 but had to count a fall on the balance beam in the second rotation during a fourth-place showing at the Metroplex Challenge quad meet on Saturday.
No. 1 Oklahoma (9-0) won going away with a 197.975 at the Fort Worth Convention Center. No. 7 Denver placed second (196.35), followed by No. 15 Missouri (196.2).
Missouri's result counted as a conference competition against Arkansas (1-5, 0-2).
The Razorbacks performed best on the floor exercise and the vault during the second half of the meet with 49.25s on both events.
Senior Sydney McGlone posted a 9.9 to finish fourth on the floor behind a trio of Sooners who had 9.925, while sophomore Sarah Shaffer logged a 9.875 and sophomore Sophia Carter had a 9.85.
The Razorbacks' big vault score was paced by 9.875s from McGlone and Amanda Elswick. Five Arkansas gymnasts scored 9.825 or better on the event.
Arkansas Freshman Kennedy Hambrick, competing in her first all-around, posted a 39.35, led by a 9.875 on the uneven bars, to finish second behind Oklahoma's Anastasia Webb (39.55). Hambrick scored no lower than 9.8 on the four events. Arkansas junior Jessica Yamzon placed fourth in the all-around with a 39.225.
The Razorbacks were tied with Denver for second place after one rotation after posting a 48.925 on the uneven bars. Hambrick led the way, while junior Hailey Garner and Shaffer posted 9.825s.
Arkansas' Michaela Burton came in fourth on the balance beam with a 9.9, but the Razorbacks posted a 48.4 on the event due to falls by Garner and Elswick.
Discussion
Have a comment on this story? Join the discussion or start a new one on the Forums.