Chavis saw potential in Dyersburg LB Chris Russell
Published: Sunday, January 27, 2019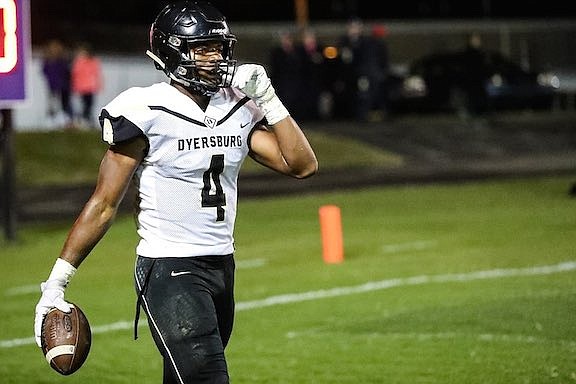 FAYETTEVILLE — If Dyersburg, Tenn., linebacker Chris Russell (6-1, 230, 4.5) ends up at Arkansas, it will likely be because Razorbacks defensive coordinator John Chavis saw something in him before others did.
Chavis offered Russell, the only official visitor at Arkansas this weekend, on June 21 before he had a spectacular senior season that ended with him being named the Defensive MVP at the Toyota East-West All-Star Game in Clarksville, Tenn.
Russell, who has visited Arkansas and Texas A&M and will visit Tennessee next weekend, got the chance to learn more about Chavis and Razorbacks coach Chad Morris over the past few days.
"I pretty much think of Chief as a GOAT pretty much - greatest of all time," Russell said. "Coach Morris, he's pretty cool. He's really a hyper guy. I like his style of coaching."
Russell, who had 112 tackles, 15.5 tackles for loss, 13 quarterback pressures, 11 quarterback knockdowns, 7 sacks, 2 interceptions, 3 pass deflections, 4 forced fumbles and 2 recovered fumbles as a senior, likes the recruiting approach of Morris and Chavis.
He also had 58 carries for 776 yards, 16 touchdowns and 5 receptions for 94 yards and a touchdown this past season.
"They are big on relationships here," Russell said. "They don't just say, 'Chris go do this.' They build a relationship. 'Do you like that?'
"That means a lot because at this stage it's a business. They have a business, but at the same time they have a relationship with it."
Russell was hosted by a player he could be replacing in All-SEC Razorback senior-to-be linebacker De'Jon "Scoota" Harris.
"We just pretty much had fun," Russell said. "That's all we did pretty much was have fun."
Memphis and Georgia Tech were the first to offer and Russell committed to the Tigers, but re-opened his recruitment when Arkansas offered.
Russell would also land offers from Texas A&M, Tennessee and Auburn after his senior season.
Russell assessed his strength and weaknesses.
"I guess my strength is speed, pretty much, at linebacker," Russell said. "You always need to improve on IQ of the game. I would say pretty much shedding a little better. I shed real good, but I need to work on that. There's some other things I need to work on."
Russell is interested in helping turn the program around at Arkansas, whose class is ranked 18th nationally by Rivals, 19th by ESPN and 22nd by 24/7.
But he stresses that he is looking for somewhere he can help establish a program, not just be a one-year wonder.
"I'm just trying to work to rebuild and go to a bowl game," Russell said. "Keep winning, not just go to a bowl game one year. Just keep winning and get better."
Russell plans to keep his decision under wraps until Feb. 6.
"February 6 is when I make the big announcement, but I will have my mind made up before then," Russell said. "I live in a small town. Not many people where I come from go to the SEC. So I want it to be a surprise for my city."
Discussion
Have a comment on this story? Join the discussion or start a new one on the Forums.