Jones leads Arkansas to win over Georgia
By: Andrew Epperson, The Associated Press
Published: Tuesday, January 29, 2019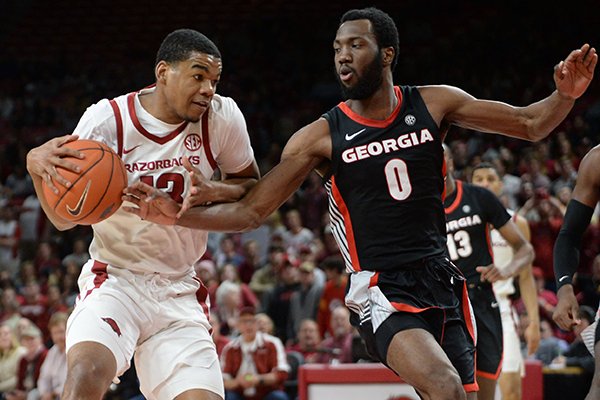 (
Andy Shupe
)
Arkansas guard Mason Jones (left) drives to the basket as Georgia guard Williams Jackson II (0) defends Tuesday, Jan. 29, 2019, during the first half of play in Bud Walton Arena.
FAYETTEVILLE — Arkansas guard Mason Jones scored 23 points and added five rebounds to help his team fend off Georgia 70-60 on Tuesday night.
The Razorbacks (12-8, 3-4 Southeastern Conference) survived the Dawgs' 56-32 advantage on the boards, but a dreadful combination of 16 turnovers and 15-for-29 free-throw shooting put the visitors in a bind and kept the Hogs afloat.
Georgia (10-10, 1-6) tied it at 52 on a William Jackson II 3-pointer with 6:23 remaining, but Arkansas freshman Isaiah Joe, who came into the game leading the SEC with 68 3s, responded with a corner triple that gave the Razorbacks a lead they wouldn't relinquish.
Georgia entered the game with a renewed sense of purpose after beating Texas on January 26. The Tom Crean-led squad opened the first five minutes with an 11-2 run that included a number of hustle plays and offensive rebounds.
Arkansas forward Daniel Gafford played a role in bringing his team back by hitting his first four free throws, which was a rarity considering he came into the game shooting 56.7 percent from the line.
Razorback coach Mike Anderson decided to sit Gafford, his unquestioned star player, after he got in early foul trouble, and the forward had only scored four points in 11 minutes when he was subbed in at the 11:40 mark of the second half. He never came off the court after that, and finished with 11 points, five rebounds and four blocks.
Arkansas point guard Jalen Harris scored 13 points and scored his team's final three points from the line. Known for his ability to take care of the basketball, he didn't have a turnover in a team-leading 32 minutes of action.
On the other side, Nicolas Claxon tied the Dawgs' game high with 14 points on 3-of-7 shooting. His 7-for-10 output of the line was a welcome sight for the Bulldogs, whose other top scorer went 2-of-11 on free-throw attempts. He did his damage down low when Gafford was out of the game.
BIG PICTURE
Arkansas: The Razorbacks' 14 blocked shots were the most for a conference game in program history. Freshman Reggie Chaney led the team with five blocks, while Gafford's four and Harris' two were key. Although the Hogs dropped a close road game at Texas Tech on January 26, they're on a two-game conference winning streak going back to a home victory against Mizzou on Jan. 23.
Georgia: The Dawgs are on a five-game conference losing streak going back to a loss at Auburn on January 12. They came into the game averaging 40.2 rebounds per game to lead the conference, but they significantly eclipsed that average against the Razorbacks with 54. At 1-6 in the SEC, the Bulldogs are one Vanderbilt victory away from tying for last place.
UP NEXT
The Razorbacks travel to Baton Rouge to play LSU on Feb. 2.
The Bulldogs return home to face South Carolina the same day.
Earlier
Arkansas 70, Georgia 60 - Final
Arkansas has its first winning streak in SEC play.
Mason Jones led the Razorbacks (12-8, 3-4 SEC) with 23 points on 8/14 from the floor and Daniel Gafford, despite battling foul trouble again, finished with 11 points, four rebounds and four blocks.
The Razorbacks blocked 14 Georgia shots in the win, which is a school record in an SEC game. It is tied for the fourth most in school history and the most since a 2006 game vs. Stephen F. Austin.
We will have more from tonight's game later on WholeHogSports.com.
Arkansas 63, Georgia 55 - 1:34 left
On top of turning Georgia over 16 times tonight, Arkansas has also blocked a season-high 14 shots. Reggie Chaney has swatted five shots away, Gafford has four and Osabuohien/Harris each have a pair.
We should also give credit to Arkansas for taking great care of the basketball. Razorbacks have four turnovers tonight and assisted on 14/25 buckets. Gafford and Chaney account for all the turnovers. Guards have handled it well.
Arkansas 58, Georgia 52 - 3:50 left
Isaiah Joe and Mason Jones hit back-to-back 3s to put the Razorbacks up six prior to the final media timeout. Jones was feeling it after he hit his, backpedaling with a smirk on his face as he looked at the Georgia defender who showed too late on the shot. Big, big shot. Jones is now up to 20 points. It's his fifth 20-point game of the season and third in SEC play.
Arkansas not only has turned Georgia over 18 times, it has blocked 12 shots. Arkansas' D has been good again tonight.
Arkanas 52, Georgia 47 - 7:43 left
Daniel Gafford, since coming off the bench a few minutes ago, has asserted himself and scored six big points for Arkansas. He now has 10 points to go with three rebounds and three blocks.
Reggie Chaney is a plus-13 off the bench tonight, too. He had a nice assist to Gafford for a dunk.
Georgia has turned it over five more times in the second half, pushing its total to 15 tonight. Arkansas has a 13-4 edge in points off turnovers.
Arkansas 44, Georgia 42 - 11:42 left
Mason Jones, among the trees on the defensive end, took what appeared to be an elbow to the top of his head, then, on Arkansas' next offensive possession, smoothly shot faked into a long 2 to give the Razorbacks a two-point lead.
Adrio Bailey is having a strong second half, too. He has six points since the break and kept Arkansas in this one. Don't think we would have imagined that before the game. He's now scored at least eight points in back-to-back games for the first time since adding 10 apiece against FIU and Colorado State in early December.
Arkansas 36, Georgia 31 - 15:45 left first half
Gabe Osabuohien used every single bit of the rim to get a 3-pointer to fall just before the under-16 media timeout. Arkansas had started the second half 1/5 prior to his jumper. Jalen Harris has the only other bucket - a midrange J from the foul line.
Georgia hasn't been able to find any success offensively in the second half. Bulldogs are 1/7 from the floor. Rayshaun Hammonds has Georgia's only bucket.
Daniel Gafford also committed his third foul with more than 18 minutes to go. He sits and Bailey/Osabuohien are in charge of Arkansas' frontcourt for the time being.
Arkansas 31, Georgia 29 - Halftime
Mason Jones hit a 3 with 23 seconds left in the first half, then Jalen Harris picked off a lazy Georgia pass and scored on the other end with 2 seconds to play to give Arkansas a lead at the break.
Jones leads all scorers with 15 points on 6/10 from the floor, and Harris has five on 2/7 shooting. The Razorbacks turned the ball over just three times in the first half, and two came from Gafford in the first 3:50 of the game. He has four points - all at the line - and one rebound.
Three Georgia players - Claxton, Williams, Ogbeide - have seven points to lead the way. While the Bulldogs committed a turnover on 10 of 34 possessions in the first half, their rebounding edge has kept them in the game - 27-14. Eleven of the 26 rebounds are offensive.
Counting tonight, Arkansas has forced 55 turnovers in the last two-plus games. The Razorbacks turned Georgia's 10 miscues into eight points.
Something else to watch for in the second half: Isaiah Joe played only nine first-half minutes. He was 0/2 from the floor and missed his one 3-point attempt. Mike Anderson said the freshman was under the weather over the weekend, and it just seems like he's still not 100 percent. If he and Jones could click at the same time it would really benefit Arkansas, who averaged .912 points per possession before the break.
Georgia 25, Arkansas 24 - 3:59 left first half
Foul trouble along the frontline has Mike Anderson digging into his bench in the first half. Adrio Bailey has three, Daniel Gafford picked up his second with nine-plus to go in the half, and Ethan Henderson checked in more than one minute ago. He has missed a shot and committed a foul since entering the game.
Mason Jones has been Arkansas' only constant on offense. He has a game-high 10 points on 4/8 from the floor to go with three rebounds and a pair of assists. Gafford has four points - all at the line - and Sills/Harris have three apiece.
Razorbacks have forced Georgia into eight first-half turnovers, leading to six points. Nicolas Claxton, who has his hands on the ball a lot for the Bulldogs, has a team-high three. William Jackson leads Georgia with seven points.
Georgia 14, Arkansas 10 - 11:51 left first half
Razorbacks starting to fight back a little bit and turn up the defensive pressure thanks in large part to reserves plus Jalen Harris. The Harris/Embery-Simpson/Sills/Chaney/Osabuohien lineup has been dreadful offensively, but stingy defensively and they were that over the span of a couple minutes prior to the media timeout.
Desi Sills knocked down a 3-pointer to cut the Georgia lead to 12-10. It was his first made 3 since the SEC opener against Texas A&M. He needs to be more of a threat from distance, especially with this lineup on the floor.
Georgia 11, Arkansas 2 - 15:00 left first half
Stop me if you've read this before: Arkansas is off to a slow start in an SEC game. Tonight is no different.
Georgia has been the aggressor and much quicker on its feet than the Razorbacks, who are being outrebounded 8-2 in the first five minutes. Four of Georgia's rebounds are on the offensive end and have led to seven second-chance points.
On the offensive end, Arkansas is 1/5 from the floor and 0/2 from 3-point range. The first shot of the game was a jumper by Jalen Harris. Adrio Bailey has the Razorbacks' only score so far. Daniel Gafford also picked up his first foul diving after a loose ball 25-plus feet from the rim. He has two turnovers already.
Pregame
Arkansas' starting lineup: Jalen Harris, Isaiah Joe, Mason Jones, Adrio Bailey and Daniel Gafford.
The Razorbacks' defense over the last two games fueled a much-needed win over Missouri and given itself a chance to win on the road against a top-15 team. Arkansas forced a turnover on one-third of opponents' offensive possessions in that span. Against a turnover-prone team like Georgia, look to see the Razorbacks attempt to speed up the Bulldogs and dictate tempo.
Isaiah Joe was under the weather during the Texas Tech loss, Mike Anderson said Monday. We will see tonight if he is fully healthy and able to give Arkansas a lift from behind the arc, where the Razorbacks are 10th in the SEC through six games.
Georgia's starters: Tyree Crump, Nicolas Claxton, E'Torrion Wilridge, William Jackson and Rayshaun Hammonds.
If Georgia hopes to avoid a 1-6 start to SEC play, it must value the basketball. The Bulldogs rank last among all Power 5 conference teams in turnover rate (23.0) and average more than 17 turnovers per game. For the season, Georgia holds a -5.3 turnover margin. Despite turning the ball over 26 times Saturday, the Bulldogs made 12/17 3-point attempts and hung 98 points on Texas in Athens. Tyree Crump led Georgia with 21 points on 6/8 from deep and five players finished with at least 13 points.
Ailing the Bulldogs' poor start in conference is the fact they rank last in the SEC in offensive and defensive efficiency. Defensively, they turn opponents over less than any other team and give up offensive rebounds at the highest clip. Nicolas Claxton, at 6-11, has a guard-like skillset and could be a matchup problem for Arkansas' frontline. He stuffs the stat sheet.
Running updates by Scottie Bordelon
Discussion
Have a comment on this story? Join the discussion or start a new one on the Forums.